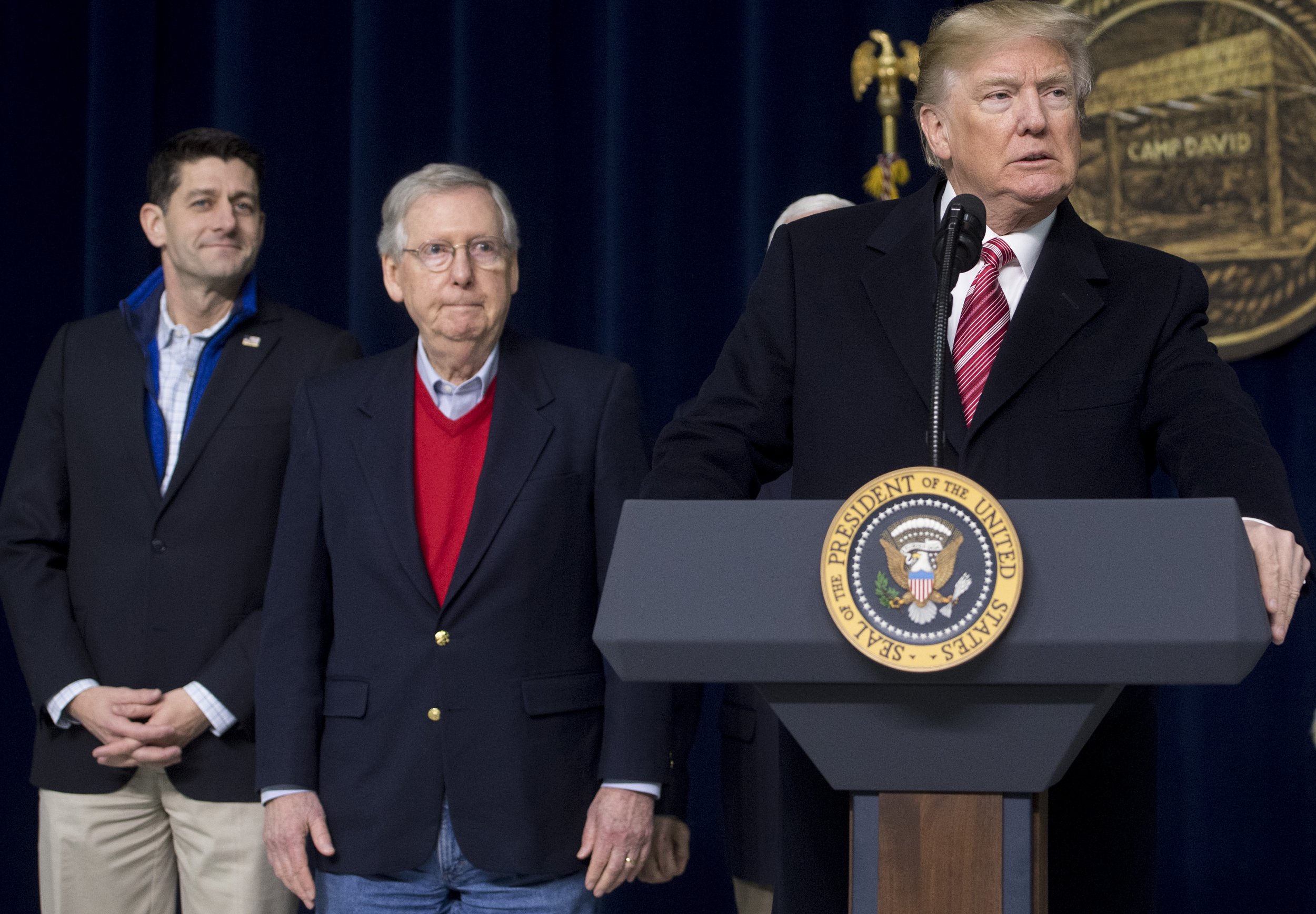 President Donald Trump has spent the past few days using his Twitter account to blame Democrats for a potential impending shutdown, hyperbolically accusing them of favoring amnesty for all over the U.S. military. But his tactic isn't working, and according to a new poll out Tuesday, Americans will blame Trump and the Republican Party should Congress and the president fail to fund the government past the Friday night deadline.
Related: Government shutdown 2017: Five ways it could affect you if Congress can't pass funding deal
"The Democrats want to shut down the Government over Amnesty for all and Border Security. The biggest loser will be our rapidly rebuilding Military, at a time we need it more than ever. We need a merit based system of immigration, and we need it now! No more dangerous Lottery," the president tweeted Tuesday morning.
But Americans aren't buying it.
A new Hart Research Associates poll, commissioned on behalf of the liberal organization MoveOn.org, found that "even before hearing any specific policy disagreements," 42 percent of Americans would blame Donald Trump and congressional Republicans for a government shutdown, with just 31 percent instinctively laying the blame at the feet of the Democrats, a significant 11-point margin.
Among independents and undecided voters, the margin is even wider, as independents would blame Republicans over Democrats by a 16-point margin and self-described undecided 2018 voters would blame the GOP over Democrats by a 19-point margin.
The poll included interviews with adults in 12 Senate battleground states: Florida, Indiana, Michigan, Minnesota, Missouri, Montana, North Dakota, Ohio, Pennsylvania, Virginia, West Virginia and Wisconsin. Of the respondents, 52 percent reported having voted for the president and 41 percent for Hillary Clinton, a margin crafted intentionally to closely mirror the combined average results from those 12 states in the 2016 election.
Republicans headed into the new year hoping to spend much of 2018 touting the passage of Trump's signature tax bill. Further, many Republicans up for election in November hoped to use its passage as a main campaign tool. But a government shutdown would likely draw the focus of voters away from the tax legislation and instead toward Washington dysfunction and a blame game over who is responsible for the government shutdown.
Democrats say they are hoping to avoid a government shutdown, but a missed deadline Friday night could play right into their hands. A shutdown would allow Democrats to make the argument that, even with control of the White House and both chambers of Congress, Republicans are unable to govern and should be returned to the minority in the 2018 elections.