Trump's Top Economic Adviser Says Furlough Without Pay is Good for Federal Employees Because They Don't Have to Take Vacation Days
President Donald Trump's top economic adviser said Thursday that the 800,000 federal employees who have been furloughed without pay for three weeks are "better off" for it, because they did not have to use vacation days over the Christmas holiday.
"Workers are furloughed, and right now, it's about 25 percent of government workers are furloughed, which means that they are not allowed to go to work," Kevin Hassett, chairman of the Council of Economic Advisers, explained to PBS NewsHour's Paul Solman Thursday evening. "But then, when the shutdown ends, they go back to work and they get their back pay."
Hassett then tried to justify why this forced time off work with no pay could be beneficial to employees. "A huge share of government workers were going to take vacation days, say, between Christmas and New Year's. And then we have a shutdown, and so they can't go to work, and so then they have the vacation, but they don't have to use their vacation days," he said. "And then they come back, and then they get their back pay. Then they're—in some sense, they're better off."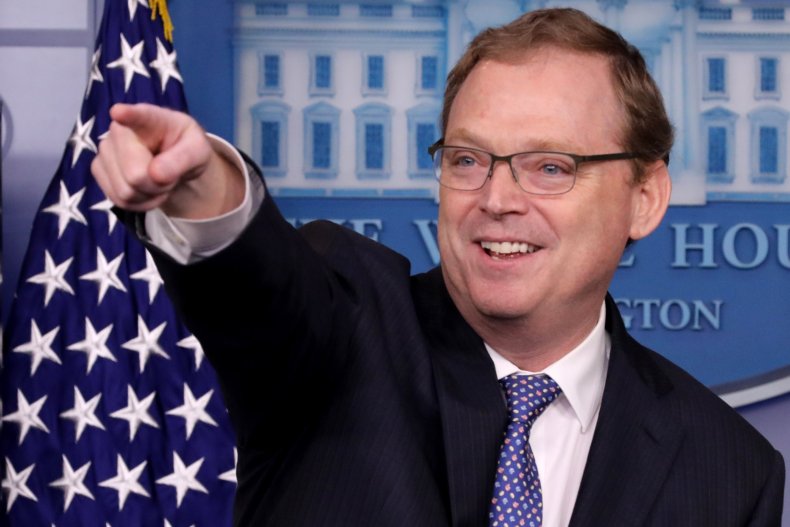 On Friday, President Donald Trump signed an act ensuring furloughed workers will receive back pay for the time they spent without work when the shutdown eventually ends. But as the shutdown reaches into its fourth week, many government employees who live paycheck-to-paycheck are struggling to put food on the table and pay rent.
Trump has repeatedly said that federal workers want funding for the border wall over which he has shut the government down and support his decision. Recent polls, however, show that the vast majority of federal employees do not support the wall or government shutdown.
When a reporter asked the president about the pain federal employees were feeling without paychecks Thursday, the president responded sharply. "You know who has more human pain? The parents of people who had children killed by an illegal immigrant that should have never been in the country. You know who has more human pain? The husband that lost a wife, or the wife that lost a husband to an illegal immigrant that came in five or six times, that shouldn't be here," he said.
Democrats, meanwhile, have criticized the president for his lack of compassion for federal employees. "The president is treating these hardworking Americans as nothing short of leverage, pawns in his political gambit," Senate Minority Leader Chuck Schumer said Thursday. "Who's going to make the next mortgage payment for them? Who's going to put food on the table?"