Government Shutdown: Here Is a List of Things You Can't Do
The U.S. government shutdown extended into this week after an attempt late Sunday to strike a deal to fund bureaucrats for the next three weeks fell apart.
The shutdown began midnight last Friday after Democrats in the Senate said they couldn't vote for a bill that would provide short term funding for the government over a few months without tackling larger issues like immigration.
While Republican Senate Majority Leader Mitch McConnell and Democratic leader Chuck Schumer work to salvage negotiations and plan to bring a short-term bill to a vote by noon on Monday, many "nonessential" government services will remain closed.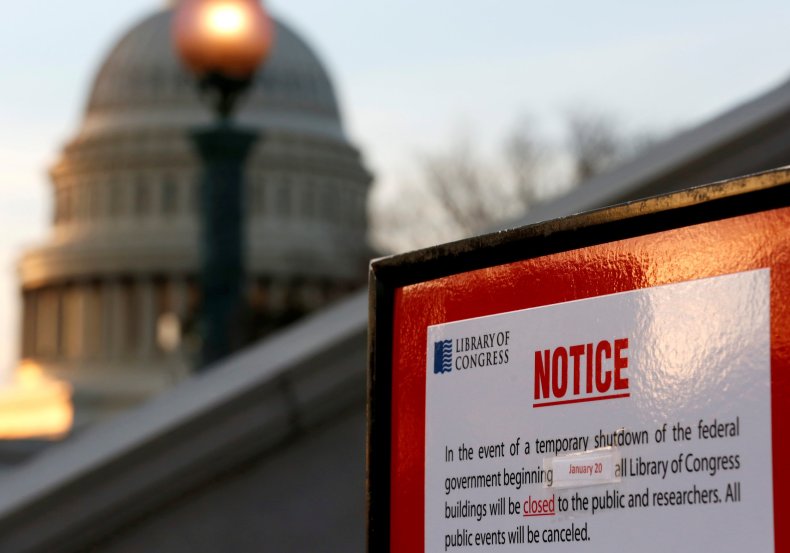 Around a million federal workers—half of the civil service workforce—won't be going into the office. So what services will be affected?
National Parks and Monuments
Americans may be worried that their local Department of Motor Vehicles outlets will be closed and that they won't be able to renew their driving licenses. But these are state-level agencies and will remain open.
National monuments and parks are more likely to be closed. The Statue of Liberty and Ellis Island were closed over the weekend as the shutdown went into effect, but both are set to reopen Monday after New York state's Democratic governor, Andrew Cuomo, said Sunday the state would pay wages for the federal workers.
Related: Chinese state media says government shutdown shows U.S. democracy "chaotic" and chronically flawed
Other sites run by the National Park Service, however, will continue to turn visitors away on Monday, including Philadelphia's Liberty Bell and Independence Hall. Some national parks are open but unsupervised by federal workers. Sensitive sites that require supervision from park staff are likely to be closed.
During the 16-day government shutdown in 2013 under the Obama administration, national parks lost out on about $500 million from visitors being turned away and became emblematic of Washington's failures.
Paycheck Increase Delays
Larger paychecks promised by the Republican tax bill signed at the end of last year may also face delays as about 45,500 Internal Revenue Service employees are sent home Monday. Some of the employees were working to follow through on the promise that lower income taxes in the bill would have immediate impacts in February's paychecks. If the shutdown is extended, delays in those paychecks will be a "virtual certainty," Marcus Owens the former head of the IRS Exempt Organizations Division told the Associated Press.
Civil Court Cases
Civil court cases that do not involve a threat to public safety will be put on hold. U.S. attorneys prosecuting criminal cases, however, will continue to work.
The Flu
The Centers for Disease Control and Prevention's flu vaccination program will be disrupted as about half of the 80,000 employees at the Department of Health and Human Services are sent home.
Civilian Employees at Military Bases
A National Guard training exercise at North Carolina's Fort Bragg was put on hold because it's uncertain civilian employees will be staffing the base and local government-run businesses there because they are considered "nonessential" staff. About 500 civilian staff at Ellsworth Air Force Base in South Dakota were blocked from attending work over the weekend.