Government Shutdown: Indonesian Tsunami Data Unavailable From U.S. Geological Survey After Workers Sent Home Without Pay
A tsunami caused by activity from the Anak Krakatau volcano struck an area around Indonesia's Sunda Strait without warning, leaving at least 370 dead and hundreds more injured on Saturday.
As the Southeast Asian country fears more deadly tsunamis in the coming days, the U.S. Geological Survey (USGS), the science bureau that provides important data on such natural disasters, is currently employing 75 of its 8,032 personnel due to Washington's partial shutdown, which began Saturday following President Donald Trump's refusal to sign a legislation that did not include multibillion-dollar funding for his border wall, HuffPost reported.
A message on the agency's website reads, "Due to a lapse in appropriations, the majority of USGS websites may not be up to date and may not reflect current conditions. Websites displaying real-time data, such as Earthquake and Water and information needed for public health and safety will be updated with limited support. Additionally, USGS will not be able to respond to inquiries until appropriations are enacted." USGS's social media channels delivered the same message.
In the wake of the current political brinksmanship, the agency offered a government shutdown contingency plan, stating that it had "approximately 450 employees that will be on-call for protection of life and property, especially response to a natural disaster for which the USGS is mandated to respond or assist in managing water, biological, geological, geographical, and other natural resources." According to HuffPost, it is unclear whether the USGS has initiated that plan, since the agency is unable "to respond to inquiries until appropriations are enacted."
If a protracted government shutdown takes place, it could be detrimental to the work of many science-oriented agencies. While organizations such as the National Institutes of Health, the Centers for Disease Control and Prevention and the Department of Energy would not be impacted because Congress has already enacted their 2019 budgets, Nature reported that agencies like NASA, the Food and Drug Administration, the Environmental Protection Agency and the National Oceanic and Atmospheric Administration, among others, have been operating under temporary funding measures, hence forcing their closure.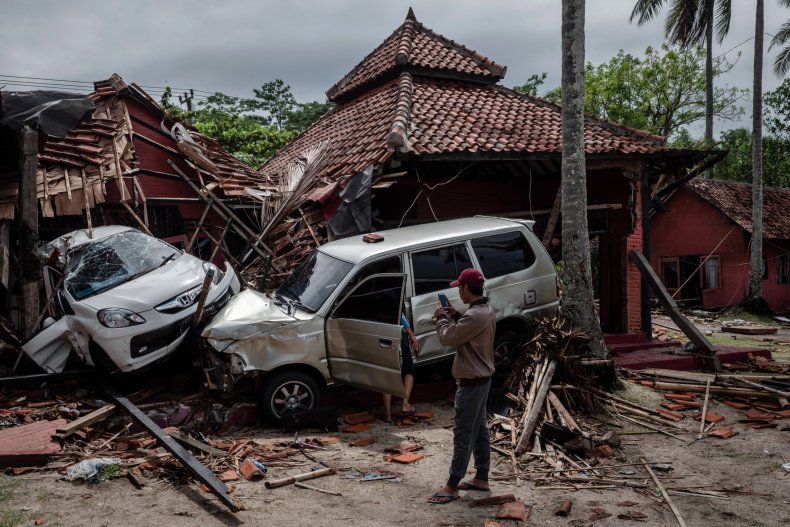 Meanwhile, Indonesian President Joko Widodo has ordered the country's Meteorology, Climatology, and Geophysical Agency to purchase detectors in order to provide early tsunami warnings. Indonesia's National Disaster Mitigation Agency spokesperson Sutopo Purwo Nugroho said on Sunday that more tsunamis could occur as long as the volcano remained active.
"We are cautioning the people to remain cautious," Sutopo said, according to CNN. "Agencies are still continuing to analyze the root cause ... the Krakatau volcano continues to erupt, which could potentially trigger another tsunami."
Sutopo said that the country's tsunami buoy network hasn't worked properly since 2012, which might have led to the deaths of more than 2,000 people after a tsunami hit the country's western coast of Sulawesi in October. Earthquakes and tsunamis have claimed the lives of more than 123,000 people in Indonesia since 2004, according to Reuters.