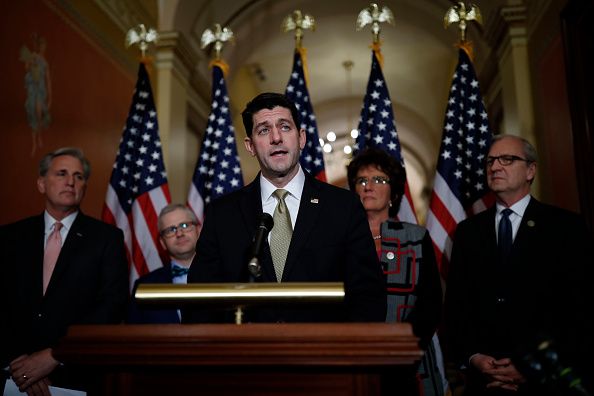 House Speaker Paul Ryan placed the blame for the government shutdown squarely on the shoulder of Democrats in an impassioned address to fellow lawmakers on Saturday. Ryan accused Democrats of holding the government "hostage," and slammed them for refusing to budge, saying it would negatively impact both the military and children dependent on the Children's Health Insurance Program (CHIP).
"Senate Democrats shut down this government, and now Senate Democrats need to open this government back up," said Ryan in the speech. "Stop holding our troops and children's health insurance hostage."
A government shutdown went into effect in the early hours of Saturday morning after a federal spending bill failed to pass. The bill was approved by the House, but after some Senate Republicans and most Senate Democrats voted against it, the government ceased some operations until a compromise is reached. The bill would have funded the federal government until February 16.
"Half of the Defense Department's civilian workforce has been furloughed. Training for Reserves has got to stop. Guardsmen have to be sent home. A number of states are going to run out of money for children's health insurance," said Ryan. "And all of this, all of this, is completely unnecessary. But Senate Democrats believe none of it is too high a price to pay for appeasing their political base."
While Ryan invoked the importance of the military to persuade his colleagues to end the shutdown, a lapse in funding would not actually shut down the military, as it is considered an essential function of the federal government.
Concern for CHIP is also not directly tied to the current shutdown. For the last few years, the expiration date for CHIP funding was September 30, 2017. The renewal of funding for CHIP, which covers medical treatment for children whose parents earn too much to qualify for Medicaid, but not enough to afford other health care coverage, was stalled months ago, when lawmakers disagreed how to fund the program. A short-term solution gave lawmakers a few more months to work out a bipartisan deal, but the deadline for that compromise was separate from the deadline that caused the shutdown. Some states will run out of funding for CHIP by the end of the month without an agreed-upon extension.
Ryan propped up both the troops and CHIP beneficiaries as top reasons to condemn Democrats for the shutdown. This shutdown is the first time that federal operations have ceased when one party controls the Senate, House, and the White House.
Democrats, for their part, placed the blame on Republicans, pointing to the fact that they are the majority in both the House and Senate to avoid accusations of simply being obstructionists.
"We do some crazy things in Washington, but this is utter madness," said Ryan.