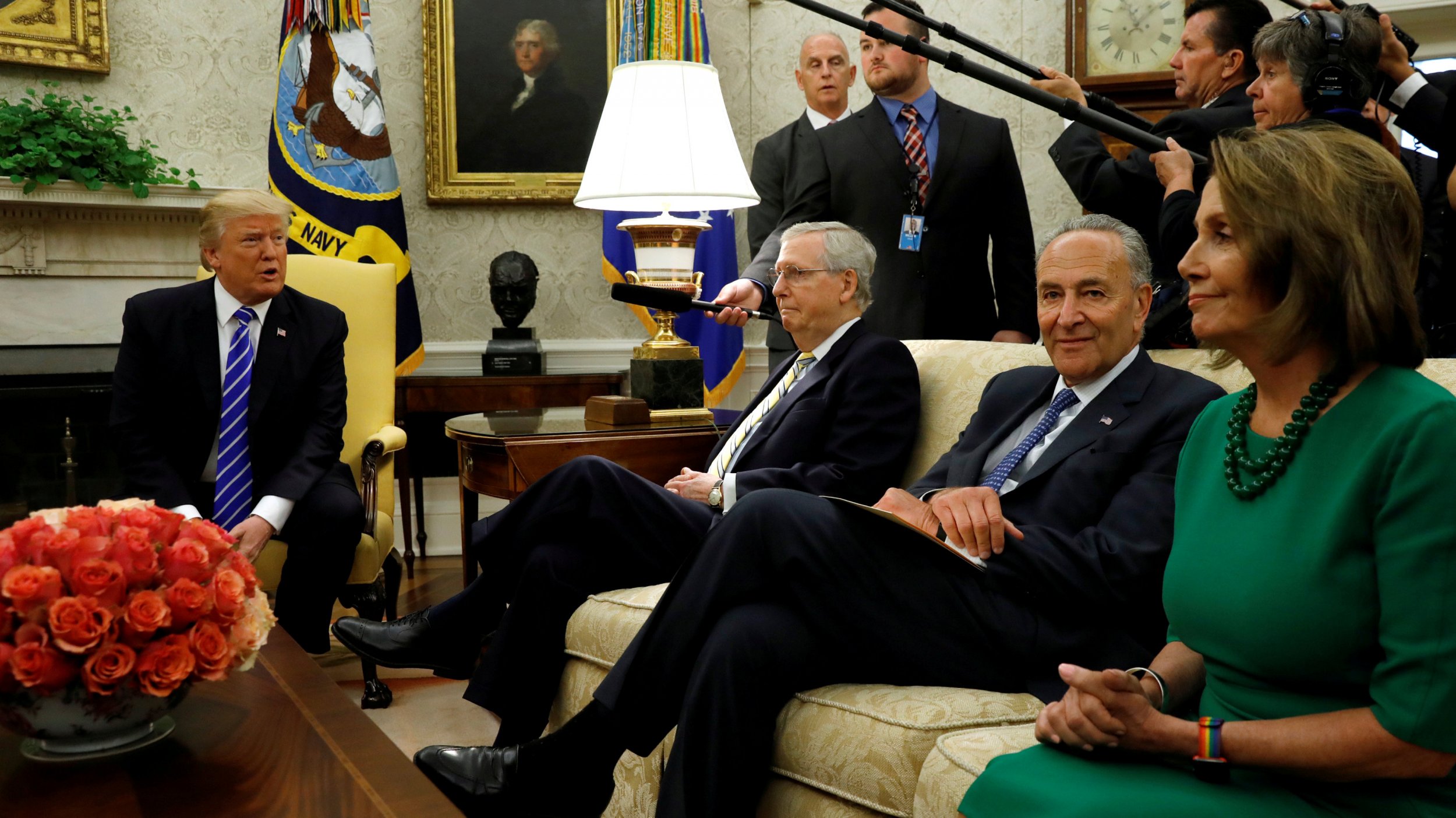 The federal government could shut down on Friday, pulling billions of dollars out of the U.S. economy and leaving hundreds of thousands of employees out of work. Meanwhile, politicans on the left and right are busy playing the blame game.
President Donald Trump, who earlier in the year said Americans could use a "good" shutdown, accused Democrats of wanting to shutter the federal government before the holidays in order to distract from what he called the "very popular, just passed, tax cuts."
House Speaker Paul Ryan, meanwhile, said on CNBC Thursday morning that Democrats "are going to try to play some partisan games today because they would love nothing more than to see a government shutdown, blame us for having it, and step on our tax cut message, tax reform message."
Republicans now control the House, Senate and White House, and they are hoping to pass a stopgap measure to keep the government funded until January 19.
It is possible, though, that the GOP's united front could be brought down by rampant infighting among defense hawks, the Freedom Caucus and the Republican leadership. If they fail to pass the funding measure, it would be the first time the U.S. government has experienced a shutdown while one party was in power.
One point of contention is the idea of providing supplemental disaster assistance money. "I don't know if I can vote for it at this point. I haven't made a decision," said Republican Representative Mark Walker of North Carolina.
"We're trying to make an informed decision on: Do we support it? Do we not?" said House Freedom Caucus Chairman Mark Meadows.
He added: "Ultimately, you have to see the needs of people in Texas, Florida, Puerto Rico, Virgin Islands and Louisiana. And that's not lost on me. And yet, at the same time, we want to make sure that we're fiscally responsible."
Republican defense hawks, meanwhile, are angry that the continuing resolution to keep the government running does not include full-year funding for military defense programs. Armed Services Committee members met on Thursday morning to discuss whether the group could vote for a bill that didn't fully support the Pentagon.
Democrats, for their part, say that they want to see immediate funding for the Children's Health Insurance Program, without which 2 million children will lose insurance coverage. Republican leadership has said it will approve a short-term extension of the program, but deficit hawks don't agree with the decision.
Other Democrats say they want to see a provision in the stopgap measure that bans government funding from being used to deport immigrants who moved to the United States when they were very young, referred to as DREAMers.
House Minority Leader Nancy Pelosi has said that she wants to keep the government open, but that the responsibility is on the shoulders of Republicans, the majority party. Pelosi urged her congressional colleagues to vote no on the continuing resolution unless their needs were met. "We continue to urge a strong NO," she wrote to them.
Senate Minority Leader Chuck Schumer has indicated that Democrats may be willing to push through a clean bill. "We cannot do a short-term funding bill that picks and chooses which problems to solve and which not to solve," he said. "It has to be a truly global deal. We can't leave any issues behind."
House Republicans could gather all of the votes they need to pass the continuing resolution without Democratic support, but at least eight Senate Democrats will be required to vote yes in order for the bill to pass in that chamber.
If no deal is reached, the federal government will shut down on Friday at midnight.