The Government Wants to Give Americans Checks—Here's What to Know and Who Might Get Them
The $1 trillion economic stimulus package Washington leaders are feverishly working on is expected to include individual checks paid to Americans, although just how much the government will send is not yet clear.
Details of the plan are still being worked out by Senate Republicans in consultation with the White House, but some are known. Treasury Secretary Steven Mnuchin, for example, suggested individuals would receive a one-time payment of $1,000.
The goal of the cash infusion is to stave off a recession as large swaths of the economy are being forced to shut down and Americans being told to stay home. The money is intended to land in the pockets of those struggling from the immediate impact of the pandemic to pay bills and rent. It is also intended to spur future economic activity once life begins to return to normal and citizens are able to more freely go out and spend again.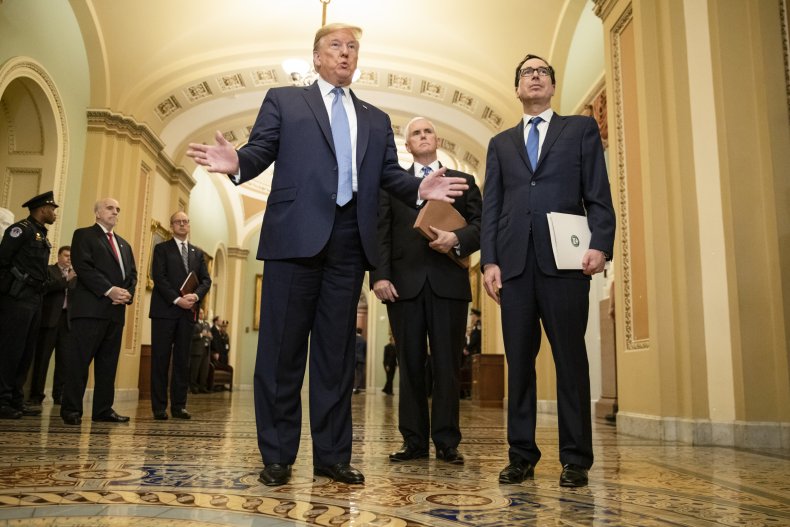 What we know, who might get money and how much
President Donald Trump said he wants checks cut in two weeks. The Trump administration has the goal in mind for individuals, whether or not they're still working and receiving a paycheck. "The president wants to give cash now. And I mean now, in the next two weeks," Mnuchin said Tuesday.
The total cost of giving Americans money will total around $300 billion, according to Mnuchin.
It remains to be seen who will qualify and how much they may receive. Mnuchin suggested it would be a one-time amount of $1,000. On Wednesday, The Washington Post reported the White House will officially propose sending two separate checks worth $1,000 each in April and May, and who receives them would be based on income level and family size. This would reportedly cost $500 billion.
There have been similar proposals by various senators. Sen. Mitt Romney (R-Utah) also recommended $1,000 to each American adult, while Sens. Cory Booker (D-N.J.), Michael Bennet (D-Col.) and Sherrod Brown (D-Ohio) released a plan for $2,000 to each adult and child under a certain income threshold, along with additional cash installments later in the year. Sen. Josh Hawley (R-Mo.) has a plan to give families with children roughly $1,500 every month the national emergency continues for single and married parents earning up to $50,000 and $100,000, respectively.
On the House side, Reps. Ro Khanna (D-Calif.) and Tim Ryan (D-Ohio) proposed checks between $1,000 and $2,000 to each American who earned less than $130,000 last year. Rep. Joe Kennedy (D-Mass.) proposed $4,000 to each adult who makes under $100,000 per year, $2,000 to anyone who makes over $100,000 per year and $1,000 for each person 18 years old or younger.
What we don't know
History suggests the ambitious two-week timetable presented by the administration is unlikely, though not impossible. In 2001 and 2008, the government provided tax rebates, which took longer to reach individuals. During the 2008 financial crisis that created the Great Recession, it took two months for Americans to see the rebates.
Details regarding who receives money still need to be fleshed out, but Mnuchin has said the president does not want millionaires to qualify.
In addition, Republicans and the White House still need to negotiate the $1 trillion stimulus package with Democrats, which Senate Majority Leader Mitch McConnell (R-Ky.) said they will only do after their plan is finalized and receives the thumbs up from the president.
This is a developing story and will be updated with new information as it becomes available.