Trump's Mar-a-Lago Friends' Influence Over the VA Will Be Probed by Government Watchdog
A government watchdog agency said it will investigate possible wrongdoing concerning the involvement of three Mar-a-Lago members who reportedly have widespread influence within the Department of Veterans Affairs, an agency of which the private citizens have no official role in.
In a letter sent to Democratic Senator Elizabeth Warren on November 19 and made public by her office on Monday, the Government Accountability Office (GAO) said it would investigate three Mar-a-Lago members who were at the center of a ProPublica investigation in August. Mar-a-Lago is President Donald Trump's private South Florida resort.
The report found that three men—Marvel Entertainment Chairman Ike Perlmutter, physician Bruce Moskowitz and lawyer Marc Sherman—were "secretly shaping the Trump administration's veterans' policies." All three are also Trump associates.
The GAO's decision to investigate comes after Warren and Democratic Senator Brian Schatz of Hawaii sent a joint letter following the ProPublica report requesting that the watchdog agency investigate to determine whether the three men "had or continue to have any undue influence over VA decisions."
The investigation will not be completed anytime soon. In its letter to Warren, GAO said it will not have the resources available to begin the investigation for about five months.
Hundreds of documents obtained by ProPublica through a public records request showed that the three men, who have reportedly been nicknamed "the Mar-a-Lago Crowd" by VA insiders, spoke with VA officials daily to have input on specific policy and personnel choices. It is common for various agencies within a presidential administration to consult outside advisers who are on a committee but such consultation is done so under government oversight.
Perlmutter, Moskowitz and Sherman are not part of any such committee and have no official government role within the VA, an agency with a $68 billion annual budget that oversees health care for more than nine million veterans. Through personal meetings at Mar-a-Lago and by remote communication, the three men reportedly "bombarded VA officials with demands, many of them inept or unhelpful."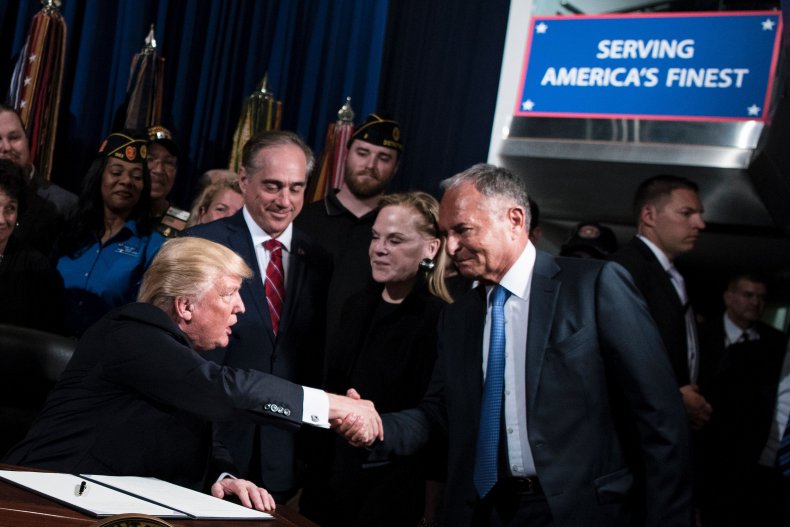 "These accounts," Warren and Schatz said in their August letter, "if true, paint a disturbing picture of corruption and cronyism that is not only antithetical to transparent, accountable, and ethical government, but will make it more difficult for the Secretary to lead the VA in a way that allows him to exercise his independent judgment."
After leaving his position as VA Secretary in March, David Shulkin told NPR News he was forced out because he clashed with unnamed members of the Trump administration who wanted to privatize the VA. The White House claimed otherwise, saying Shulkin resigned.
As a result of the possible outside influences over VA officials, both Warren and Democratic Representative Pramila Jayapal of Washington state introduced anti-corruption legislation.
When the report was published in August, Perlmutter, Moskowitz and Sherman issued a joint statement through a spokesperson that said they only had a minor influence in the agency, despite the documents that showed otherwise.
"At all times, we offered our help and advice on a voluntary basis, seeking nothing at all in return," their statement to ProPublica said. "While we were always willing to share our thoughts, we did not make or implement any type of policy, possess any authority over agency decisions, or direct government officials to take any actions."
White House spokeswoman Lindsay Walters told the outlet at the time that the White House had "no direct influence over the Department of Veterans Affairs."