Government Won't Mandate Coronavirus Vaccines for Americans, Fauci Predicts
Despite assurances that any coronavirus vaccine put on the market will be safe and effective, some remain skeptical of the potential inoculation. In response, Dr. Anthony Fauci, the director of the National Institute of Allergy and Infectious Diseases (NIAID), doesn't see the government instituting a mandate.
A new coronavirus vaccine may be vital to fully reopening businesses, resuming large gatherings and saving lives, so the Trump administration is taking a proactive approach. They've entered agreements with several companies to manufacture hundreds of millions of doses of potential vaccines in the hopes they'll be viable, and President Donald Trump mobilized the military to ensure it could be rapidly administered.
While the government is working to reach its goal of having 300 million doses by the end of the year, Fauci would be "pretty surprised" if there was a vaccine mandate for the general public.
"I don't think you'll ever see a mandating of the vaccine particularly for the general public," Fauci said during a Healthline town hall on Tuesday. "When you're in the medical sector, the hospital may say if you refuse to take a given vaccine ... you might not be able to have person-to-person contact with patients."
Newsweek reached out to the White House for comment, but did not receive a response in time for publication.
There's a global race to develop a safe and effective vaccine for the new coronavirus, which infected more than 21 million people in just eight months. Of the candidates that are being tested, at least six are in the Phase 3 part of the process, and the United States has agreements with three: AstraZeneca, Moderna and Pfizer.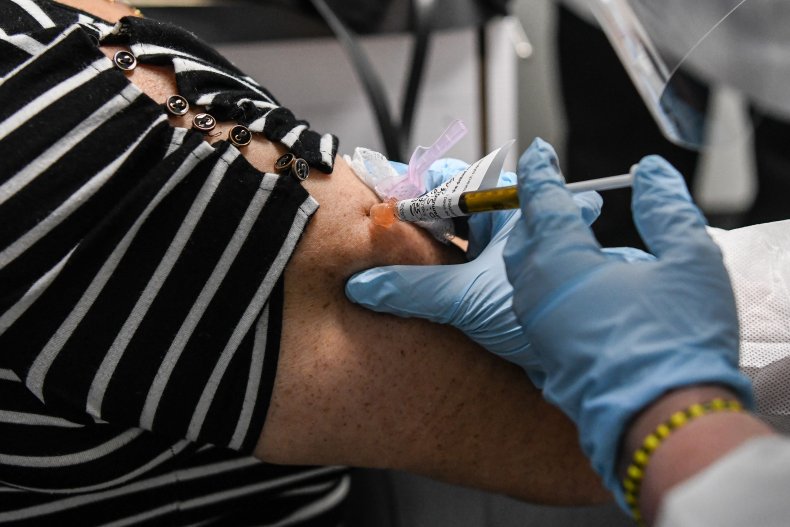 Fauci is "cautiously optimistic" that the Moderna vaccine, which entered Phase 3 trials on July 27, will work because preliminary data shows that it produces a level of neutralizing antibodies that are at least equivalent to people who recovered from coronavirus. Americans are likely to know by the end of the year if there's a viable option, but 35 percent of adults have already decided they won't be inoculated, according to a NPR/PBS NewsHour/Marist poll released on Friday.
Sixty percent of the 1,118 adults surveyed said they would take the vaccine and five percent were unsure. Minorities and those without a college education were less likely to sign on to the vaccine at this time.
Fauci told the town hall that people have a right to refuse because "you can't force someone to take a vaccine."
Part of the skepticism surrounding the vaccine has to do with the speed at which it's being created, and Trump's comment that the military would help with inoculations prompted pushback to the government intervention.
"It's a massive job to give this vaccine," Trump told Fox Business host Maria Bartiromo in May. "Our military is now being mobilized so that at the end of the year we'll be able to give it to a lot of people very, very rapidly."
Some on social media baselessly interpreted the president's words as implying they would be forced to receive the vaccine. A measure that's outside the government's power, constitutional experts told Newsweek a person can't be vaccinated against their will. However, Congress could make it a requirement to travel across borders and states could create mandates of its own, such as requiring the vaccination to attend public schools.
Before deciding whether to mandate the vaccine, there needs to be a safe and effective inoculation available. If one proves viable, Fauci said the government will likely have tens of millions of doses by the end of the year, at which point, the prioritization process will start.
The Advisory Committee on Immunization Practices, a group of experts that advises the Centers for Disease Control and Prevention (CDC), will work with another committee put together by the National Academy of Medicine to make "ethically," "scientifically" and "community" sound decisions as to who should be first in line for the vaccine.
"As we get well into 2021 it is likely that there will be enough doses for anyone who wants it," Fauci said.