An open letter signed by more than 600 organizations from across 70 different countries is calling on governments around the world to stop violating human rights in their responses to the coronavirus pandemic.
Spearheaded by CIVICUS, an international non-profit describing itself as a "global civil society alliance," the letter admonishes a number of countries for "abusing emergency powers to place restrictions on fundamental rights," including "freedom of expression and the right to access information."
"Across the globe, journalists, human rights defenders and other independent voices are threatened and punished for speaking out about the extent of the pandemic in their countries, or the measures adopted in response to COVID-19, the letter states. "These countries include Tajikistan, Niger, Egypt, Thailand, Saudi Arabia, El Salvador, Bangladesh and China."
Meanwhile, the letter states, some governments, including in countries like Hungary, Armenia, Azerbaijan and the Philippines, have adopted legislative measures that "curtail fundamental freedom" in response to the coronavirus pandemic, while other governments, "including India, Myanmar, and Bangladesh, have enforced internet restrictions and shutdowns which prevent many people from accessing vital information about how to protect themselves against the virus."
"Access to information is critical in efforts to curb the spread of COVID-19," the letter states. "Information should be widely available to everyone, not just selected government officials or other intermediaries, as is the case in Uzbekistan. This ensures that individuals, communities and health workers can react quickly and responsibly to new information."
The letter further flags concerns about "the growing practice of monitoring and closely controlling people's movements, even at the cost of their privacy."
"Efforts to contain the virus must not be used to expand systems of invasive digital surveillance," it states, yet, it asserts that countries like Israel and Taiwan have sought to use technological surveillance "in this context," raising concerns around whether heightened surveillance will continue in the aftermath of the pandemic.
In an interview with Newsweek on Wednesday, David Kode, the advocacy and campaigns lead at CIVICUS, said that while the letter's signatories understand that countries must institute new policies in order to curb the spread of coronavirus, some nations have taken their policies too far, violating human rights in the process.
"We know that social distancing is one of the ways in which we can calm the spread," Kode said. However, he said, some countries and local law enforcement authorities are going beyond their remit and appear to be using the pandemic to "restrict the rights of citizens."
"It is hard. These are difficult times for everyone, but all restrictions should be rooted in respect for human dignity," he said.
Yet, in more extreme cases, Kode said, those violations have resulted in violence, with officials in South Africa investigating the alleged police killing of a man who violated lockdown rules, while in other countries, including Kenya, Uganda and Nigeria, instances of security forces using "extreme force to force people into their homes and physically assaulting them" have also been reported.
The letter also accuses countries of failing to protect migrants held in detention centers in countries like Mexico and Greece, where they have been forced to live in "dire conditions without access to adequate hygiene facilities."
"It is also impossible for them to practice physical distancing due to overcrowding," the letter states.
Noting that "several countries have released prisoners as part of their response to curb the spread of the pandemic," the letter states that "these actions are commendable as congested detention facilities and prisons are high risk areas."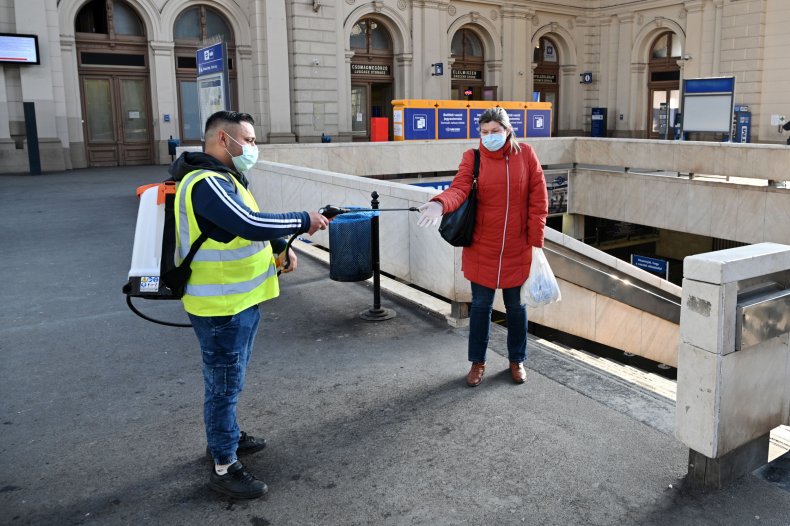 "We urge countries including Egypt, Bahrain, Kuwait, Iran, Israel, Libya, Morocco, Syria, Turkey, India, and the UAE to include human rights defenders, peaceful protesters and prisoners of conscience among those being released," it states.
The letter further warns of the risks that the pandemic poses to women and children who are at risk of domestic violence, as well as to people with disabilities and to members of other vulnerable groups, including LGBT+ communities who may suffer due to non-inclusive government policies.
"The unprecedented challenges presented by COVID-19 present an opportunity for states and civil society organizations to work together to defeat the virus," the letter asserts, urging countries to "be transparent and accountable" in the effort to combat the pandemic.
All states, the letter says, should "ensure all measures adopted in relation to the COVID-19 pandemic fully comply with states' international human rights obligations, and that any associated restrictions on human rights are necessary, proportionate, inclusive and time-limited."