On February 23, she was a student, wife, and mother, living in Sumy, a city of some 250,000 in eastern Ukraine, just 30 miles from the Russian border. On February 24, the life she knew was shattered, as Vladimir Putin launched a full-scale invasion of her country.
She spent days hiding in her basement for cover, until fear for her life and her son's future compelled her to take him and flee in March.
"My own life and my son's childhood have been stolen away by Putin," she told Newsweek.
That was the beginning of a lonely and dangerous journey.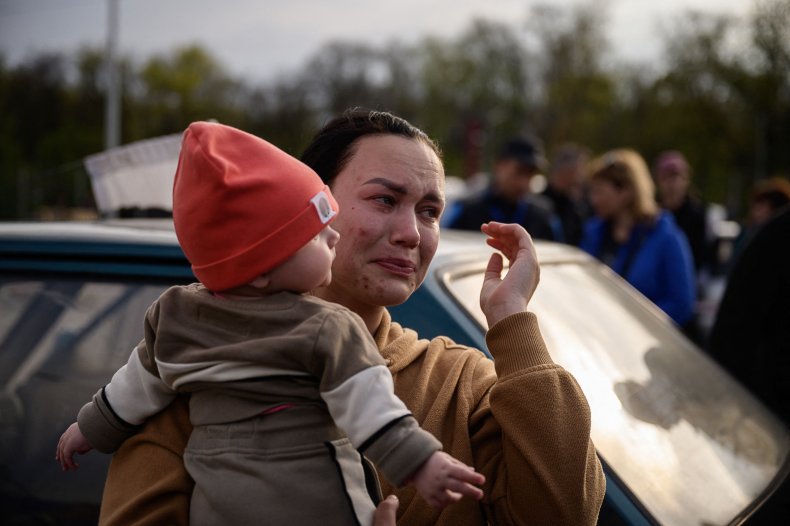 Irena (a pseudonym, used at her request) said that most of her relatives are still in Ukraine, and that she has minimal personal international connections. Determined to get her son as far away from the war as possible, she went first to Germany, and then farther west to Spain. But limited work and educational opportunities, coupled with fear that Vladimir Putin would not stop at Ukraine, pushed her onward.
"Putin was threatening the whole of Europe," she said. "I just wanted us to be as far away as possible."
After two weeks in Europe, Irena secured a temporary work visa from Mexico, more than 5,000 miles from her home. Shortly after arriving there, she connected with an American church group that eventually helped her and her son cross the U.S.-Mexican border into California.
After just one week on the west coast, she and her son then traveled nearly 3,000 miles to New York City, where, in another bit of good fortune, she connected with Holly Rosen Fink, president and co-founder of the Westchester Jewish Coalition for Immigration (WJCI).
"My mother was at her doctor's office, who is Ukrainian," Fink told Newsweek. "She told her about a Ukrainian mother and son living in the Bronx in a basement with rats and mice."
"Within two days, they were living in (Upstate New York) in someone's attic," she added.
Since making contact with Irena, Fink's team at WJCI has mobilized community members to help them find a safe, fully furnished place to live. They have also helped them connect with legal and educational services, as well as with other well-meaning community members.
Irena is grateful for all the help she has received in the U.S., but like many other Ukrainian refugees, longs to return home when and if the war ends.
"I could tell right away this is not where she wanted to be," Fink said, "with their relatives back home and such a different culture here."
"It has been a big adjustment for them," she added.
According to the United Nations, 90% of the 6.8 million Ukrainians who have fled their homes since February are women or children. Traumatized and often separated from male relatives, they have fled into cities across Europe and North America.
Despite the troubling circumstances, Irena said the support her people have seen from foreign governments has been minimal.
"There is nothing seriously being done to help us," she told Newsweek.
As a result, Ukrainians looking for refuge in other countries are becoming increasingly reliant on personal contacts, networks, and the "kindness of strangers." Those without robust connections often find themselves stranded abroad.
An expatriate from New Hampshire who lives in the Czech Republic, Laura Kocourek, is personally familiar with that experience. She moved to Prague without any connections or local language skills, and recalled the fear and uncertainty she felt upon arrival.
"I have had that experience of leaving my home and stripping away everything that I knew," she told Newsweek. "I did not have any friends or know the language, so when I meet Ukrainian refugees, I can really identify with them because I also came here and was alone."
Kocourek is now fluent in Czech and well-adjusted to her surroundings. Inspired by the community support she herself received, she has opened her doors to two Ukrainian families that were recently displaced.
With one family of two and another family of three, she has helped them get situated and adjust to a new environment, while also providing them with a safe place to stay.
"I will always remember that the most important thing I relied on during the first year was that people were nice to me," Kocourek said. "Sometimes you need community kindness, and then things start to unfold."
While uncertain about her future or that of her country, Irena urged the international community to continue to support Ukraine.
"There has to be more activity in terms of supporting all Ukrainians," she told Newsweek. "Life in one nation must be as important as life in every nation."