Governor Andrew Cuomo Gets Tested Live on TV, Urges More New Yorkers to Get Tested as State Begins Reopening
New York Governor Andrew Cuomo on Sunday got tested for coronavirus live on television to encourage more New Yorkers to do the same as the state begins to reopen its economy.
Cuomo stood with his eyes closed as a doctor wearing personal protective equipment (PPE) inserted a swap inside his nose during today's live coronavirus briefing in Albany, New York. "That is the whole test," the governor said as he sat back down. "I'm not in pain, I'm not in discomfort. Closing my eyes was a moment of relaxation. There is no reason why you should not get the test."
Cuomo used the demonstration to encourage all symptomatic New Yorkers to get tested for coronavirus, before announcing that testing capacity throughout the state has increased to about 40,000 each day. New York Health Commissioner Dr. Howard Zucker added that total capacity was around 80,000 to 90,000 per day with the inclusion of private lab tests.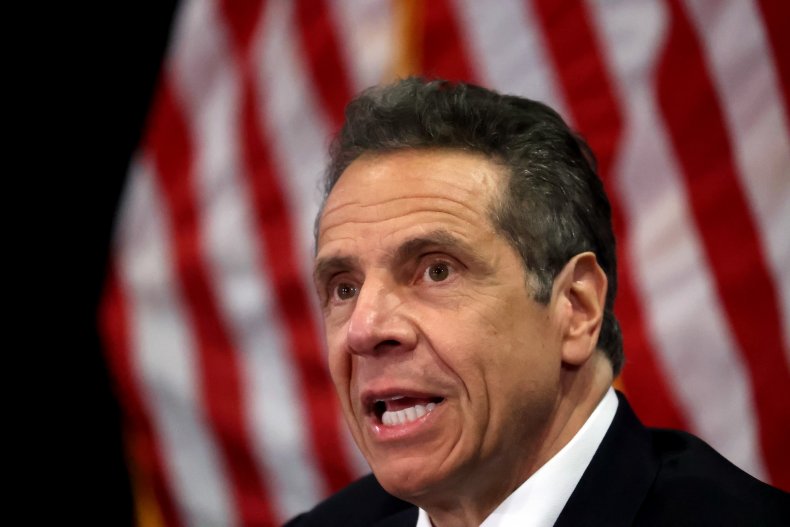 New York now has more than 700 testing sites and currently more tests are available than people are using, Cuomo said, adding that as the state begins to reopen, testing will need to be ramped up to monitor and contain the disease's spread.
The push for testing moves away from the message that doctors had previously been sending to New Yorkers without serious symptoms throughout the pandemic. Before the state increased its testing capacity, asymptomatic individuals and those experiencing mild symptoms were encouraged to stay indoors rather than risk infecting others by entering a testing location.
Health officials are now urging more residents to get tested regardless of the severity of their symptoms.
Cuomo also expanded the limits of those who qualify for testing on Sunday, telling the public that anyone who will return to work in Phase 1 of his reopening plan will now be eligible at a drive-in or walk-in site, as well as anyone who has come into contact with an infected individual. The governor also touted a new website to help individuals determine whether they should be tested and which testing location is closest.
In a statement to Newsweek on Sunday, Cuomo reiterated his push for more testing and stressed that capacity has now exceeded what the state is actually using.
"New York has worked aggressively to build a massive statewide sample collection network and is now testing more than any state or country per capita, but our new problem is we have more sites and capacity than we're actually using," the governor said. "The more New Yorkers get tested, the better—and we are going to ensure to all individuals who will return to the workplace in phase one of our reopening plan have access to testing, and we are launching a new website to make it easier for New Yorkers to find nearby testing sites."
Five upstate New York areas have now begun Phase 1 of the state's reopening plan, which includes allowing the construction, agriculture, retail, manufacturing and wholesale trade industries to return to work. Retail reopenings will be limited to curb side or in-store pickups.
As of May 14, more than 359,800 individuals had tested positive for coronavirus in New York state, with over 28,300 deaths caused by the new disease. Overall, the U.S. now has a total of around 1,524,100 COVID-19 cases, with over 90,800 deaths and 343,000 recoveries.