'F All Politicians': Governor Candidate Divides Voters With Ironic Slogan
Mariana Dawson is running for governor of California but her campaign slogan has caught some voters off guard.
In a candidate voter guide published by the California Secretary of State, Dawson's image is accompanied by a pithy three-word statement: "F all politicians." Dawson is running without a party preference.
She posted a preview of the slogan's release on YouTube Thursday, adding that she was getting ready to submit paperwork to the California Secretary of State.
The statement has made its rounds on social media, notably in a post on Reddit's "Mildly Interesting" forum that has been upvoted nearly 40,000 times within the past 24 hours.
Some have found the statement generally ironic because the candidate, Dawson, is presumably calling out all politicians while running as one herself in arguably the state's biggest election.
"Problem is we keep seeing that these 'Not a politician' and 'anti-establishment' types who run for office just end up being extremists who the establishment won't touch because they're toxic and violent," one Redditor said.
Another referenced a quote from Jason Bateman's character in the film Dodgeball: A True Underdog Story, saying, "It's a bold strategy, Cotton. Let's see if it pays off for her."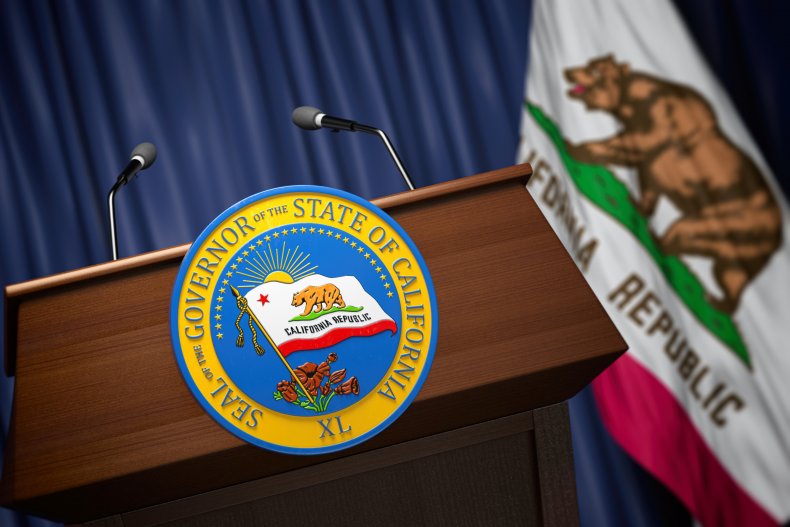 Others identified as California residents didn't find the statement amusing, with one saying, "It's California. Anyone with a spare $4000 to throw away can get on the ballot. We always have a couple dozen joke candidates running for governor."
"Californian here. I can assure you she will be quickly tossed into the 'it's like they never existed' box that sits on a dusty back shelf in a warehouse nobody would care about if it burned down," another person commented. "While she may think this is a clever, 'real' subversive method of getting elected, this is a state with 40 million people who are used to (and expect) serious candidates. We have the 5th largest economy in the world and some serious opinions about how that money is spent."
In the state's 2018 gubernatorial election, when incumbent Democratic Governor Gavin Newsom defeated Republican John Cox, both campaigns spent about $40 million. And in the recall election against Newsom in 2021, in which approximately two-thirds of state voters eventually voted to keep him in office against 46 challengers, it was reported that taxpayers paid about $276 million.
Dawson's website described herself as "a self-made woman of mixed heritage—half Creole, half Salvadorian—who has worked across a full spectrum of California jobs."
"I have no political resume or affiliations," she wrote. "I have lived in the city, and in a rural community. I am not a millionaire. I value success and successful people, but do not support corporate monopolies.
​
"I am one Californian ready to take a stand and work toward solutions that are doable and that prioritize harmony of life for everyday people in our state," she added. "Winning means real help is coming. And losing will only make me fight harder for my economic existence, and my ability to stay in the state I love."
Her platform touched on issues that extend across the entire political-ideological spectrum, including being pro-law enforcement, pro-self defense, pro-gun rights restoration and reinstating the death penalty.
She said she is against Critical Race Theory, wants to break up monopolies, and wants to "find a cure" for fentanyl addiction.
Dawson elaborated on five major campaign issues: housing solutions, economic reforms, basic safety protections, student debt solutions, and homelessness emergency measures.
Those include an "immediate moratorium" on rent and property tax increases; an "immediate reduction" of parking and traffic ticket fines and fees, car registration fees and taxes and fees on gasoline—which she calls "punitive and devastating" for state residents; introducing an Elderly State Law that would mandate 15 years in prison with no parole for "unprovoked attacks" on older people; and a state purchase of all outstanding loans originated from California colleges, universities, vocational schools and other higher learning centers.
It was reported that nearly 650,000 people left California for other states in 2020 alone or about 210,000 more than U.S. citizens who moved from other states to The Golden State.
The California gubernatorial primary election is June 7. The general election will take place November 8. Newsom is running for another four-year term.
Newsweek reached out to Dawson for comment.