Governor Cuomo Announces Curfew in NYC After Violent Weekend Protests
New York Governor Andrew Cuomo announced a curfew for New York City Monday during a radio interview after demonstrations were held through the city over the weekend.
Hours for the curfew were expected to last from 11 p.m. to 5 a.m. EDT. Cuomo's decision to place a curfew on the city came after a night of violent protests against the death of George Floyd, who died in Minneapolis in May while being detained by police. Demonstrators looted businesses, set fires and clashed with police officers.
"There's going to be a curfew in New York City that we think could be helpful," Cuomo said. "More importantly, there is going to be an increase in the force."
Cuomo added that while approximately 4,000 New York City officers were on duty Sunday night, roughly 8,000 would be on duty Monday night. He said the National Guard would also be on standby. The curfew was only expected to be in effect for Monday night.
In a joint statement sent to Newsweek on Monday from Governor Cuomo and New York City Mayor Bill de Blasio, both men decried the violence shown by protesters.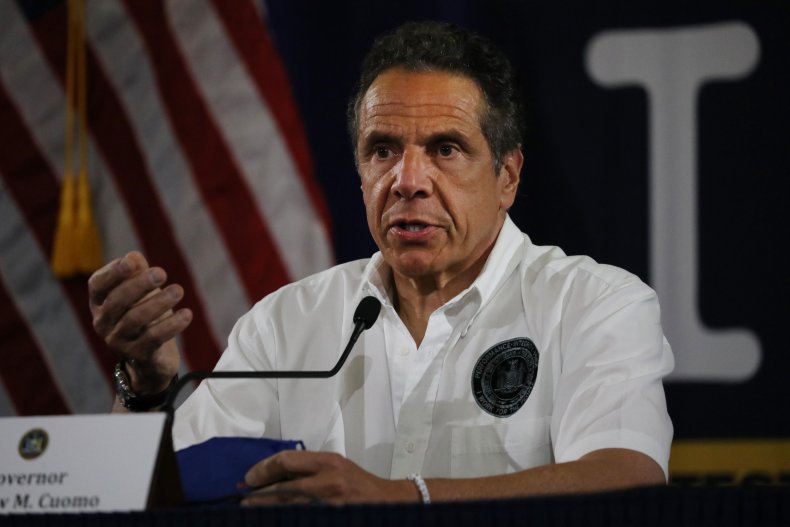 "We can't let violence undermine the message of this moment," de Blasio said. "It is too important and the message must be heard."
Cuomo expressed concerns that the protests could potentially spread the coronavirus. "While we encourage people to protest peacefully and make their voices heard, safety of the general public is paramount and cannot be compromised," Cuomo said. "At the same time, we are in the midst of a global pandemic which spreads through crowds and threatens public health."
Mayor de Blasio was the subject of criticism after video of a New York Police Department vehicle driving into a crowd of protesters was released to social media. Commenting on the incident, de Blasio said he would not put the blame on police officers who were "trying to deal with an absolutely impossible situation." He appeared to place the blame on protesters who "created an untenable situation" by surrounding the vehicle.
During a Monday news conference, de Blasio clarified his remarks. "There is no situation where a police vehicle should drive into a crowd of protesters or New Yorkers," de Blasio said.
Protests in New York City were part of many others across the nation as individuals protested Floyd's death. Floyd died in Minneapolis after being detained for arrest. Video taken by a bystander showed one officer kneeling on Floyd's neck. In the video, Floyd can be heard to say, "I can't breathe."
First responders to the scene noted Floyd was unresponsive. Floyd was pronounced dead at a local hospital.
Four officers involved with Floyd's death were fired by the Minneapolis Police Department on Tuesday. Former officer Derek Chauvin was arrested and charged on Friday with third-degree murder and manslaughter in connection with Floyd's death.