Governor Cuomo Says New York Schools Will Remain Closed for Now: 'I'm Not Prepared to Say What We Will Do in June'
Governor Andrew Cuomo said New York's educational institutions will not reopen at the expense of public safety, though he hesitated to provide a timeline denoting the end of statewide school closures during Sunday's coronavirus press briefing.
"I'm not prepared to say what we will do in June," Cuomo told reporters, one day after New York City Mayor Bill de Blasio announced that citywide school closures would remain in place through the end of the current academic year. Cuomo originally seemed to disagree with the mayor's decision, describing it as an "opinion" and citing a need for further discussion in his own subsequent comments.
When asked to clarify the state's position on resuming in-person instruction on Sunday, he confirmed school closures would persist for at least the foreseeable future but emphasized that June—during which classes would ordinarily take place for several weeks before summer break—is still a ways ahead.
"I don't think anybody can make an informed decision right now," Cuomo said, calling for a "coordinated approach" among regional policymakers to revive business, transportation and education sectors when the time comes. "We closed everything down in a coordinated fashion, and we did it regionally," he reasoned.
Cuomo also shared New York's most recent coronavirus statistics during Sunday's briefing. The data showed fatality and hospitalization rates consistent with those reported over the last several days, indicating a possible "flattening" of the state's outbreak curve, albeit in high quantities. There were 758 new deaths confirmed statewide over the past 24 hours, similar to daily fatality counts reported over the past week. In New York, between 731 and 799 people have died every day from coronavirus since April 6, amounting to 9,385 deaths overall.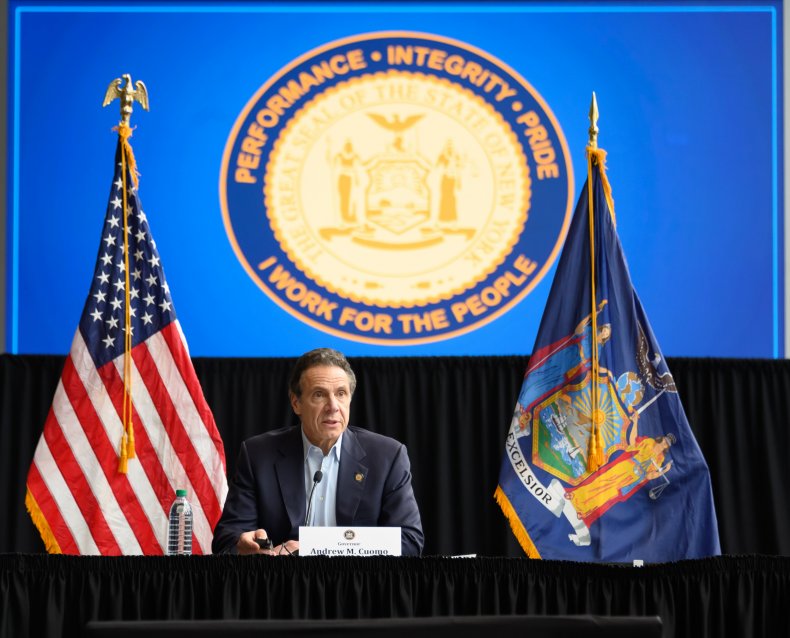 During a news conference earlier on Sunday, de Blasio shared updates about the outbreak's current status in New York City, which reported a surge in hospitalizations last week. According to reports from the city's Department of Health, roughly 13,000 coronavirus patients were admitted to hospitals in Manhattan, Brooklyn, Queens, Staten Island and the Bronx between April 5 and April 11. Overall, the city has diagnosed at least 98,715 cases, and more than 6,300 people have died as a result.
"This week, we went through a lot in New York City," said de Blasio. "It was a very very tough week in our hospitals. We lost one of our loved ones. We lost some of our fellow New Yorkers. It's so painful to think about."
However, the mayor noted that ventilator use has decreased considerably in recent days, down to an average of 70 new intubations daily. Previously, city hospitals were reporting 200-300 new intubations per 24-hour interval. Based on the latest data, de Blasio said New York City has enough ventilators to last through the upcoming week, but not longer than that. "Next week, we have real challenges we must address over the next few days," he noted.
The mayor also introduced plans for expanded coronavirus testing, referencing new reports that show the disease's disproportionate impact on low income communities and communities of color. Cuomo articulated a similar statewide strategy on Sunday, after partnering with Maryland Governor Larry Hogan to introduce a bipartisan bill requesting $500 billion in direct aid to states from the federal government over the weekend.