Governor Cuomo Says Professional Sports Teams Can Resume Training in New York: 'It's a Return to Normalcy'
All professional sports teams in New York were permitted to resume training on Sunday, Governor Andrew Cuomo announced during his daily press conference. Although ongoing social gathering restrictions prevent professional leagues from holding live games for in-person crowds, Cuomo advocated for televised sporting events as his state works to recover from the new coronavirus pandemic.
"I believe that sports can come back without having people in the stadium," he said on Sunday, encouraging athletic corporations to develop economic strategies accordingly. Professional sports leagues typically derive sizable portions of their annual revenues from ticket sales, but representatives from several of the country's leading organizations have already described plans to amend typical procedures in preparation for their respective returns to the field.
In accordance with stay-at-home orders and nonessential business closures directed by health and government officials across the United States in March, all professional sports leagues suspended their seasonal activities. Dozens of states have launched economic reopening plans since late April, and national athletic leagues have tentatively followed suit.
Executives from the National Football League (NFL), National Basketball Association (NBA) and Major League Baseball (MLB) all recently confirmed intentions to carry out sports seasons with modified operations and economic models. The National Hockey League's commissioner has articulated similar interest in restarting the 2020 season upon approval from health authorities, multiple outlets have reported. Exactly where and how teams will hold practices and future games depends on guidance from individual states.
According to a May 20 report from ESPN, NBA commissioner Adam Silver is expected to announce more comprehensive guidelines for upcoming team practices and games on June 1. Many NBA facilities across the country have reopened for individual workouts involving one coach and one player, per CBS Sports. As Newsweek previously reported, MLB owners have approved a revenue-sharing plan that will allow for players' continued compensation as the league prepares to initiate an abridged season in July--though the league would have to be in agreement with the players' union before the official start of the new season.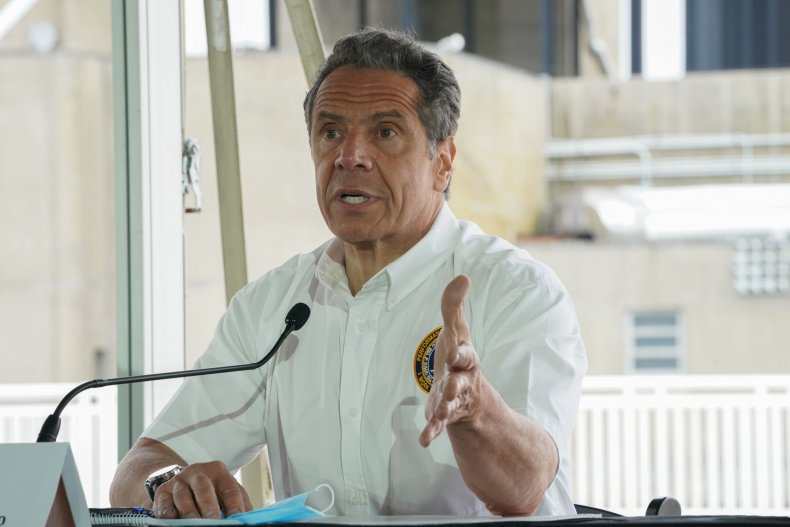 New York is home to the highest regional concentration of professional sports teams in the country. During Sunday's news conference, Cuomo said allowing leagues to start training again will promote "a return to normalcy" for many state residents still largely confined to their homes under New York's PAUSE order, effected on March 22 as confirmed cases of the new coronavirus rose at rapid rates.
"We want people to be able to watch sports, to the extent people are still staying home. It gives people something to do. It's a return to normalcy," Cuomo said. "So, we are working and encouraging all sports teams to start their training camps as soon as possible, and we'll work with them to make sure that can happen."
Newsweek reached out to representatives from the NBA, NFL, MLB and NHL for comments in response to Cuomo's Sunday announcement but did not receive replies by time of publication.
The governor's announcement came alongside permissions for additional New York regions and industry sectors to enter Phase 1 of the state's reopening plan. On Sunday, Cuomo said Mid-Hudson and Long Island regions are both "on track" to begin Phase 1 on Tuesday and Wednesday, joining seven upper New York areas that met reopening criteria during the first three weeks of May. Campgrounds and RV parks will reopen statewide on Monday, he added, followed by non-emergency veterinarian practices on Tuesday.
New York became the new coronavirus' national epicenter in March, shortly after the U.S. started to consistently report cases of the respiratory syndrome. In recent weeks, the state has confirmed considerably fewer additional cases and daily fatalities due to the disease than it had during the month of April. However, the outbreak continues to impact several areas of New York, particularly New York City, to a greater degree than it does any other region in the country.
Cuomo said 1,589 new cases had been confirmed between Saturday and Sunday statewide, as well as 109 new deaths. Overall, at least 361,515 people have contracted the new coronavirus in New York, and 29,141 have passed away as a result, according to Johns Hopkins University's tracker. In addition, the state has reported close to 64,300 recoveries.