New York Governor Andrew Cuomo's coronavirus approval rating more than doubled President Donald Trump's figure among the state's voters in a new national survey.
In the latest Quinnipiac poll, released Wednesday, an overwhelming majority—81 percent—of New York voters approved of Cuomo's handling of the state's response to COVID-19 and 17 percent disapproved. By comparison, only 35 percent of New York voters approved of Trump's handling of the pandemic, while 61 disapproved.
Trump's overall coronavirus approval rating lagged significantly behind New York City Mayor Bill de Blasio, who garnered 63 percent of support for his handling of the virus in the U.S. epicenter of the crisis. Roughly 30 percent disapproved of de Blasio's COVID-19 response.
The president also trailed behind New Jersey Governor Phil Murphy and Connecticut Governor Ned Lamont among voters in their respective states. Roughly 78 percent approved of Murphy's handling of the virus and 18 percent disapproved. By comparison, just 37 percent of New Jersey voters approved of Trump's coronavirus response and 61 percent disapproved.
In Connecticut, 78 percent approved of Lamont's handling of the virus and 17 percent disapproved. While 36 percent approved of Trump's response and 61 percent disapproved.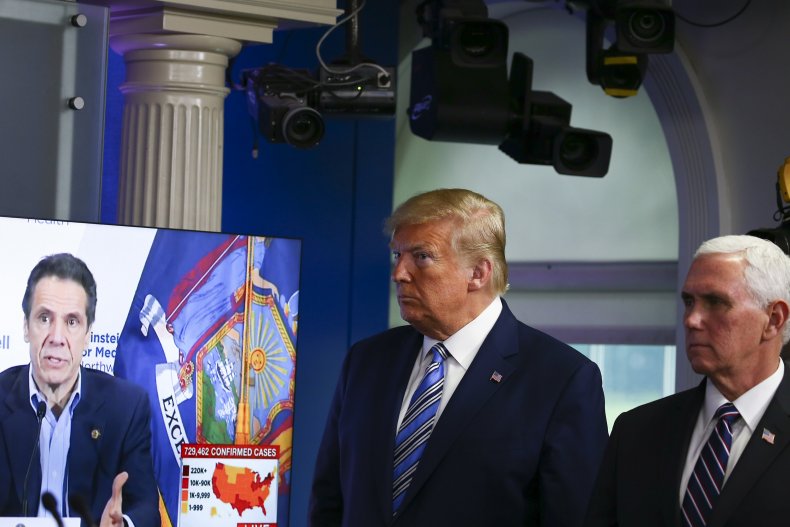 "A crisis rockets governors to approval ratings rarely seen. In the Tri-State area, the public leans on their leaders and the gratitude shows," Quinnipiac University Polling Analyst Tim Malloy said of the findings.
A majority—roughly two thirds—in each state agree with the mitigation measures put in place by their governors to limit the virus' spread, while about 20 percent think they should be stricter and 15 percent think they went too far.
The poll surveyed more than 2,800 registered voters across the three states. The margin of error is plus or minus 3.2 percentage points.
Trump has criticized multiple Democratic Governors in recent months over their allegedly poor handling of the outbreak. Many of them have fired back at the president for responding too slow in the early stages of the pandemic. As Trump continues to push for a quick reopening of the economy, Cuomo on Tuesday urged America to reconsider whether prioritizing the economy is worth losing lives.
"How much do we think a human life is worth?" Cuomo said. "There is a cost of staying home, no doubt. Economic cost, personal cost. There is also a cost of reopening quickly... the faster we reopen, the lower the economic cost, but the higher the human cost. Because the more lives lost. That, my friends, is the decision we are really making."
Newsweek reached out to the Trump reelection campaign and Cuomo's office for comment. This story will be updated with any response.