Governor Kathy Hochul Reports $21M Fundraising Haul, Dwarfing Opponents in New York Race
New York Governor Kathy Hochul announced a massing fundraising haul of nearly $22 million for her election campaign in just five months, leaving her opponents straggling behind in donations for the upcoming gubernatorial election.
Hochul started fundraising in August, shortly after she was sworn into office following former Governor Andrew Cuomo's resignation. She has brought in a reported $21.6 million in campaign donations, City & State New York reported.
New York's first female governor is "the clear favorite among New York Democrats, leading potential primary opponents by more than 30 points," according to a new Siena College poll.
Hochul's campaign described the haul as "the largest contribution total for any single filing period in New York history," they said in a press release, according to City & State New York.
Her opponents have raised just a fraction in campaign funds. U.S. Representative Tom Suozzi, a Democrat representing Long Island, reported $5.4 million in campaign donations. New York City Public Advocate Jumaane Williams reported just $222,000 so far, the Associated Press reported.
Some politicians are skeptical of Hochul's large accumulation of donations in a short amount of time, accusing her of breaking the law and not earning the money in a completely ethical way.
State GOP Chair Nick Langworthy claims the only way Hochul could have raised over $21 million in five months is using "the corrupt art of pay-to-play politics using every trick she learned from her mentor Andrew Cuomo," the Long Island Press said.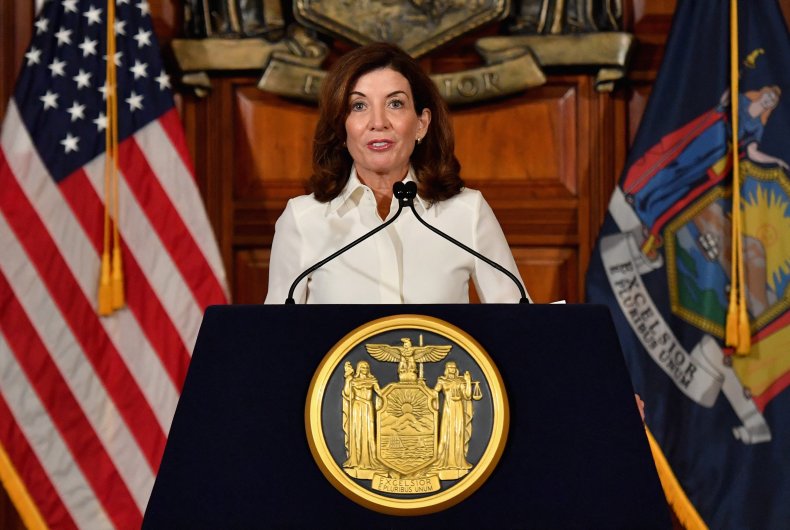 "Kathy Hochul is Andrew Cuomo 2.0 where crooked deals are cut with lobbyists and special interests in exchange for campaign cash and New Yorkers are the collateral damage."
A source from the Hochul campaign refuted Langworthy's comments and said 87.6 percent of the donations came from the state, the Long Island Press reported.
During a press conference on Thursday, Suozzi said that the New York Attorney General's Office needed to investigate Hochul's campaign fundraising practices after a report showed she used a state-owned aircraft to fly to political fundraisers, which is an ethical violation under New York law, WLNY- TV reported.
On the Republican side, U.S. Representative Lee Zeldin raised roughly $8.4 million from nearly 34,000 donations since he announced his bid for governor in April, he said on Twitter on Tuesday.
AP said that of all the candidates running for governor, Cuomo still would have been closest behind Hochul in fundraising with a reported $16 million in campaign funds as of mid-January.
The biggest donors for Hochul's campaign include real estate developers, celebrities, and people in the entertainment and technology industries, according to City & State New York.