Governor Larry Hogan Won't Run for Senate Despite Push From Mitch McConnell
Maryland Governor Larry Hogan announced during a press conference Tuesday that he will not be running for U.S. Senate in the upcoming midterm elections despite a push from prominent Republicans.
Hogan, a Republican, was encouraged to run by Senate Minority Leader Mitch McConnell and other Republicans who were hoping that the governor could pick up a win for GOP in the heavily blue state. With Hogan confirming that he will not run, the Republicans may have a difficult road ahead of them to achieve a majority in a Senate currently divided 50-50.
"I will not be a candidate for the United States Senate," Hogan said at the press conference. "I sincerely appreciate all the people who have been encouraging me to consider it. A number of people said they thought I could make a difference in the Senate as a voice for common sense and moderation. I was humbled by that, and it certainly gave me and my family reason to consider it."
McConnell's wife, former Donald Trump and George W. Bush aide Elaine Chao, also played a role in attempting to court Hogan, encouraging a Senate run while recently dining with his wife, Yumi Hogan, at the Maryland governor's mansion. However, the couple's best efforts didn't work, with Hogan reiterating during the news conference that he never actually had senatorial aspirations.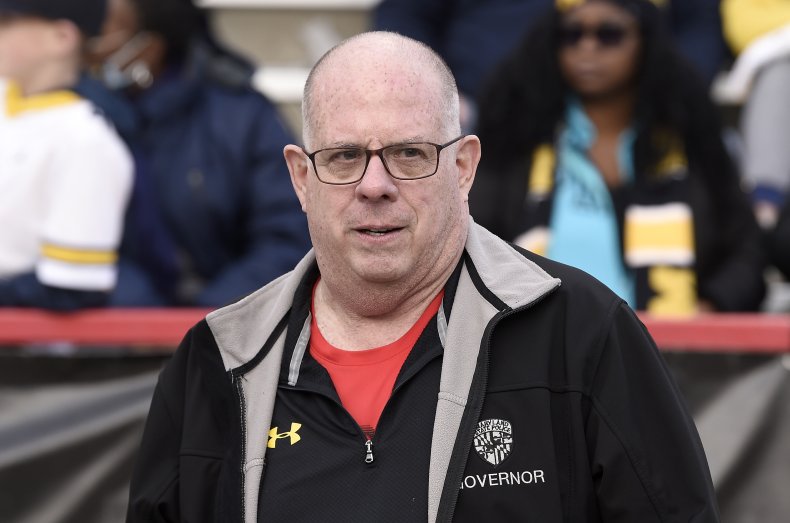 Hogan had previously voiced disinterest in running for the Senate, although he had not definitively rejected the idea until Tuesday. Despite what he refers to as "people calling on [his] patriotic duty," he expressed no desire to become a senator, even if his potential run would help flip the Senate red.
However, Hogan did entertain the idea of a potential presidential run but said that it may be a while before he commits to starting a campaign.
"In January of 2023, I'll have plenty of time to think about what the future holds," he explained. "I think the world's going to be a different place a year from now."
Hogan promised that in the meantime he will continue to speak out against what he called "divisiveness" in the federal government and "broken politics."
"This does not mean that I plan to sit on the sidelines when it comes to the serious challenges facing our country and our democracy," Hogan told reporters. "I'm going to continue to call it like I see it, and I'll keep speaking out about the divisiveness and dysfunction in Washington, and about fixing the broken politics."
Hogan has one more year of his term before his tenure as governor ends. He will not be able to run for re-election after this term is complete.
Update 02/08/22, 2:23 p.m. ET: This story has been updated with more information and a quote from Larry Hogan.