Governor Newsom Cancels DNC Speech as Wildfires Spread Through California
California Governor Gavin Newsom's scheduled appearance at the Democratic National Convention (DNC) was canceled Thursday. Meanwhile, wildfires have consumed approximately 450,000 acres of land forcing some residents to evacuate their homes.
Newsom was slated to present remarks during the final night of the DNC, where Democratic presidential nominee Joe Biden is expected to formally accept the party's nomination. California's fires, exacerbated by a heat wave and lightning storms, caused Newsom to declare an official state of emergency. According to a Thursday statement, the situation in California was a mitigating factor in scrubbing Newsom's convention appearance.
"The segment that was originally planned didn't make sense given the growth and severity of the state's devastating wildfires," said Newsom spokesperson Nathan Click in a statement sent to Newsweek on Thursday, "so we're evaluating options while the Governor prioritizes the emergency response." Click also said that how or if Newsom would participate in Thursday's DNC was yet to be determined.
As the DNC started, Newsom did make an appearance in a brief live video to speak about the fires. The governor put the blame for the fires on climate change and anti-environmental policies.
"If you are in denial about climate change, come to California," Newsom said.
Newsom described his originally scheduled appearance as "an engaged conversation with another well-known elected official" during a Monday press conference.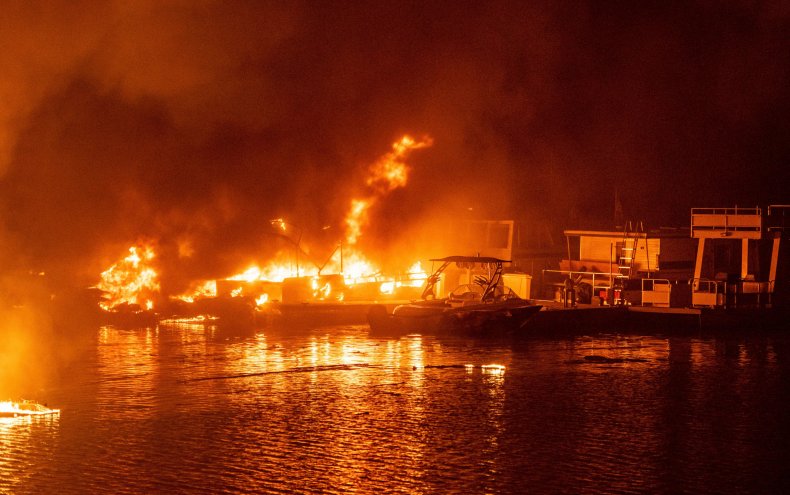 According to officials, 367 wildfires are currently burning in the state. Fires throughout Napa and Sonoma counties, collectively known as the LNU Lightning Complex, has consumed 137,000 acres as of Thursday.
Lightning is believed to be the cause for a majority of California's wildfires. In a Wednesday news conference, Cal Fire Public Information Officer Jeremy Rahn said that dry lightning events, which produce no rain, had "resulted in 10,849 lightning strikes across the state, causing more than 367 new fires."
"We're putting everything we have on these fires," Governor Newsom said during a press briefing. "They're stretched all across the state of California."
"2020 has thrown a lot at us," Newsom tweeted Thursday. "A pandemic. Lightning strikes. Record heatwaves. Fire. But if there's one thing I know about CA it's that we are resilient."
Newsom also thanked frontline workers who were "keeping us safe. You represent the very best of what it means to be a Californian."
Newsom endorsed Biden's campaign in May during a virtual fundraiser. "You've been on the front lines of fighting against poverty, ignorance and disease," Newsom said. "You have a deep compassion and empathy. You see the world from other people's eyes."
Biden acknowledged Newsom's remarks by saying that if he wins the presidential election, "I'm going to need you badly."
Other speakers at Thursday's DNC are expected to include former South Bend, Indiana Mayor Pete Buttigieg, Atlanta Mayor Keisha Lance Bottoms and Illinois Senator Tammy Duckworth.
Buttigieg ran for president against Biden before suspending his campaign in March. Both Mayor Bottoms and Senator Duckworth were rumored to be on Biden's short list as vice presidential picks.
Update (8/20/2020, 9:00 p.m.): This article has been updated to include information about Newsom's brief appearance at the DNC on Thursday night.