Governor Northam Delays Reopening in Northern Virginia As State Sees Over 2,000 Cases in The Past Week
On Tuesday, Virginia Governor Ralph Northam signed an executive order delaying northern Virginia's reopening, as the state has seen over 2,000 coronavirus cases in the past week.
"Governor Ralph Northam today issued Executive Order Sixty-Two, allowing specific localities in Northern Virginia to delay entering Phase One of the 'Forward Virginia' plan to ease restrictions on certain business operations that were put in place in response to the novel coronavirus, or COVID-19," Northam's office said in a press release.
During a recent press conference, Northam noted that Virginia as a whole may enter phase one of reopening on May 15, but his executive order allowed areas in northern Virginia to "delay implementation of Phase One until midnight on Thursday, May 28." According to Northam's press release, the delay will allow these areas to meet the key health metrics needed to being the reopening process.
Phase one allows some retail businesses to reopen with limited capacity. Beaches and gyms will remain closed and restaurants are limited to take out service.
"As I have said, it's important that the Commonwealth as a whole can meet key health metrics before moving into Phase One," said Northam. "The Phase One policies are a floor, not a ceiling. While the data show Virginia as a whole is are ready to slowly and deliberately ease some restrictions, it is too soon for Northern Virginia. I support the request from localities in this region to delay implementation of Phase One to protect public health."
Some of the areas in the state that will delaying reopening include Arlington County, Fairfax County, Loudoun County and Prince William County. The order also includes some cities and towns in northern Virginia, such as Alexandria, Fairfax, Falls Church, Manassas Park, Dumfries, Herndon and Vienna.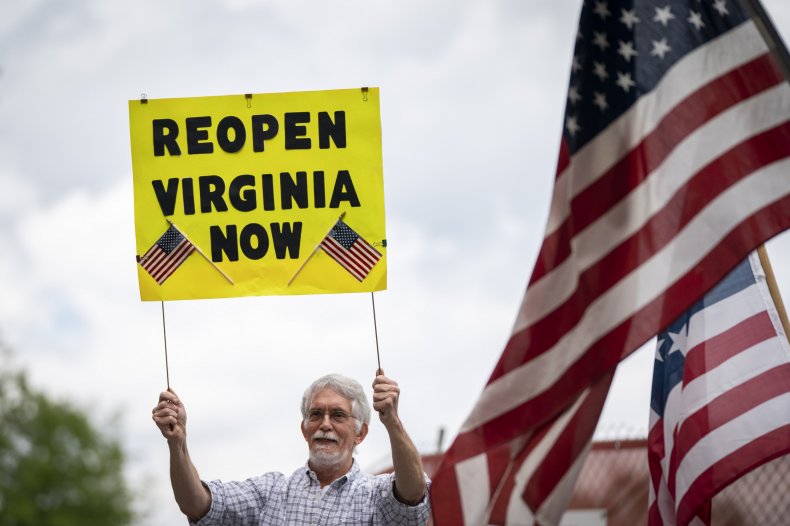 Northam's decision comes as the state has seen a large number of coronavirus cases in the past week. According to the state's department of health, there have been at least 2,189 coronavirus cases in the past seven days, bringing Virginia's total to at least 25,800 confirmed cases and at least 891 deaths.
Many of these cases across the state have stemmed from the northern areas that were listed in Northam's executive order. According to the Virginia Department of Health, there are at least 6,470 cases and 253 deaths in Fairfax County, 3,078 cases and 58 deaths in Prince William County, 1,416 cases and 66 deaths in Arlington County and 1,210 cases and 35 deaths in Loudoun County.
Fairfax County has reported the most cases and deaths across Virginia, followed by Prince William County.
The new coronavirus, which causes the respiratory disease COVID-19, continues to spread across the U.S., which has remained the virus's epicenter. According to a tracker provided by Johns Hopkins University, there are currently over 1.3 million cases across the U.S., as well as at least 81,076 deaths.