Governor Pritzker Issues Indoor Mask Mandate for Illinois Regardless of Vaccine Status
Illinois Governor J.B. Pritzker announced Thursday the reinstatement of a statewide indoor mask mandate as the spread of the COVID-19 Delta variant continues straining hospitals around the state.
The mask mandate, which is applicable regardless of an individual's vaccination status, goes into effect on August 30, the Democratic governor said during a Thursday press conference.
While Pritzker said vaccination against COVID-19 is the "most effective" way to keep people out of the hospital amid what he described as "a pandemic of the unvaccinated," he said masks are necessary to help slow the spread of the virus in Illinois.
"Masks work. Period," he said.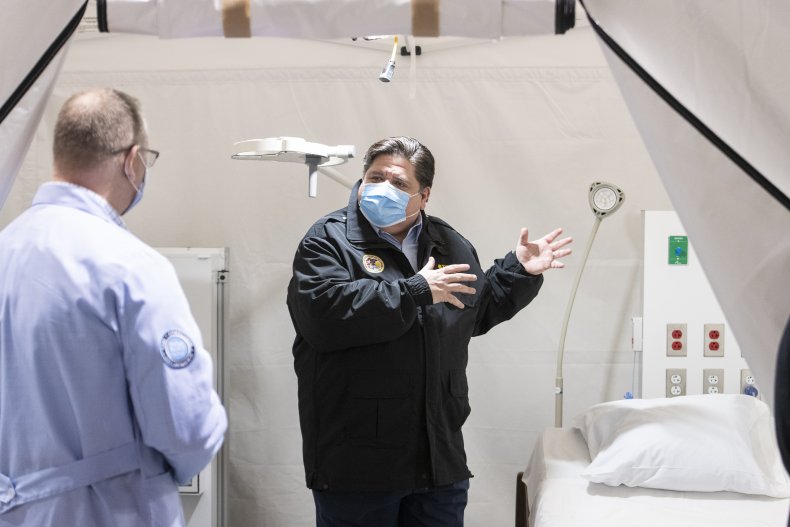 By August 25, nearly 76 percent of Illinoisans had received at least one vaccine dose and nearly 59 percent were fully vaccinated, according to Illinois Department of Public Health (IDPH) data. Pritzker said Thursday Illinois was "proudly the most vaccinated state in the Midwest" but said vaccination rates still vary widely by county, with six of the state's 11 regions reporting rates of fully vaccinated individuals below 60 percent.
In southern Illinois, the seven-day rolling average of ICU bed availability was 3 percent, he said. ICU capacity is a concern in six of 11 regions in the state. Those six regions were below a 20 percent ICU threshold as of Thursday, Pritzker said.
"Unfortunately, our current vaccination levels are not enough to blunt the ferocity of the Delta variant hospitalization surges in some regions," Pritzker said. "Hospital administrators are asking for more help to manage the sheer number of incoming patients who, I'll emphasize again, are almost exclusively individuals who have chosen not to get the life-saving vaccine."
In addition to announcing the reinstatement of Illinois' indoor mask mandate, Pritzker introduced new vaccine requirements for teachers and staff at P-12 schools, as well as students and personnel at higher education institutions. Health care workers at hospitals, nursing homes, urgent care facilities and doctors' offices will also fall under the new vaccine requirements, which Pritzker said go into effect on September 5. Pritzker had previously introduced a vaccine mandate for state employees working in congregate care facilities.
Any individual who falls under the new vaccine requirements and either cannot get a COVID-19 vaccine or decides against getting one will have to be tested for the virus at least once a week, he said.
Pritzker attributed Illinois' current surge in hospitalizations to the spread of the Delta variant at a time when vaccinations are lagging in some communities.
"Today's action are necessary because Delta is different," Pritzker said. "The rapid spread in Illinois and across the U.S. is holding us all back from the post-pandemic life we so desperately want—harming our most vulnerable."
Newsweek reached out to Pritzker's office for further comment and will update this article with any response.