Governor Ron DeSantis is the American Leader to Meet the Moment | Opinion
Great historical moments always beg the question: Was this caused by the man—or the events? Did circumstances or decisions bend the arc of history?
The answer is almost always both: Powerful events happen—but leaders powerfully shape events.
There's no doubt, for instance, that the country was blessed by Abraham Lincoln's gifts of moral leadership and his steady hand. And no one would dispute that Ronald Reagan played a pivotal role in bringing about the fall of the Berlin Wall and the end of the Soviet empire.
That's why the people we elect to positions of power matter, because we know that America plays a historic role in the world, and our leaders must meet the moment when it comes.
Which is all the more reason that Florida's Governor, Ron DeSantis, should become the next occupant of the White House as the next President of the United States.
No person is better suited to contend with the big changes afoot in our country, and no person will be a better steward of America in the years to come. Great forces in the world demand a great leader—someone strong but thoughtful, principled but inquisitive, and resolute in their belief in America's noble mission.
Republicans, of course, already sense these qualities in Governor DeSantis. He has been a stalwart conservative in Florida, and thanks to his leadership, the state is bigger and more prosperous now than it was when he took office. There are more jobs, more people, more businesses, more freedom and more energy in Florida than when he swore his first oath—a fact that cannot be said of all governors of the same era.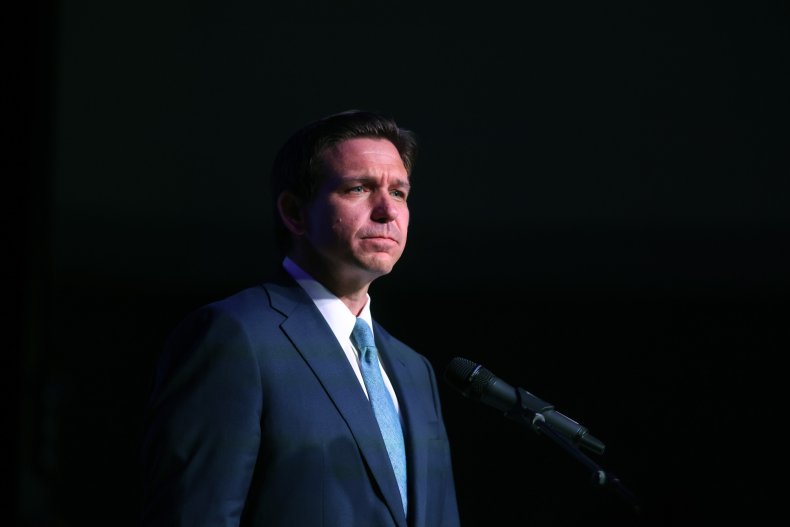 Whether it be his leadership during the pandemic, which allowed the state to thrive by keeping businesses open and kids in school, or his economic policies that have lowered taxes and brought prosperity and new business to Florida, or his commitment to standing up to woke ideology infiltrating our corporations and schools, Governor DeSantis is truly a leader who never backs down from the needed fights to make our country better.
Florida has become the fastest growing state in the nation. But it's not just that. It ranks #1 in education, and it's become a beacon of freedom. As the next President of the United States, DeSantis would create the same freedoms, opportunity, and growth for our country.
Where Democratic leaders—and even some Republicans—have caved to the woke mob, suffocating growth and individual liberties, Florida has flourished, thanks to Governor DeSantis's unapologetic and steadfast leadership.
DeSantis is the only one who takes on the hard fights against massive corporations like Disney, while Democrats—and Republicans like Donald Trump—cave in.
Ron DeSantis has shown over and over that he will protect and stand up for our children and grandchildren, who are being hyper-sexualized at extremely young ages and maliciously influenced by radical activists. Donald Trump might provide lip service, but at the end of the day, he runs away from these challenges—or even joins the other side, whether it's Disney or Budweiser.
DeSantis will fight for our values, country, children, families and future.
Years of the status quo and unfilled promises are the critical backdrop for the 2024 Presidential election. It's clear that the country has a deep desire to move forward. Put differently, the American public has simply had enough of out-of-touch septuagenarian leadership in the White House.
Donald Trump at age 76 and Joe Biden at age 80 now represent the past.
Contrast either man with Ron DeSantis, age 44. He is what the country yearns for: a fresh generation of leadership and loving father of young children who's in tune with the most pressing issues facing American families. His perspectives and experiences are shaped by the 21st century America we know—not the 20th century world depicted in black-and-white PBS documentaries.
This can sound like a minor point, but it's not. A country's leaders are a projection of how a country sees itself. Are we the vigorous and vibrant America that, for centuries, has led the world and is not afraid of a tough fight? Or are we an aging empire, a relic whose finest days are behind us? If the answer is the former—and it indisputably is—our leaders need to fit the bill. In Governor DeSantis's youth, energy, accomplishment and optimism, we see the country we are and the country we can become.
Those subtle details matter at any moment, but they count for double right now. Over the last few years, America's enemies in the world have been emboldened. They've taken Americans prisoner with no consequence. They've floated spy balloons over our airspace. They've launched full-scale invasions of other countries and toppled the democratic governments we spent decades building. All the while, America's been complacent.
At no moment has the quality and vitality of American leadership mattered more. We need someone who can present on America's behalf the strength, conviction, and optimism that has anchored this country since its founding days. That someone is Governor Ron DeSantis, the fighter and leader the country needs for the moment when American leadership is needed most.
Governor DeSantis has proven himself to be the fighter America needs—from serving our country to taking on dangerous woke agendas. Trump might back down from battles against Disney, Pfizer and Budweiser, but not Ron DeSantis, and that is the big message for Republican primary voters.
Ken Cuccinelli served as the 46th Attorney General of Virginia and Founder of the Never Back Down PAC.
The views expressed in this article are the writer's own.