'This is Not Grieving' Minnesota Gov. Walz Says of George Floyd Protests as National Guard Confronts Rioters
Minnesota Governor Tim Walz told protesters that they needed to "go home" on Saturday morning after another night of chaos in the streets of Minneapolis.
Speaking at a press conference in the early hours, Walz said violent protests over the death of George Floyd in police custody were "life-threatening" demonstrations and "not grieving." The Democratic governor added that the scenes in the city were sites of "wanton destruction" that state authorities did not have the numbers to deal with.
Gov. Walz issued his remarks shortly after a State of Emergency was declared and the Minnesota National Guard said it had deployed "more than 500 soldiers" to the area surrounding Minneapolis.
"I myself can fully understand the rage. I spoke this evening to George Floyd's siblings, quite extensively. I understand that rage. We talked about it, we understand what has to happen," Gov. Walz said Saturday morning. "What's going on out there right now is not that. The wanton destruction, and specifically of ethnic businesses that took generations to build, are being torn down."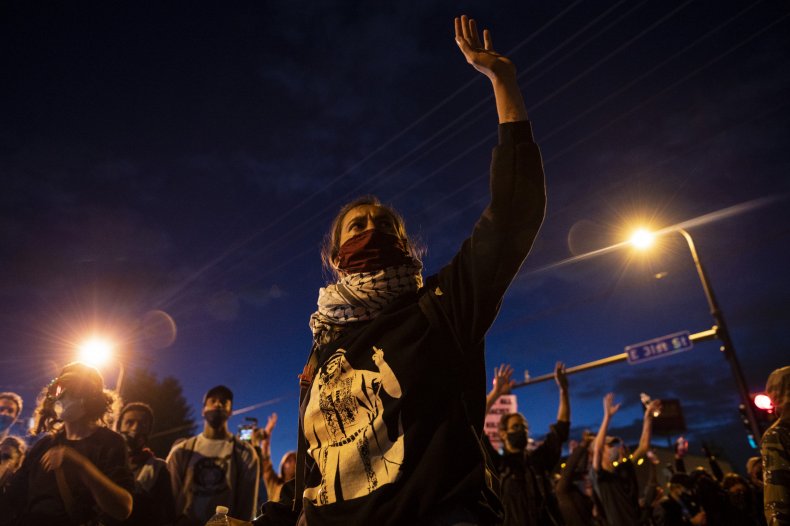 Addressing the "absolute chaos" unfolding in the city, the state leader added: "This is not grieving, and this is not making a statement, that we fully acknowledge needs to be fixed. This is life-threatening, dangerous to the most well-qualified forces that are out there facing this."
Walz then pleaded with those assembled in the streets of Minneapolis to "go home," adding that unrest was making it more difficult to handle the issues at play.
"This is the largest civilian deployment in Minnesota history that we have out there today," he added. "And quite candidly, right now we do not have the numbers. We cannot arrest people when we're trying to hold ground because the sheer size, dynamics and wanton violence that's coming out there."
Newsweek has contacted Governor Walz's office for further comment and will update this article with any response.
Protesters and police are expected to come to a head again on Saturday, with Minneapolis Mayor Jacob Frey declaring an 8 p.m. to 6 a.m. curfew of the city for the whole weekend.
Those breaking the new curfew will be hit with a $1,000 fine or a prison sentence lasting 90 days. It is expected that the emergency measures will be lifted on Sunday.
Demonstrations in Minneapolis and other U.S. cities were sparked by footage of a police officer kneeling on the neck of Floyd as he gasped for air and said he was struggling to breathe.
The officer in the video, Derek Chauvin, was arrested on Friday and charged with third-degree murder and second-degree manslaughter, both felonies, over his attempted arrest of Floyd in Minneapolis on Monday.