Governor Vetoes Anti-Trans Athlete Bill, Citing 'No Unfairness'
Indiana's Republican governor has vetoed a bill to ban transgender student athletes from participating in girls' sports, arguing that no threat to the "fairness" of sports had been established.
Governor Eric Holcomb used his veto power for only the second time ever to block House Bill 1041 on Monday. The veto could still be overridden by the Republican-dominated state Legislature during a meeting set for May 24. The rejection of the bill came amid a Republican push to ban transgender women and girls from competing in sports, with 11 other states recently passing related measures into law.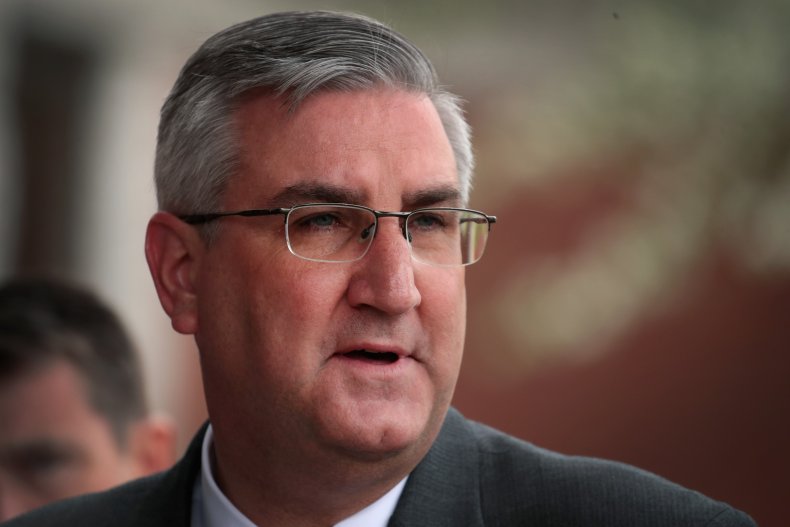 In a veto letter addressed to Republican Indiana House Speaker Todd Huston, Holcomb argued that a "thorough review" had revealed a lack of evidence that girls' sports had a fairness problem that the government needed to address. Although Holcomb said he may support the "overall goal" regardless, his comments suggested that there was little reason to believe transgender student athletes had made K-12 sports in the state unfair.
"The presumption of the policy laid out in HEA 1041 is that there is an existing problem in K-12 sports in Indiana that requires further state government intervention," the governor wrote. "It implies that the goals of consistency and fairness in competitive female sports are not currently being met. After thorough review, I find no evidence to support either claim even if I support the effort overall."
Holcomb expressed concerns that the bill could face legal challenges. He also pointed out that no transgender girls had completed a process required by the Indiana High School Athletic Association (IHSAA), which allows transgender students to participate in sports if they follow guidelines that include living in the gender they identify as for at least a year.
"I am heartened by the IHSAA which has done an admirable job to help maintain fairness and consistency in all sports," wrote Holcomb. "Nowhere in the testimony of this legislation was a critique leveled against their model on how to govern this and other complex matters."
"Furthermore, not a single case of a male seeking to participate on a female team has completed the process established by IHSAA's now decade-old policy," he added.
Huston said in a statement obtained by Newsweek that "House Republicans will vote to override this veto when lawmakers meet again on May 24." He insisted that "the fundamental goal of this legislation is to protect competition in girls' sports."
The bill passed in the state Senate earlier this month. It was strongly opposed by some in the Legislature, as well as groups like the Human Rights Campaign and the American Civil Liberties Union (ACLU) of Indiana.
"This victory belongs to the trans youth of Indiana, who deserve to live as their authentic selves and to play the sports they love, free from discrimination," Katie Blair, ACLU of Indiana advocacy and public policy director, said in a statement obtained by Newsweek.
"This win wouldn't have been possible without the thousands of Hoosiers who voiced their strong opposition to state legislators and who showed up at the Statehouse to oppose this harmful bill," added Blair. "Discrimination has no place in our state."
Earlier this month, Iowa's Republican Governor Kim Reynolds signed into law a bill to ban transgender women from women's sports at the high school and college level, calling it a "victory for girls' sports in Iowa."
Update 3/22, 4:00 p.m.: This article has been updated to include statements from Katie Blair, ACLU of Indiana Advocacy and Public Policy Director, and Indiana House Speaker Todd Huston.