Governors Ball Drops DaBaby From Lineup After Homophobic Comments
DaBaby continues to experience the fallout over controversial remarks made during a recent festival performance with New York City's Governors Ball Music Festival announcing on Monday it had dropped DaBaby from the festival lineup. The move comes one day after Lollapalooza canceled the rap star's scheduled performance hours before he was set to take the stage.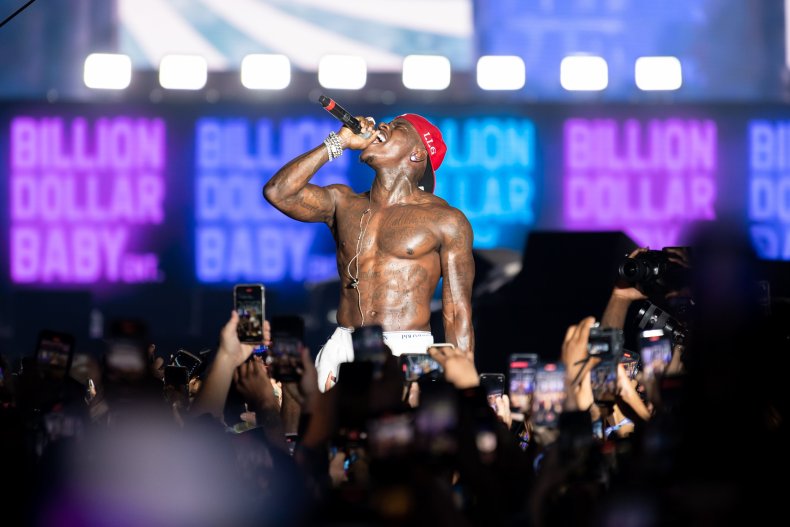 The Governors Ball Music Festival posted a message on Twitter on Monday labeled "Stay tuned for a lineup addition." The tweet added, "Founders Entertainment does not and will not tolerate hate or discrimination of any kind. We welcome and celebrate the diverse communities that make New York City the greatest city in the world. Thank you to the fans who continue to speak up for what is right. Along with you, we will continue to use our platform for good."
DaBaby's name was no longer listed in the updated lineup for the September 24 night of performances.
The rapper has faced wide criticism for comments he made at the Rolling Loud festival on the weekend of July 23. His remarks have been deemed by many to be homophobic, and his later social media comments to explain and somewhat apologize for his words have also received condemnation.
DaBaby told his audience at the Rolling Loud performance to raise their cell phone flashlights in the air if they "didn't show up today with HIV/AIDS or any of them deadly sexually transmitted diseases that will make you die in two to three weeks." He also made other, more explicit comments that were seemingly aimed at members of the LGBTQ+ community.
DaBaby's performance at a benefit concert for the Working Families Party last week was also canceled, and the fashion brand boohooMAN announced it would no longer collaborate with the rapper due to his onstage comments. As of press time, DaBaby still remains on the schedule for the iHeartRadio Music Festival next month.
Stars like Dua Lipa, Elton John and Madonna have publicly decried his statements.
"I'm surprised and horrified at DaBaby's comments," Lipa, whose 2020 "Levitating" remix featured a verse from DaBaby, wrote on Instagram. "I really don't recognize this as the person I worked with. I know my fans know where my heart lies and that I stand 100 percent with the LGBTQ community. We need to come together to fight the stigma and ignorance around HIV/AIDS."
On his Twitter account, DaBaby said his comments were "insensitive," though he also implied the words were taken out of context and used against him unfairly.