Naked Women (Nearly): Fashion at Governors Ball Frees the Nipple and Butt Cheeks, Because Feminism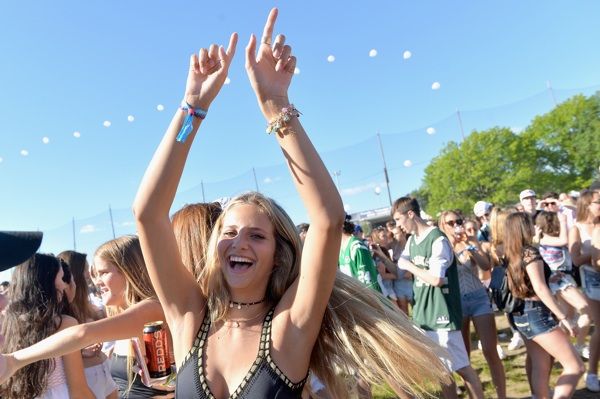 While many boobs and butts were on full display at the 2017 Governors Ball Music Festival, a good number of the women rocking super short shorts with lace bralettes and pasties—or even mesh shirts with no bras at all—weren't dressed so scantily in an effort to stand out or follow festival style trends. They were baring their boobs, nipples and butt cheeks to show their support for feminist movements like Free the Nipple and other social causes aimed at gender and body equality.
It's not all that uncommon to see ladies wearing barely-there clothing at music festivals (back during the Woodstock era in the 1960s, women would often expose their breasts), but the women among the more than 150,000 people attending the three-day Governors Ball festival that kicked off Friday on New York City's Randall's Island seemed to be more naked than usual.
Granted, while lace bralettes and Daisy Dukes are having a major fashion moment right now, for a lot of the women at Governors Ball—62 percent of attendees are women, according to the festival's creators Founders Entertainment—the choice to wear extra-revealing clothing was just another effort to promote women's rights and break down societal double standards toward women's bodies: particularly the idea that men get to showcase their bodies and dress however they want while women can't.
"Quite frankly, my whole thing with nipples is that everybody has them. So why it's such a big deal for females to expose them is beyond me. Nonetheless, I'm all for freeing the nipple at festivals. They're here to nourish babies one day, if I should choose. If not they're just there and they look good," Janyssa Miller, a 21-year-old from Long Island, told Newsweek at the festival Saturday.
Since the 1960s, women have been using their bras and their breasts to advocate for gender equality and women's rights. The bra-burning demonstration at the 1969 Miss America protest in New York City launched one of the most iconic and effective movements toward female equality, power and inclusion. But even some 48 years later, women in America are still finding unique ways to advocate for their rights and overcome the sexualization of their bodies.
In more recent times, women have participated in feminist actions like Free the Nipple, a gender equality movement that launched in 2012 following the filming of Lina Esco's 2014-released documentary of the same name. And now, women are using opportunities of all kinds to campaign for the causes that matter most to them, including music festivals like Governors Ball.
Check out what a few festival-goers had to say about women's decisions to wear less and free the nipple at the 2017 Governors Ball Music Festival below: