Governors Ball 2019: Who's Performing, What's New and Everything Else to Know About New York City Festival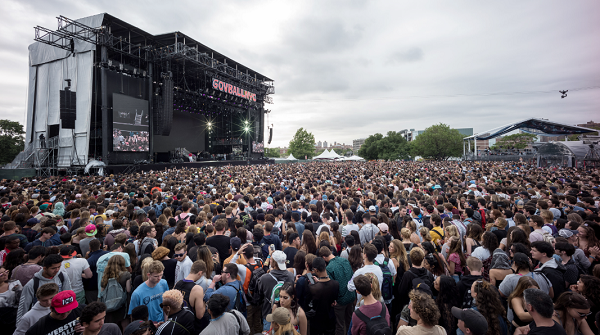 Governors Ball returns to kick off the beginning of summer in New York City on Friday. The interactive three-day festival will bring out some of the biggest names in music along with a number of up-and-comers that are well worth catching.
There are a few new activations rolling out during the 2019 festival, adding to the usual good fun the three-day festival is known for.
Check out everything to know about this year's Governors Ball below.
When performances start
Festival gates open each day at 11:30 a.m. ET, but shows don't start until 11:45 p.m. ET. The festival closes on Friday, Saturday and Sunday at 11 p.m. ET.
Who's headlining
All three nights of Gov Ball are sure to be an absolute party. The first round of headliners start on Friday with Brockhampton hitting the GOVBALLNYC Stage at 6:45 p.m. ET. Lil Wayne will set the BACARDI Stage on fire at 8 p.m. ET while Gesaffelstein plays the Honda Stage at 8:45 p.m. ET. Tyler, the Creator will bless the GOVBALLNYC Stage and likely will perform a few favorites as well as cuts off his recent album release, Igor, starting at 9:45 p.m. ET.
Saturday's headliners are just as spectacular, even though fans will have to make the hard choice of choosing between some acts since there is some overlap that day. Kacey Musgraves kicks off the GOVBALLSTAGE at 4:45 p.m. ET. Then there's The 1975 on the GOVBALLNYC Stage at 6:45 p.m. ET while Vince Staples is slated to perform at the same time on the Honda Stage. Similar decisions will have to be made when Zhu goes on at 8 p.m. ET on the BACARDI Stage while Lord Huron performs on the American Eagle Stage at 8:15 p.m. ET. Florence + The Machine wraps the night on the GOVBALLNYC Stage at 9:15 p.m. ET, and just a few minutes later Major Lazor will light up the festival at 9:45 p.m. ET on the Honda Stage.
The headlining lineup on Sunday is smooth sailing with Nas starting evening performances at 6:45 p.m. ET on the GOVBALLNYC Stage. Beast Coast (Joey Bada** and Flatbush Zombies) performs on the BACARDI Stage at 8 p.m. ET followed by SZA on the Honda Stage at 8:45 p.m. ET. The Strokes mark the final set of the festival on Sunday at 9:45 p.m. ET.
Who you don't know but should catch
One of the best aspects of Gov Ball is it's a festival that gives die-hard fans the chance to enjoy some of their favorite bands and performers while simultaneously allowing music lovers the chance to explore and discover artists they likely haven't heard of. Only adding to its luster, it's a festival that many mainstream artists have performed before they catapult to stardom and end up on the roster for Coachella Music & Arts Festival. Just like every year before, Gov Ball has tapped some of the most interesting and talented artists across all genres of music. Below are a few names worth getting acquainted with no matter what your favorite genre is.
Friday: Still Woozy, Amber Mark, Cautious Clay, Jessie Reyez, Hippo Campus, Tyla Yaweh, The Internet, Mitski, Blood Orange, Jorja Smith and The Voidz.
Saturday: Dreamers, Suzi Wu, U.s. Girls, Elohim, Ravyn Lenae, Denzel Curry, Saba, King Princess, Lauren Sanderson.
Sunday: Aaron Aye, Soccer Mommy, Noname, Sheck Wes, 070Shake, Bazzi, The Underachievers, Louis the Child and Kaytranada.
What's about grub
Three days at a music festival can certainly strike up an appetite. Luckily, Gov Ball has the food and drink department covered. All the usual players will be there—Lil Sweet Chick, Melt Shop, Roberta's, Matchbar, Ramen Burger, DŌ, Big Mozz, Takumi Taco, Doughnuttery, Destination Dumplings, John's Juice, Luke's Lobster, Café Habana and several other food vendors that typically service the festival. There are a few newbies taking orders during the weekend too including King David Tacos, Arancini Bros, Walter's Hot Dogs, Cousins Maine Lobster, Mekelburg's and Milk & Cream.
The adults can get down on a variety of boozy options. A number of brews will be on tap and served up in cans like Bud Light, Blue Point Brewing Company, Goose Island and others. Those looking for something a little more on the cocktail side can check out the Liquor Garden specials at Bacardi, Titos Handmade Vodka, Don Julio, Aperol Spritz, Beefeater London and Jameson Irish Whiskey activations. Wine enthusiasts can keep their cups flowing with varietals provided by Campo Viejo.
What's new
There are a few new programs launching at Gov Ball this year. For the first time ever, folks can enjoy brunch during the festival each day from 12 p.m. ET from 3 p.m. ET in the Best Kept Secret area.
There's also a new performance stage—the Bud Light Dive Bar—during which festival-goers can enjoy intimate Dive Bar Session performances featuring some of the industries emerging artists.
Gov Ball will also celebrate PRIDE as the LGQBTQ+ celebrations kick off in New York City every year on June 1. The festival art and activations will transform overnight to pay homage to PRIDE month. There will even be a Pride Parade throughout festival grounds on Saturday helmed by notable drag queens Gloria Swanson, Hibiscus, and Ms. Gold.