Governors Have Reinstated Masks in Only 2 States With Highest COVID Rates
Of the 10 states with the highest COVID-19 rates, only two governors have moved to reinstate indoor mask mandates, making it a requirement regardless of a person's vaccination status.
With stalled vaccinations and the Delta variant spreading, the Centers for Disease Control and Prevention (CDC) revised its recommendations to advise that everyone wear masks in areas where there is high or substantial transmission. The altered guidance prompted criticism from some governors who banned masks in their states, but governors in Louisiana and Nevada took the CDC's advice and reinstated mask requirements.
Louisiana leads in COVID-19 infections, according to the CDC, and on Tuesday, Governor John Bel Edwards put in place another statewide mask mandate. Temporary in nature, the mandate requires all people over the age of 5 to wear masks indoors until at least September 1, although it may be extended.
Louisiana has one of the worst vaccination rates in the country and Edwards said the low number of inoculations was helping drive cases and hospitalizations through the roof.
"It has never been more clear that we are in an unchecked COVID surge that, in addition to threatening the health and wellbeing of many Louisianans, also threatens the capacity of our hospitals and medical facilities to deliver care to their patients," Edwards said in a statement. "We can end this nightmare, but it is going to take all of us working together to do it."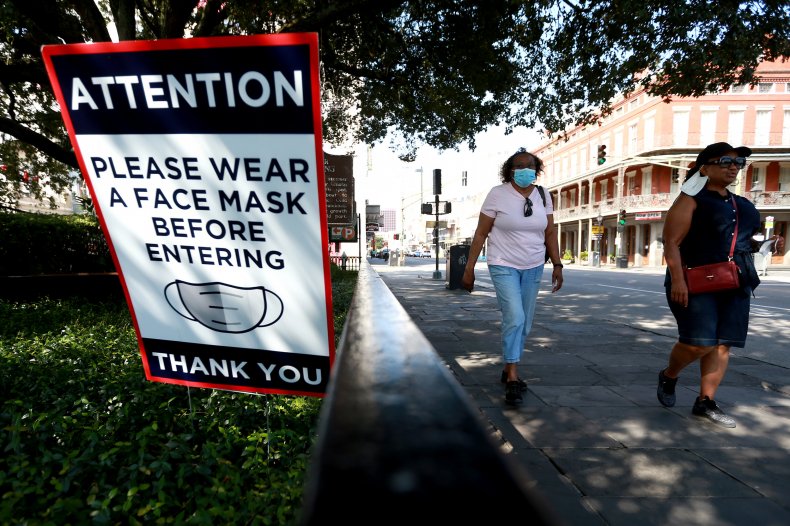 Edwards lifted the statewide mask mandate in April, but allowed local governments to institute their own face covering restrictions. Masks were also required to be worn at schools, hospitals and on public transit.
At the time, the governor warned people that restrictions could be reinstated. He noted the pandemic response is a "two-way street and we do not want to go in the other direction."
Nevada is faring better than Louisiana when it comes to vaccinations, but amid rising cases, Governor Steve Sisolack issued an order requiring face coverings indoors in every county that has high or substantial transmission rates. It fell in line with the CDC's advice and includes all but five counties in the state.
Officials nationwide have expressed concerns about the Delta variant's ability to easily spread among communities. For unvaccinated people, it means a rise in cases, hospitalizations that could potentially overwhelm health care systems, and increased deaths. The Delta variant spreading rapidly also opens the door to the possibility the virus will mutate again and possibly evade the vaccine, putting even those who are vaccinated at risk if it does.
Vaccinated individuals' ability to contract and spread COVID-19 is the reason behind the advisory that they wear a mask in high transmission areas. Ron DeSantis, governor of Florida, and Arizona Governor Doug Ducey pushed back on universal mask wearing, expressing concerns it sent the message that vaccines aren't effective and it would diminish confidence in the inoculations.
Ducey said he wouldn't be changing his ban on mask requirements and DeSantis banned mask mandates for schools in Florida, where the third highest outbreak is occurring. Texas, Oklahoma and Arkansas, three states with some of the highest case levels, also have mask mandate bans.