Governors Warn Gas Shortage Caused by Panic Buying As 4 States Declare Emergency
The governors of Virginia, Florida, North Carolina and Georgia have declared states of emergency Tuesday night, as motorists along the Eastern Seaboard wait in long lines trying to buy high-priced gas during a fuel shortage experts warn is being caused by panic buying.
Reports of possible gas shortages and climbing prices due to the Colonial Pipeline cyberattack have pushed consumers out to the pumps to stock up on gas while they think they still can. Some people took to Twitter to share images of long lines and gas-hoarding they encountered. But governors and other officials are asking citizens to avoid over-buying gas out of fear since that very practice is what's actually driving current shortages.
The American Automobile Association (AAA), which reported the highest average U.S. gas price since 2014 today at $2.985 per gallon, made multiple anti-hoarding statements today.
"Essentially you have people who are seeing reports about the Colonial Pipeline outage and are rushing to the pump to fill their tanks," said AAA Spokesman Mark Jenkins. "They're actually creating the shortage of gasoline there in Tallahassee and other regions around Florida."
Tiffany Wright of AAA Carolinas called some consumer's behavior "irresponsible," telling CNN, "People are taking their entire family fleet of vehicles to the gas station and filling up when they don't need to...We are our own worst enemy in this situation because we are over-consuming at the pump."
Word from the White House today echoed the sentiment that panic buying does more harm than good.
"Much as there was no cause for, say, hoarding toilet paper at the beginning of the pandemic," Energy Secretary Jennifer Granholm said in a White House press briefing Tuesday, "there should be no cause for hoarding gasoline, especially in light of the fact that the pipeline should be substantially operational by the end of this week and over the weekend."
"It's not that we have a gasoline shortage," Granholm said. "It's that we have this supply crunch, and that things will be back to normal soon, and that we're asking people not to hoard."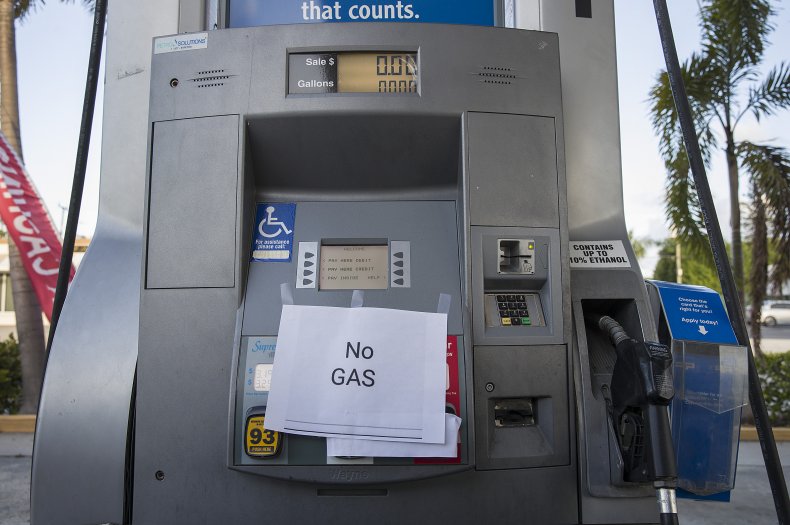 Governor Kay Ivey of Alabama took to Twitter to urge her constituents: "Please do not fill up your car unless you need to and do not fill multiple containers. Overreacting creates more of a shortage. Please use common sense and patience! #alpolitics"
South Carolina Governor Henry McMaster tweeted on Tuesday that citizens should not engage in hoarding. "There is no need to rush to top off your gas tanks or hoard gas - the pipeline is expected to resume operations by the end of the week," he wrote. He quickly followed up with another tweet noting that his South Carolina is already under a state of emergency order, meaning "transportation waivers and price gouging laws are in effect to facilitate fuel delivery and protect consumers."
The Colonial Pipeline, which supplies the East Coast of the U.S. with about 45 percent of its retail gasoline, has been shut down since Friday following the cyber attack thought to be perpetrated by the criminal syndicate, Darkside. However, governors and other officials are reiterating that it's the consumer hoarding behavior and not an actual shortage, that is causing problems at the pump.
Newsweek reached out to Colonial Pipeline for comment.