Goya CEO Says Media, Big Tech Want to 'Cancel' God, Free Speech and History
Robert Unanue, Goya Foods chief executive officer, said on Friday that media and Big Tech want to "cancel" God, free speech and America's history.
"We're one nation under God. We're not one nation under Twitter, we're not one nation under Big Media or under central government. We're trying to have media, Big Tech control our lives—the government control our lives—and we need to not move away from God, we need to move closer to God," Unanue said during an interview with Fox & Friends. "They want to cancel God, they want to cancel our speech, they want to cancel our culture, our history, our liberty."
He continued: "They want to control us. The few controlling the many, like a bunch of sheep."
Unanue's comments arrive amid political turmoil following the January 6 riot at the U.S. Capitol, when supporters of President Donald Trump breached the building in an attempt to overturn President-elect Joe Biden's victory in the 2020 election.
In response to the riot—which many believe was incited by Trump's rhetoric—the president was banned from several social media platforms, including Twitter and Facebook. Following the ban, both social media platforms faced severe backlash, as many, such as Unanue, felt that it violated Americans' Constitutional right to free speech.
Unanue made similar comments about free speech in July that generated backlash. It began when Unanue praised Trump after being invited to the White House to watch the president sign an executive order seeking to "access by Hispanic Americans to educational and economic opportunities."
"We are all truly blessed...to have a leader like President Trump who is a builder," Unanue said at the time.
His praise for Trump sparked criticism from many as well as a boycott against Goya. When the movement gained traction across social media, Unanue appeared on Fox & Friends, calling the movement a "suppression of speech."
During his Friday interview with the program on Friday, Unanue made similar comments about shutdowns caused by the novel coronavirus pandemic, specifically faulting Democrats.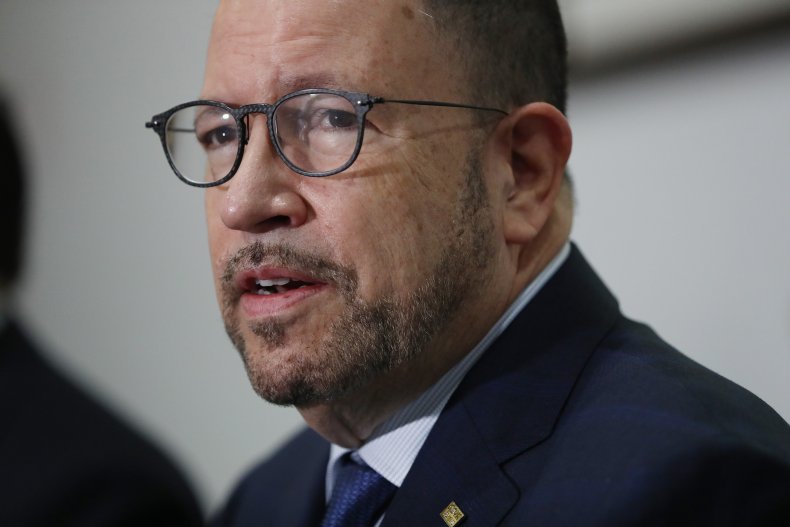 "The problem is, it's a political year and they [Democrats] weaponized coronavirus, unfortunately to shut down this economy. The worst thing we can do is shut down our economy. We need a reason to get up in the morning, God, family, work and they're taking away our spirit, they're taking away our ability to work," he said. "They essentially declared martial law, I believe, in this country, shutting everything down, it's the worst thing we could've done."
He continued: "I think it's criminal, I think it's immoral to shut down this economy for this, basically, political reasons."
Newsweek reached out to Goya for comment, but did not receive a response in time for publication.