Goya Foods Faces Boycott Calls Months After First Attempt Ended in Failure
A boycott of Goya Foods mostly fizzled in 2020, but a new boycott is cooking up after its CEO made remarks Sunday at the Conservative Political Action Conference (CPAC). Robert Unanue, the president at Goya Foods, Inc, praised former President Donald Trump while also saying he was still the commander-in-chief.
Unanue stood before the convention in Orlando, Florida, and called Trump "the real, the legitimate, and the still actual" president.
"My biggest honor today is that, I think, we're going to be on the same stage as, in my opinion, the real, the legitimate, and the still actual president of the United States, Donald J. Trump," Unanue said during the morning session.
Though Trump disputed the results of his loss last November to current President Joe Biden, his loss stood. However, many conservatives stand by Unanue's remarks. Unanue claimed that he received unwanted ballots during the 2020 election.
"I received, I think, as many people I know, and many of you, unsolicited ballots," Unanue said Sunday. "So, I mean, as a citizen of the United States, I think I'm allowed to vote once. Once. Not twice."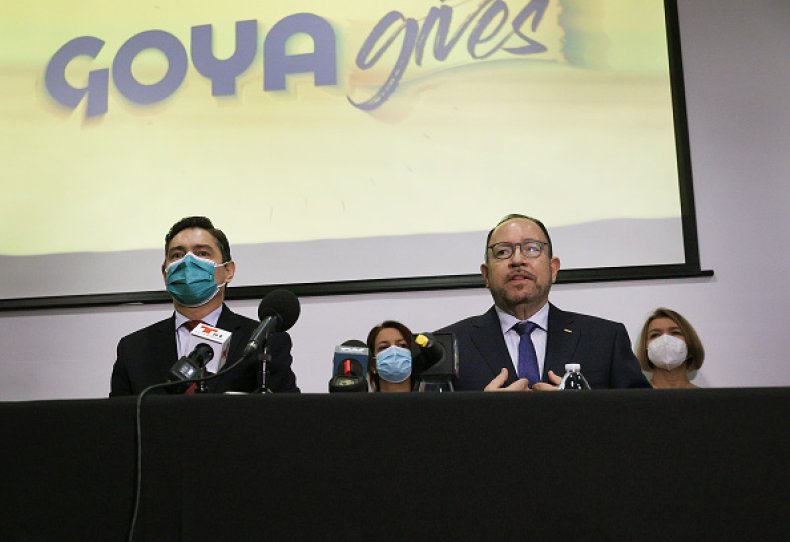 Goya already faced backlash last year after Unanue publicly became known as a Trump supporter. The CEO visited the White House last summer to witness Trump sign an executive order on the White House Hispanic Prosperity Initiative. Unanue praised Trump at that time as well, creating a call to boycott Goya. Many pointed at policies and racist remarks Trump made over the years that targeted Latino communities.
That boycott spearheaded by Rep. Alexandria Ocasio-Cortez (D-NY) actually backfired as Goya beans saw a huge sales spike. Unanue went as far to even name Ocasio-Cortez (AOC) as the company's "employee of the month."
"It's interesting that AOC was one of the first people to step in line to boycott Goya. To go against her own people, as supposedly a Puerto Rican woman, to go against people of her own Latin culture," Unanue said on a radio show last December. "To some extent I can understand AOC. She's young, she's naïve, she doesn't get it. But you've got someone like [Senator Bernie] Sanders, who's older than us ... other than me, who still doesn't get it.
"She was actually our employee of the month ... when she boycotted us, our sales actually increased 1,000 percent. We never were able to hand it to her, but she got employee of the month for bringing attention to GOYA and our adobo. Actually, our sales of adobo did very well after she said, 'make your own adobo' ... she's our hero, she helped boost sales tremendously."
The boycott of 2020 seemed short-lived, but those boycott calls got a renewal on Sunday.
Ana Navarro-Cárdenas, a political strategist who's of Nicaraguan descent and appears on CNN and Telemundo, called Unanue the "My Pillow Guy of frijoles" while vowing to not buy Goya products.
TV personality Keith Olbermann said the people should unite to "make Goya Foods go bankrupt."
Joy Behar, a co-host of 'The View,' said she will buy her peas elsewhere.
Robert Vance is a Democratic circuit judge in Alabama who is married to Joyce White Vance, the former U.S. attorney in the Northern Alabama district from 2009-17—which was the tenure of then-President Barack Obama. Vance agreed on a Goya boycott.
Only time will tell if these calls for a Goya boycott will be successful.
Newsweek reached out to Goya for comment.