Grab and Run: Kyrgyzstan's Bride Kidnappings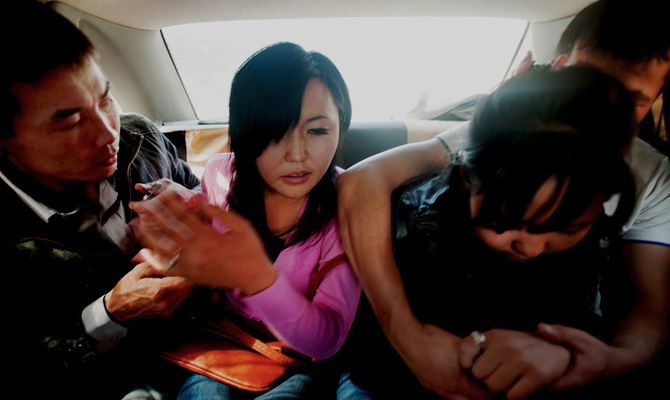 They call it ala kachuu, or "grab and run." In Kyrgyzstan, as many as 40% of ethnic Kyrgyz women are married after being kidnapped by the men who become their husbands, according to a local NGO. Two-thirds of these bride kidnappings are non-consensual—in some cases, a "kidnapping" is part of a planned elopment—and while the practice has been illegal since 1994, authorities largely look the other way. Typically, a would-be groom gathers a group of young men, and together they drive around looking for a woman he wants to marry. The unsuspecting woman is often literally dragged off the street, bundled into the car and taken straight to the man's house—where frequently the family will have already started making preparations for the wedding.
Once the girls are inside the kidnapper's home, female elders play a key role in persuading her to accept the marriage. They try to cover the girl's head with a white scarf, symbolizing that she is ready to wed her kidnapper. After hours of struggle, around 84% of kidnapped women end up agreeing to the nuptials. (The rest manage to get back home.) The kidnapee's parents often also pressure the girl, as once she has entered her kidnapper's home she is considered to be no longer pure, making it shameful for her to return home. In order to avoid disgrace, many women tend to remain with their kidnappers.
At one time, the majority of marriages among Kyrgyz women were arranged by parents. Today, bride kidnapping is frighteningly common, and—although some kidnappings do create happy couples—marriages resulting from such incidents are also thought to cause significantly higher rates of domestic abuse, divorce, and suicide. Photographer Noriko Hayashi spent months visiting villages throughout Kyrgyzstan, and was sometimes able to witness and document the practice.