'Grace and Frankie' Recap: What Happened in the Last Season?
Surprise marriages, stoned tweets, alternative timelines… Grace and Frankie packed a lot into the 13 episodes of Season 5 on Netflix. Fans who binged the season when it was first released a year ago are left trying to remember exactly what happened before the opening of Season 6, which sees Grace (played by Jane Fonda) married again, while Frankie (Lily Tomlin) is having what one character calls a "complete breakdown."
At the start of Season 5, Grace and Frankie had just escaped from an assisted living facility, only to discover their children have sold their beach house out from under them. They squat in the house until new owner, pop star Kareena G (Nicole Richie), turns up. They convince her to give the house up, and things are temporarily back to normal for the pair.
As part of the spirit of getting their lives back as they were, Grace also takes back control of her company Say Grace from her daughters, who quickly become frustrated by her control freak tendencies. Eventually, however, she realises that it is time to give back control to Brianna (June Diane Raphael) and Mallory (Brooklyn Decker).
Frankie, meanwhile, causes career chaos of her own. After getting stoned, she tweets using the Vybrant account that on National Vibrator Day anyone who retweets her post will get free vibrators and donuts, only to panic when 50,000 people retweet her post.
Grace copes by going on holiday with boyfriend Nick (Peter Gallagher, of whom more later), while Frankie films an apology video with the help of her new in-home carer Jean Margaret (Conchata Ferrell). By the time Grace returns, the problem has been solved.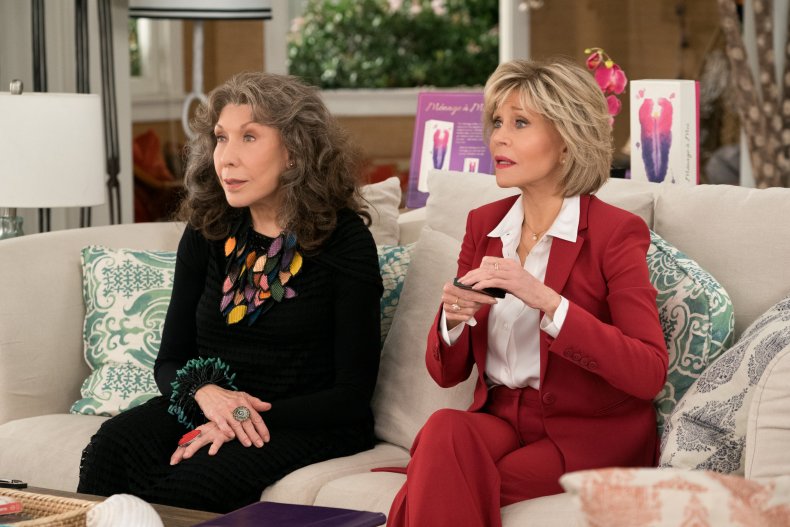 After breaking up with Nick in Season 4, Grace starts to miss him in Season 5, leading her to get back with him after gate-crashing a lunch he is having with his mother. In the penultimate episode of Season 5, the pair elope to get married while at the wedding of Bud (Baron Vaughan) and Allison (Lindsey Kraft).
This surprise engagement and then marriage between Grace and Nick comes after she fights with Frankie, who wonders why they still live together despite being their "own beaches." This leads to perhaps the most experimental episode Grace and Frankie has ever attempted, Season 5 finale "The Alternative."
In that episode, we get an alternate timeline that shows what happens if Grace and Frankie never make up. Grace gets some terrifying plastic surgery and a horrible new husband, Frankie's son Coyote (Ethan Embry) goes off the wagon again, and worst of all, Frankie has purple dreadlocks.
Grace and Frankie's exes Robert (Martin Sheen) and Sol (Sam Waterston) also get plots of their own in Season 5. Sol worries about his husband's health as he gets older, while Robert himself tries to expand his horizons by joining a theatre troupe featuring mostly younger members.
Grace and Frankie Season 6 is released on January 15 on Netflix.