'Grace and Frankie' Season 6 Ending Explained: What Happened at the End and What It Means for Season 7
Over the past six seasons, Grace and Frankie has established a familiar finale trope, with each season of the Netflix show tending to end with Grace (played by Jane Fonda) and Frankie (Lily Tomlin) sitting on the beach outside of their home considering the future.
However, the ending of Season 6 offers us a twist on this format that sets up a very fun idea for the seventh and final season of the series.
What happened at the end of Grace and Frankie Season 6?
After making up following their Shark Tank debacle, and finding $50,000 in Nick's (Peter Gallagher) sofa, Grace and Frankie head to the beach to discuss their next move. They go to their usual wooden chairs and find their ex-husbands Robert (Martin Sheen) and Sol (Sam Waterston) sitting in them. Robert and Sol explain to their former wives that the prototype of "The Rise Up" toilet that Frankie gifted to them earlier in Season 6 exploded, flooding their house and making it uninhabitable until it has been fixed.
Finding themselves temporarily homeless, Robert and Sol decide they have to move in with Grace and Frankie until their house is fixed, setting up a potentially hilarious Season 7 in which the ex-wives have to adapt to living with their former husbands for the first time in years.
As for why Robert and Sol cannot just pay to live in a hotel, they find themselves broke after Robert spent their honeymoon money on saving the local theater and Sol bought an expensive motorcycle in previous episodes. Because their house was destroyed due to the toilet Grace and Frankie gave them, the characters have no choice but to let their ex-husbands stay at their beach house.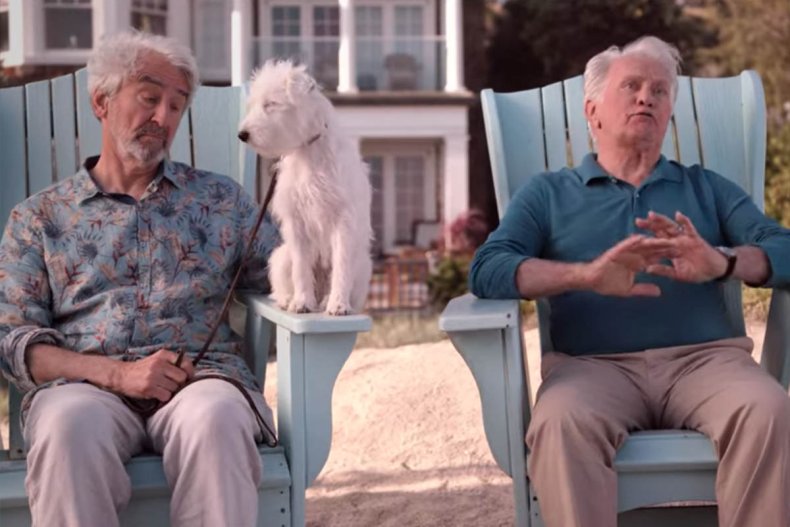 Luckily for Grace, her new husband Nick is out of the picture, after he was arrested for a white collar crime at the end of Episode 8. This allowed Grace to dodge thinking about the state of her marriage.
When Grace asked Nick why he stopped her from accepting an investment from Mark Cuban on Shark Tank (potentially destroying her friendship with Frankie in the process), she discovered the only reason was that Cuban had outbid him on a basketball team.
Realizing that she would always come second to Nick's money and possessions (she cannot even get him to get rid of a sofa she hates, after all), Grace started to wonder whether she made the right decision marrying Nick.
After Nick's arrest, however, Grace and Frankie discovered that the sofa they hate is full of cash, which they put in their fridge.
But as Frankie now points out, Nick is a white, rich, male white collar criminal, so is likely to be out of prison fairly soon—just in time to cause trouble for Grace and Frankie in Season 7 and to start looking for his money.

Elsewhere, Brianna (June Diane Raphael) and Barry (Peter Cambor) nearly break up for good in the final episode of Season 6 over Brianna's unwillingness to marry him. However, by the end of the episode, she realizes she cannot live without him and so comes to a compromise—she asks him to get engaged to her permanently. Though Brianna says she does not ever want to get married, do not be surprised if Grace and Frankie will feature another wedding in its last ever season.
Grace and Frankie Season 6 is streaming now on Netflix.