Graduate Students Protest Trump Labor Board's Proposal to Exempt Them From Definition of 'Employee'
Graduate students are pushing back against a proposed rule change by the National Labor Relations Board (NLRB) that would exempt them from the definition of "employee," which they say will give more power to universities in the fight for what students consider is fair compensation.
"That gives the university the opportunity to say, 'You aren't workers, we do not have to sit down and bargain with you,'" Alec Stubbs, a student protestor and Ph.D. candidate from Loyola University Chicago told Newsweek.
On Thursday, graduate students from more than nine schools will protest in Boston, Chicago and Washington, D.C. to send a message to the NLRB that they won't stand for the rule change that they say could derail their nationwide efforts to improve pay and benefits.
Graduate student union movements have prompted universities to increase wages and stipends and to offer additional insurance to employees who didn't have access to the benefits. If graduate students, many of whom teach courses and assist professors with research, are exempt from the definition of "employees" under the National Labor Relations Act (NLRA), universities won't be legally required to engage in collective bargaining.
The graduate students argue that there's no question about whether they are employees. They teach classes, assist students in their courses and fill gaps on campus that the university would otherwise have to hire people for—or potentially sacrifice undergraduates' education.
"Graduate students do labor that keeps the university running and if graduate workers were no longer helping the university function, the university would fall apart," Lacy Murphy, a Ph.D. candidate from Washington University in St. Louis told Newsweek.
Last semester, Murphy taught a "gateway" course that hundreds of architectural students are required to take each year. Without using graduate students, Murphy told Newsweek the architectural program would be "completely undone" because there wouldn't be enough instructors to facilitate the number of students who need the course to continue with their studies.
The protests are a way of showing the NLRB that graduate students have "had enough," Murphy said, because they think they've made it clear that they're workers in the statutory sense. And, if they're workers in the statutory sense, they deserve the rights and protections other workers have.
The NLRA doesn't expressly include or exclude students in its definition of an employee so it's up to the board to decide. During the past two decades, the NLRB issued three different rulings about whether it considers graduate students employees.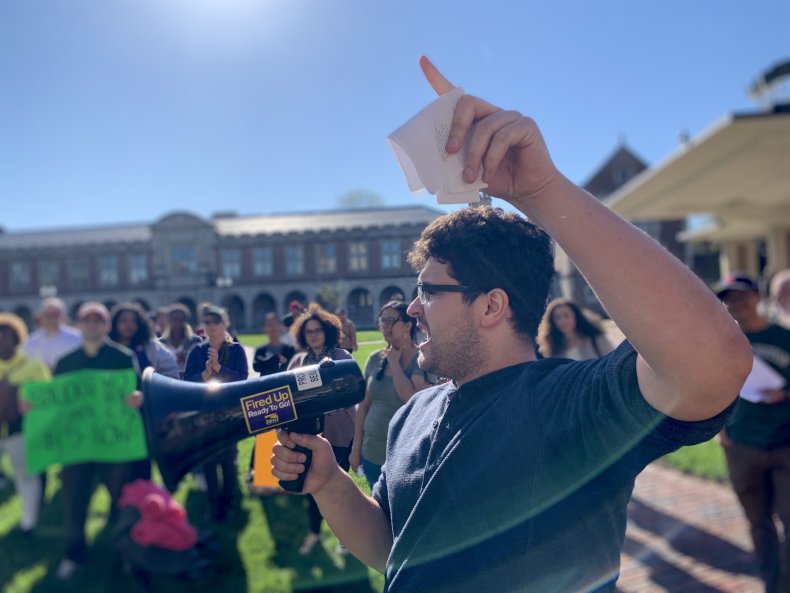 In 2000, the NLRB ruled in a case involving New York University graduate students that their duties placed them squarely within the definition of "employee." That course was reversed in 2004 when the board ruled in a Brown University case that they were first and foremost students and collective bargaining would "unduly infringe upon academic freedom."
Then, in 2016, a majority-Democrat NLRB ruled in a Columbia University case Columbia that graduate students could be students and employees at the same time and therefore should have the right to unionize. That ruling empowered graduate students to organize and some of them, including those at Loyola University Chicago, formed unions in the months after it was decided.
Now, the ruling is set to change again. In September, the NLRB, consisting of a majority of President Donald Trump's appointees, proposed a regulation that would exempt graduate students who perform any services for compensation from the definition of "employee." The rationale for the exemption, according to the proposed rule, was that the relationship between students and the university was primarily educational and not economic. Therefore, they aren't employees.
"It's giving the administration all of the power to build a slanted playing field against grad workers like myself," Tom Hansberger, a Ph.D. candidate from Marquette University, told Newsweek. "We have medical bills, we have families, we're not making a lot of money and the administration wants to keep it that way."
In the spring, graduate students on Marquette's campus demanded the administration agree to give them a fair unionization process. They hosted rallies and sit-ins, but hit a stalemate with the administration and their union never transpired.
If an employer doesn't voluntarily recognize a union, employees can pursue unionization through an election. If at least 30 percent of workers sign cards or a petition expressing that they want to form a union, the NLRB will conduct an election and certify the union as employees' representative if a majority of workers vote in favor of it. Once a union is certified or recognized, employers are required to bargain with it, according to the NLRB.
At Loyola, Stubbs credited the union movement with getting graduate students stipend increases, dental coverage and additional academic and professional travel funding. While they were victories for the union movement, Stubbs characterized it as a means for the administration to placate the movement. Graduate workers said they want the changes ratified in a contract so they can't be taken away.
The NLRB wrote in the proposed ruling that one of the factors they considered was the "limited amount of time" students spend performing additional duties, such as teaching courses or helping professors with research. However, graduate students told Newsweek there was nothing "limited" in the amount of time they spend fulfilling their additional on-campus duties.
"Those of us that are actually teaching, it is a full-time job and anybody that would claim otherwise doesn't have an understanding of how higher education works," Stubbs said.
Hansberger agreed that claiming graduate students spend a limited amount of time in jobs outside their own studies shows an ignorance about the practices inside higher-learning institutions. When he's teaching a course, he said he could easily spend 40 hours a week prepping, grading, teaching and making himself available as a resource for students.
One NLRB member, Lauren McFerran, who was on the board during the Columbia decision, dissented from the proposed ruling. Mcferran wrote that the NLRB majority was taking the rights of students away "in the name of preserving higher education."
After the NLRB proposes a regulation, there's a 60-day period for people to comment, but the board can extend the deadline. The last day for people to submit comments about the proposed rule change exempting graduate students from the employee definition is Dec.16.
"Banning grads from unionizing sets a very dangerous precedent," Murphy said. "We want to emphasize the importance of our role on campus and bring to the forefront our crucial contribution to the university."