'Graduate Together 2020' Streaming: How to Watch The Class of 2020 Special Online
Graduation is one of the many life events that has been put on hold due to the coronavirus. An a-list group of celebrities, however, have come together to make Graduate Together: America Honors the High School Class of 2020, a one-hour event broadcasting on multiple networks on May 16.
Graduate Together, which is hosted by The LeBron James Family Foundation, The Entertainment Industry Foundation, and XQ Institute, will include speakers like President Barack Obama, Malala Yousafi, Lena Waithe, Zendaya and James himself make speeches or perform.
How to watch Graduate Together online
The graduation special will air on May 16 at 8 p.m. ET and PT, and 7 p.m. CT and MT. Among the networks hosting the special of CBS, ABC, Fox and NBC. Other channels who will air the ceremony include California Music Channel, The CW, Fox Business, Fox News, Freeform, MSNBC, CNN and Univision, who is offering a Spanish simulcast of Graduate Together.
CNN is one of the networks who will also be streaming Graduate Together 2020 online. CNN will stream the special live on its homepage, and users can access the stream for free without a cable log-in. It will also be available on the new site's iOS and Android apps and on CNNgo.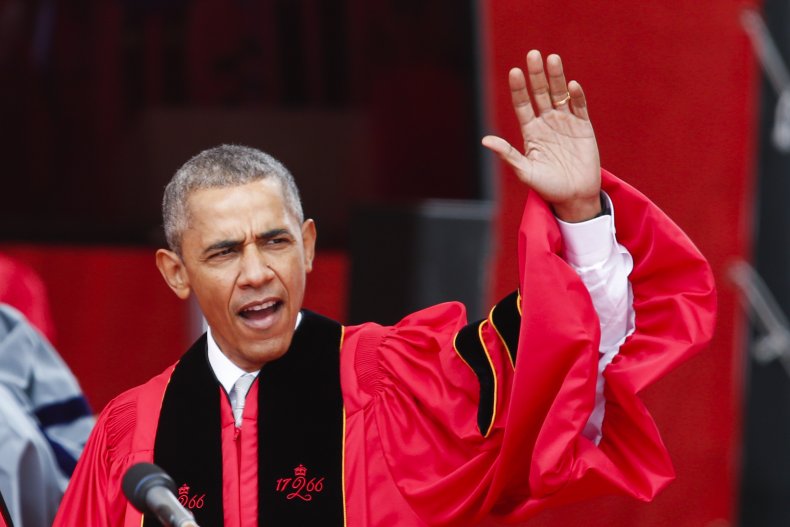 CNN is also airing additional graduation programming in the lead up to the ceremony. At 7 p.m., the news site will air Class of 2020: In This Together, which features speakers including Amy Schumer, Gal Gadot and President Bill Clinton as well as performances from Foster the People, Bazzi and Yo-Yo Ma
ABC News is also offering a live stream of the ceremony on its YouTube page which can be watched for free. The stream also offers users the chance to set a reminder for the start of the live stream so they do not miss the start of the e-graduation.
Among the social media platforms airing Graduate Together live are Facebook, Snapchat and TikTok. Other sites and apps streaming the graduation (according to BusinessWire) are ABC News Live, Associated Press, Bleacher Report, Complex Networks, Fox Now, Hulu, Los Angeles Blade, NBC News Now, People, Roland Martin Unfiltered, Reuters, The Roku Channel, SiriusXM's Urban View, USO, and the Washington Blade.
The ABC News synopsis for the graduation special reads: "Artists, athletes, musicians, commencement speakers, influencers, and cultural icons will show their support with performances and messages featuring students, teachers, and their families from coast to coast. Special guests will include Former President Barack Obama, LeBron James, Malala Yousafzai, the Jonas Brothers, Pharrell Williams, Megan Rapinoe, H.E.R., Ben Platt, Yara Shahidi, Bad Bunny, and Lena Waithe."
Graduate Together 2020: America Honors The High School Class of 2020 airs from 8 p.m. ET/PT and 7 p.m. CT/MT on multiple networks and social media platforms.