I keep thinking about our nation's young people, and how this dreaded virus has stripped so much from them. Though the body count in America is tragically mounting, and the country is mourning, many of us worry about America's children, too. About the life stripped from them as we continue our battle with this silent killer.
I keep thinking about the months of learning missed. The months of relationships, development and fun missed. I keep thinking about the joy and the play and the things that make life worth living taken from them. Sports, concerts, school dances, first dates, parties—all of it has been suspended. Even their spiritual lives have been disrupted, as churches, synagogues and mosques have been shuttered across America.
I keep thinking about the loneliness they're experiencing. And the mass depression that by now has set in.
And I keep thinking about the most vulnerable students. Those for whom school is the one place they can find a meal. The one place they can find refuge from an abusive situation. The one place they can find adults who care about them.
I keep thinking about the rancor and anger our nation's students are seeing in America. The rage and the divisiveness they're experiencing. So many are being forced to choose sides in a national discussion that started out with collectively mourning the loss of George Floyd, but now feels more like a new form of McCarthyism, as cancel culture rages out of control.
And I keep thinking about all of the recent college graduates who, in past years, would have been enjoying one last summer before real life begins. Before adulthood begins.
They're about to inherit this acrimony. This state of entropy and ennui. And this economy—one of the roughest in our lifetimes.
I keep thinking about their final year of college because it wasn't final. It ended prematurely, without celebrations. Without a commencement. Or even a commencement speech.
And I keep thinking about a commencement speech I heard only a few years ago by Denzel Washington at Dillard University in New Orleans, a traditionally black college founded in 1930.
The speech was delivered in 2015, but it might as well have been centuries ago. Because it assumed that all of us had much more in common than not. That all of us were bound together by universal aspirations. Universal attributes. And universal sin.
The international movie star—nominated for eight Oscars and winner of two, for performances in Glory and Training Day—started the speech off as he ended it: humbly.
"Congratulations to you," he began. "And you did it all by yourself, nobody helped you." He laughed, and the audience was laughing too.
"That's what I thought when I was young," Washington continued. "I started to really make it as an actor. I came in. I talked to my mother. I said, 'Ma, did you think that this was going to happen? I'd be so big, and I'll be able to take care of everybody, and I can do this and I can do that.' And she said, 'Boy, stop it right there. Stop it right there. Stop it right there.' She said, 'If you only knew how many people that have been praying for you.' How many prayer groups she put together, how many prayer clothes she gave me, how many times she splashed me with holy water to save my sorry behind."
His mother wasn't finished with him, as Washington explained, doing his best to capture her voice. "Oh, you did it all by yourself? I'll tell you what you can do by yourself: You can go outside and get a mop and bucket and wash them windows—you can do that by yourself, superstar."
The laughs started rippling through the crowd. The recognition of youthful arrogance being checked by the wisdom of grown-ups struck a chord in the audience, which was made up almost entirely of African American students and their families.
Washington proceeded to tell a few stories and make a few points that are not made often enough at college commencements—or in the classrooms of most colleges in America.
"Put God first in everything you do," he began. "Everything that you think you see in me, everything that I've accomplished, everything that you think I have—and I have a few things. Everything that I have is by the grace of God. Understand that. It's a gift."
Washington wasn't finished with his talk of God and the spiritual dimension of life. "It was 40 years ago just this past March, I was flunking out of college," he said. "I had a 1.7 grade point average. I was sitting in my mother's beauty shop. And I'm looking in the mirror, and I see behind me this woman under the dryer, and every time she looked up, every time I looked up, she was looking at me. She was looking me in the eye, I don't know who she was, and she said, 'Somebody give me a pen, give me a pencil, I have a prophecy.' "
With that word—prophecy—Washington proceeded to slow things down. The audience, a bit unfocused as graduation audiences are prone to be, was now leaning on the edge of their seats.
"March 27, 1975, she said, 'Boy, you are going to travel the world and speak to millions of people.' Now, mind you, I flunked out of college. I'm thinking about joining the Army. I didn't know what I was going to do, and she is telling me I'm going to travel the world and speak to millions of people. Well, I have traveled the world. And I have spoken to millions of people. But that's not the most important thing—the success that I had. The most important thing is what she taught me, and what she told me that day has stayed with me since. I've been protected, I've been directed, I've been corrected. I've kept God in my life, and it's kept me humble. I didn't always stick with Him, but He always stuck with me. So stick with Him, in everything you do. If you think you want to do what you think I've done, then do what I've done. And stick with God."
Washington then dared the new graduates to take risks with their lives, and to dare to fail—and fail big.
"That's right," he pleaded. "Fail big. Today is the beginning of the rest of your life, and it's going to be very frightening. And it's a new world out there. It's a mean world out there. And you only live once, so do what you feel passionate about."
Washington then added some practical advice. "Don't be afraid to fail big, to dream big. But remember, dreams without goals are just dreams. And they ultimately fuel disappointment. So have dreams, but have goals—life goals, yearly goals, monthly goals, daily goals. And understand that to achieve these goals, you must apply discipline and consistency every day. You have to work at it."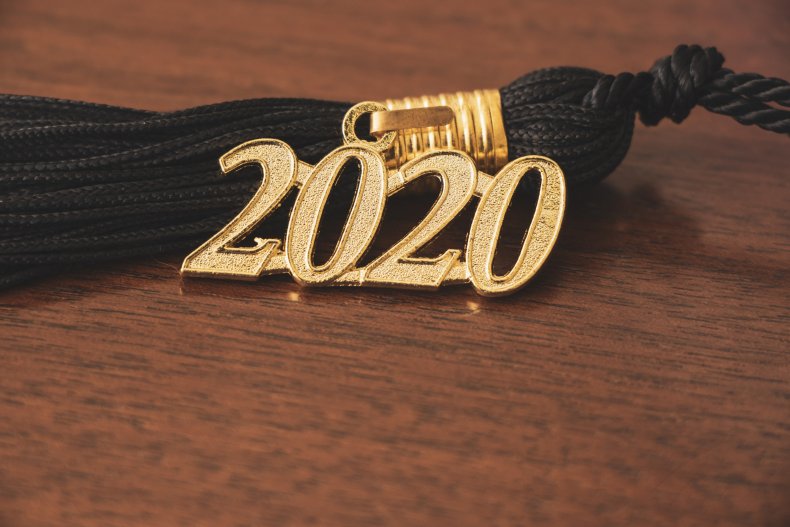 Washington wasn't finished. "Hard work works. Working really hard is what successful people do. And in this text, tweet, twerk world that you've grown up in, remember just because you're doing a lot more doesn't mean you're getting a lot more done. Don't confuse movement with progress."
It was an old-school speech to a modern audience—and the students were eating it up.
Then came Washington's final appeal. And it was an appeal to every single person that we're all capable of changing our worlds, and changing it through acts of generosity. Of love.
"You'll never see a U-Haul behind a hearse," he said. "I don't care how much money you make, you can't take it with you. And it's not how much you have—it's what you do, with what you have."
He went on to define what success means to him. "The most selfish thing you can do in this world is help someone else," Washington declared. "Why is this selfish? Because the gratification, the goodness that comes to you, the good feeling I get from helping others, nothing's better than that. Not jewelry, not big houses I have, not big cars. That's where the joy is, in helping others. That's where the success is in helping others."
Washington ended things where he began: talking about faith and God.
"Finally, I pray that you put your slippers way under the bed tonight, so that when you wake up in the morning, you have to get on your knees to reach them," he said. "And while you're down there, say thank you for grace, thank you for mercy, thank you for understanding, thank you for wisdom, thank you for parents, thank you for love, thank you for kindness, thank you for humility, thank you for peace, thank you for prosperity."
And then Washington added one last point—and the most profound of them all. "True desire in the heart for anything good," he closed, "is God's proof to you sent beforehand to indicate that it's yours already. And anything you want that's good you can have, so claim it. Work hard to get it. When you get it, reach back, pull someone else up. Don't just aspire to make a living. Aspire to make a difference."
If you know a recent college graduate, share Washington's speech with them. And while you're at it, share it with anyone you know. Because it was a speech for the ages. And for all ages, races and ethnic groups. And it's available online for all to see and be inspired by.
Lee Habeeb is vice president of content for Salem Radio Network and host of Our American Stories. He lives in Oxford, Mississippi, with his wife, Valerie, and his daughter, Reagan.
The views expressed in this article are the author's own.