Seven Alleged 'High Profile' Graffiti Taggers Indicted by Grand Jury, Accused of Causing Thousands in Property Damage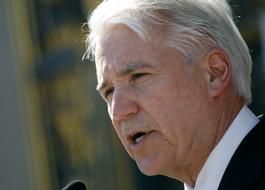 A grand jury indicted seven men described as "high profile" graffiti taggers on 52 charges of property damage across San Francisco on Tuesday.
San Francisco District Attorney George Gascón said six of seven suspects—all men between the ages of 19 and 38—are being held in custody for allegedly tagging everything from park property to restaurant establishments. The six suspects named are: Tyler Kent Ross, 27; Jorge "KRK" or "Kick Rocks" Coya, 38; Connor "Cya" or "Cyae" Chavela, 19; Omar "Yeska" Clerkin, 24; Carlos "Orrible" Cruz, 25; Avery "Every" Sizelove, 23. The seventh person is unnamed.
"Individuals like these are behind the city's property crime challenge. By tying them to multiple incidents, we can ensure they face consequences equal to their impact on our community," said Gascón in a statement. The graffiti cost thousands of dollars in property damage, and the District Attorney's office said the cost to remove a single instance of vandalism averages small business owners over $3,000.
Ross, one of the seven, was booked on 29 charges. Ross previously gained notoriety when he populated the Bay Area with images of Bart Simpson. He was arrested in March, according to a report from KSEE.
One instance of vandalism caused a restaurant $8,000 in damages, and charges were filed against taggers Clerkin, Cruz, Sizelove and the unnamed individual with a warrant out for his arrest.
"A very small group of taggers is responsible for 90 percent of all the tagging that is done in the city," Gascón said during a news conference, according to a report from The San Francisco Chronicle.
In the North Beach and Chinatown areas, Coya has been affiliated with multiple tagging crews. His indictment includes 26 counts of felony vandalism in the North Beach and Chinatown areas. Chavela has been accused of working with Coya.
The city's Public Works department said the vandalism costs the city an average of $20 million a year. The city offers private properties a 30-day notice of violation for graffiti before charging a fee of $276. Owners of private properties are also tasked with the responsibility of informing the Graffiti Unit of the city's Public Works department.
None of the artists, the District Attorney, the SFPD or members of the local community could be reached for additional comment.