Graham Attacks Dems, Media Over Impeachment Process but Ignores the Elephant in the Room: Allegations Against Trump
Sen. Lindsey Graham (R-S.C.), like most Republicans, hates the way House Democrats are conducting the impeachment inquiry into President Donald Trump.
Further evidence of that was produced Thursday, when the Judiciary Committee chairman, along with Senate Majority Leader Mitch McConnell (R-Ky.), introduced a resolution accusing the lower chamber of forgoing Trump's "due process" rights and "abandoning precedent" while condemning the lack of a floor vote authorizing the inquiry.
But in their attempts to defend Trump, Republicans have steered away from pushing back against the damning allegations of a quid pro quo that have emerged from witness interviews, the president himself and acting Chief of Staff Mick Mulvaney. Rather than focus on substance, they've lambasted their Democratic counterparts and the way in which the impeachment inquiry has been conducted: without a floor vote and through private witness depositions.
Republicans have also chided members of the media, saying it's failed to hold Democrats accountable for keeping the inquiry hidden from public view and claim it's abnormal, based on prior impeachment proceedings.
Graham made it clear that he was taking the same approach.
"I'm not here to tell you that Donald Trump's done nothing wrong," he said during a press conference. "I'm not here to tell you anything other than that the way [Democrats] are going about it is really dangerous for the country."
There was little defense by the Trump ally that the outstanding allegations against the president of a quid pro quo by pressuring Ukraine to investigate the Bidens and a debunked conspiracy theory about 2016 election interference in exchange for $400 million foreign military aid to fend off Russian aggression.
Graham has pushed back against some of the elements of the allegations. He said he had "no problem with the phone call," referring to Trump asking his Ukrainian counterpart to do him a "favor" in a now infamous July phone call. Earlier on Thursday, he told reporters that he viewed top U.S. diplomat in Ukraine Bill Taylor's testimony as "hearsay" because his conclusion there was a quid pro quo was derived from U.S. ambassador to the European Union Gordon Sondland's conversations with Trump rather than his own.
Still, frequently motioning to poster boards that he had on display near his lectern, Graham chastised Democrats for not affording House Republicans the ability to subpoena their own witnesses and claimed they were operating contrary to precedent.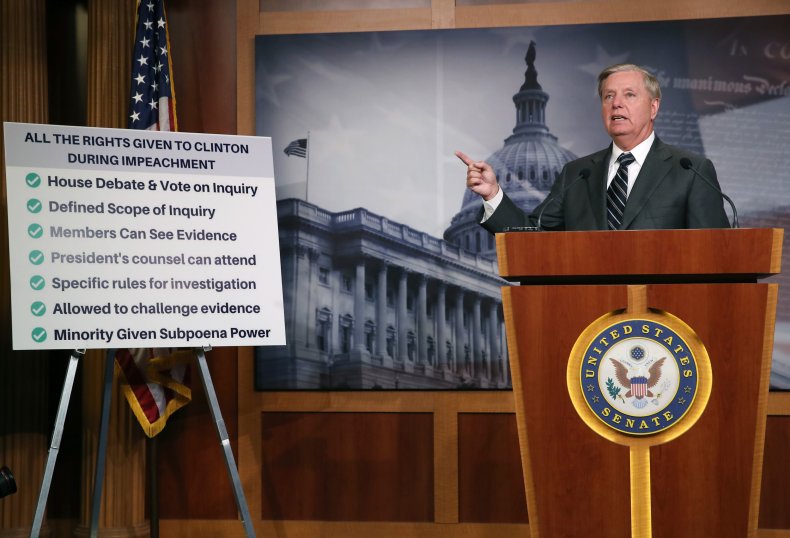 If a Democratic president were under the same circumstances as Trump, Graham said, the media would call Republicans "every kind of bad name, and we would deserve it."
"You'd be beating the shit out of us," he said.
Graham characterized the current inquiry as "out of bounds" and "inconsistent with due process as we know it."
In the early stages of past impeachment inquiries, such as those under former Presidents Richard Nixon and Bill Clinton, they, too, were initially conducted behind closed doors, only to later be presented in the public sphere by way of hearings and the president's ability to have counsel cross-examine witnesses.
Rep. Adam Schiff (D-Calif.), chairman of the Intelligence Committee, has stated his intent to release witness transcripts and hold public proceedings, but the timeline of when those events will occur is yet to determined.
As a House manager in the Clinton impeachment, Graham lauded the practice of private interviews.
"The depositions, I think, will determine whether or not we go forward with hearings," he said in 1998. "I think it's a very smart thing to do, to depose these people and find out what they've got to say and not drag this thing out unnecessarily."
Senate Minority Leader Chuck Schumer (D-N.Y.), as have other Democrats, has accused their GOP colleagues of being hypocritical when it comes to the criticisms of transparency.
"If the White House and its Congressional allies truly wanted an open and transparent process, the White House would provide the documents Congress requested, it wouldn't defy subpoenas, it wouldn't forbid executive branch employees from testifying," Schumer said on Senate floor Thursday. "You can't just flip a switch: one day suppress evidence, and the next argue for a transparent and open process. The hypocrisy, the self-dealing, self-interested dealing, is self-evident."
Graham said that voting to formalize the inquiry would allow House Republicans subpoena power, Trump's counsel to attend the private depositions and the ability for members to see the evidence, such as interview transcripts. Currently, only House Democrats are able to subpoena documents and witnesses and those who are able to attend the closed-door proceedings must be staffers or members of one of the three committees spearheading the inquiry.
The current chamber rules that impeachment investigators like Schiff are now following, as it turns out, were implemented by the Republican House majority in 2015.
Graham's non-binding resolution condemning the House so far has 44 Republican co-sponsors, minus himself. The non-binding legislation, if passed, would mark the seldom ployed practice of one chamber officially denouncing the other.
"I'm not trying to tell a Republican, 'you should say he's,'—you know—an inquiry of the president should be done in a certain way," Graham said. "It's not being done in that way... I want a process that I think will stand scrutiny and what they're doing—I just get so frustrated."