Graham Challenges Biden as Senate Stalls on Unemployment Benefits, 'You Could Pick Up the Phone'
Senator Lindsey Graham has challenged President Joe Biden to step in amid a Senate standstill over jobless benefits in his $1.9 trillion coronavirus relief package.
"Your inaugural speech rings hollow, my friend," Graham said in a press conference on Friday, referring to Biden's inaugural remarks stressing unity. "You could pick up the phone and end this right now by leading us to a compromise on unemployment insurance that makes sense for the American people and American economy."
The South Carolina Republican added, "I wish you would do it. Instead of trying to break apart bipartisanship, try to bring us together. That's my challenge."
At the time Graham spoke, the Senate had been stalled for more than five hours over dueling amendments to expand unemployment benefits — which are due to expire on March 14.
Democratic leaders were thought to have reached an agreement to scale back the benefits from the original $400 per week to $300 through October 4. The amendment, to be offered by Senator Tom Carper (D-Del.), also called for exempting from taxes up to $10,200 in unemployment insurance benefits.
Senator Joe Manchin (D-W.Va.), a critical vote in the relief negotiations, has reportedly expressed concern over the tax-free provision in the Democratic amendment.
Republicans said Friday that they believe Manchin is open to supporting their amendment from Senator Rob Portman (R-Ohio) that would extend unemployment benefits at $300 per week through July.
"There is some bipartisanship we believe to change the bill," Graham said during Friday's news conference, "but apparently that's an unpardonable sin on the other side."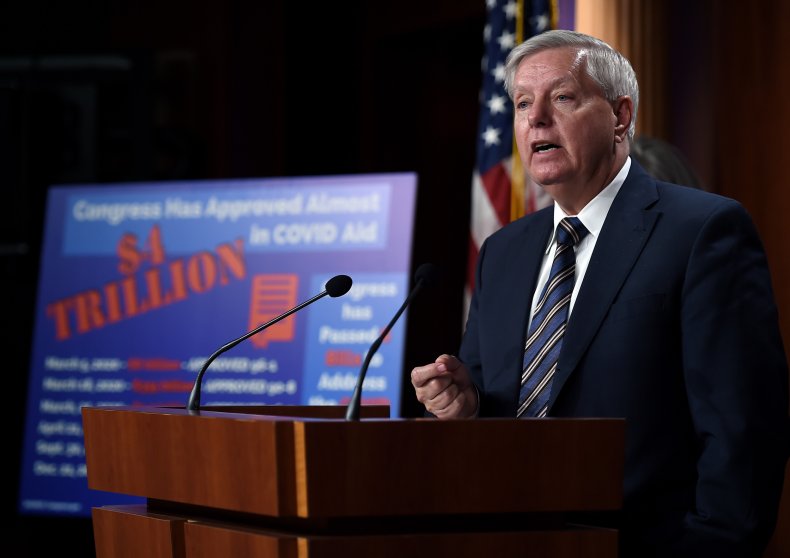 When asked about Friday's stalemate, Senator John Cornyn (R-Texas) told reporters he believed "we have a shot of making that change and saving a bit of money here."
Senator Mitt Romney (R-Utah) told members of the press that "I think they're trying to wear down Joe Manchin, who is intent on making sure we don't spend more than we have to."
"Right now I feel bad for Joe Manchin," said Senate Minority Whip John Thune (R-S.D.). "I hope the Geneva Convention applies to him."
Democrats, who control the 50–50 Senate by the slimmest of margins thanks to Vice President Kamala Harris' ability to cast tie-breaking votes, cannot afford to lose any of their members in the final vote. So far, no Republicans have expressed total support for the $1.9 trillion package.
While senators negotiated unemployment insurance, Biden touted his administration's relief package during a White House roundtable on Friday. The president said his American Rescue Plan, "is going to provide immediate relief for millions of people that are going to be able to use it in a very constructive way and also grow the economy in the process."
Newsweek reached out to the White House for comment on Graham's remarks but did not receive a response prior to publication.