Graham, Flake, Corker All Back Hearing Out Kavanaugh Accuser Before Panel Votes
Republican senators have joined calls for to delay Brett Kavanaugh's Supreme Court confirmation vote until the account of a woman who has accused him of sexual assault can be heard by senators on the Judiciary Committee.
Senators Bob Corker of Tennessee, Jeff Flake of Arizona, and Lindsey Graham of South Carolina have all said that they believe the panel should wait until Christine Blasey Ford, who has alleged that Kavanaugh forced himself on her during a summer in the 1980s, pinning her down as he tried to pull off her bathing suit and the clothes she wore ove it, can tell her story.
"I think that would be best for all involved, including the nominee," Corker, who does not sit on the Judiciary Committee, said of postponing the vote, according to The Hill. He said if Ford does want her story to be heard, "she should do so promptly."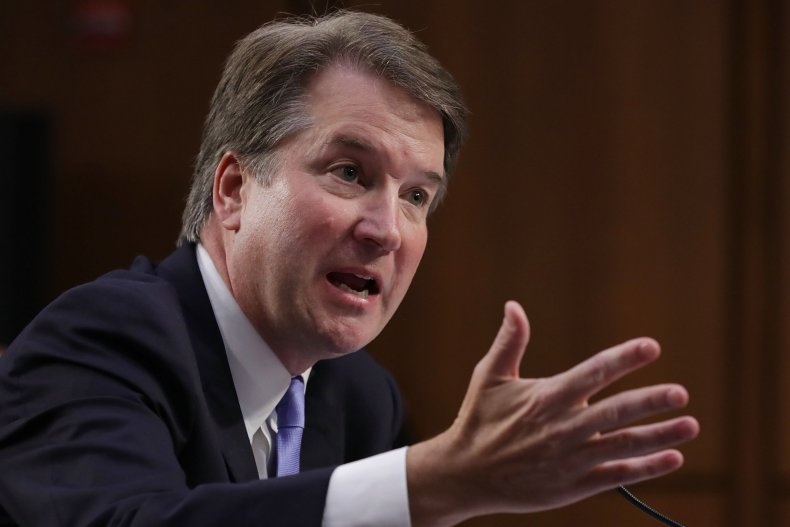 Flake, who is a member of the committee, told Politico on Sunday that he was "not comfortable voting yes" until he heard Ford's account. "I don't think I'm alone in this," the Republican senator said.
Graham said in a statement released on Sunday that while he shared concerns voiced by the Senate Judiciary Committee around the timing of the allegations, he would "gladly listen" to what Ford has to say "and compare that against all other information we have received about judge Kavanaugh."
"If the committee is to hear from Ms. Ford, it should be done immediately so the process can continue as scheduled," said Graham, who is also a member of the Judiciary Committee.
Ford, a 51-year-old psychology professor at Palo Alto University in California, has alleged that Kavanaugh pinned her to a bed in the 1980s and forced himself on her when they were in high school.
Her allegations became public last week after Senator Dianne Feinstein of California acknowledged having received a letter detailing the alleged attack but repeatedly refused to discuss its contents.
A spokesperson for Feinstein said on Friday that the Democratic senator had wanted to make the information public, but said that Ford did not want her identity to be publicly disclosed at the time. Feinstein said she had instead referred the matter to the FBI.
Since then, Ford has shared her story publicly, in an interview with The Washington Post.
Feinstein said she supported Ford's "decision to share her story," adding that "now that she has, it is in the hands of the FBI to conduct an investigation. This should happen before the Senate moves forward on this nominee," the Democrat said.
Other Democrats have also called for the nomination to be delayed, with Senate Minority Leader Charles Schumer of New York writing on Twitter on Sunday that "to railroad a vote now would be an insult to the women of America and the integrity of the Supreme Court."
"For too long, when women have made serious allegations of abuse, they have been ignored. That cannot happen in this case," Schumer said.
He noted that many Democrats had already "seriously questioned" Kavanaugh's credibility throughout his confirmation hearing, but said that in light of the allegations against him, the judge's "credibility is even more suspect."
Read more: Senate 'must postpone' Kavanaugh vote to investigate sexual assault allegations, Schumer says
Kavanaugh has "categorically and unequivocally" denied the allegation, stating: "I did not do this back in high school or at any time."
In a group statement, Senate Judiciary Committee Republicans appeared to cast doubt on the allegations, saying it was "disturbing that these uncorroborated allegations from more than 35 years ago, during high school, would surface on the eve of a committee vote after Democrats sat on them since July."
The committee members said that "if Ranking Member Feinstein and other Committee Democrats took this claim seriously, they should have brought it to the full committee's attention much earlier.
"Instead, they said nothing during two joint phone calls with the nominee in August, four days of lengthy public hearings, a closed sessions for all committee members with the nominee where sensitive topics can be discussed and in more than 1,300 written questions," their statement said.
The committee members said the timing of the allegations "raises a lot of questions about Democrats' tactics and motives to bring this to the rest of the committee's attention only now, rather than during these many steps along the way."
The Republicans also asserted that Kavanaugh's background had been "thoroughly vetted by the FBI on six different occasions throughout his decades of public service and no allegation ever surfaced."