Graham and Harrison Spar Over COVID Testing for Debate: 'Why Won't You Take the Test?'
Republican Sen. Lindsey Graham and his Democratic challenger Jaime Harrison sparred on Thursday night as the incumbent refused to commit to a COVID-19 test ahead of the next South Carolina debate.
Harrison repeatedly pushed for Graham to take a test before the head-to-head on Friday, arguing that the senator had come in close contact with Sen. Mike Lee of Utah—who has tested positive for coronavirus—at a congressional hearing on October 1.
But the incumbent provided a letter from a congressional physician informing him that he did not meet the official criteria for "close contact" with a person exposed to coronavirus and therefore did not need to be tested.
Responding to Harrison's calls for him to take a COVID-19 test, Graham said his challenger was "demanding special treatment" after he faced "hard questions" at their first debate.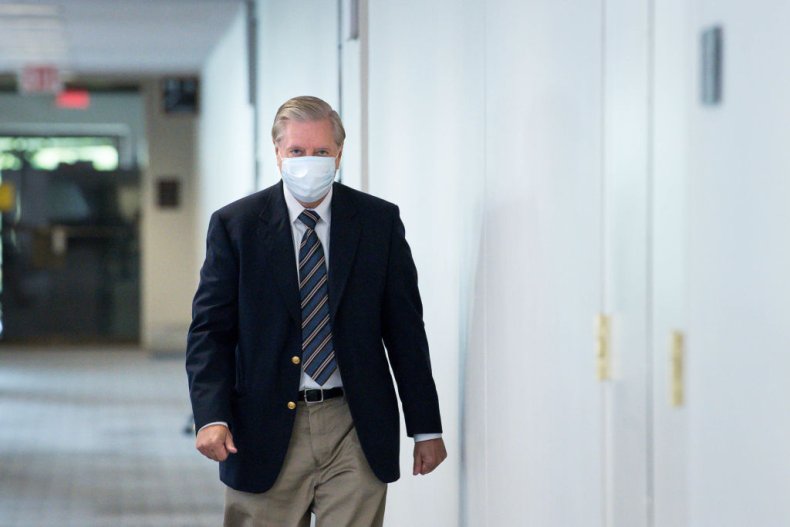 "What has changed is not the seriousness of coronavirus—what has changed is the threat Mr. Harrison faces from scrutiny," the senator said. "Whether Mr. Harrison attends tomorrow's debate is his decision, not mine. I will be there."
The Democratic challenger shared his rival's statement on social media and asked: "Why won't you take the test, Lindsey?"
In a statement released earlier in the day, Harrison called on Graham to "follow the example" of Vice President Mike Pence and President Donald Trump by taking a COVID-19 test ahead of the Friday South Carolina debate.
He also threatened to pull out of the head-to-head if Graham refused to take a test.
"Of course the upcoming debates can be held, and held safely," he said. "But if Sen. Graham will not take a coronavirus test, I cannot responsibly debate in person tomorrow night and allow politics to put my family, my campaign staff, Sen. Graham's staff, and members of the media at unnecessary risk."
Local newspaper The State reported that both candidates took coronavirus tests before their first debate at Allen University in Columbia, South Carolina on Saturday. Harrison also made a point of bringing his own plexiglass divider to the event, despite the candidates being socially distanced.
The South Carolina Senate race is one of several battleground contests that could decide whether or not the GOP holds onto its 53-47 majority in the upper chamber after November 3.
Cook Political Report analysts said the South Carolina Senate election was a "toss up" contest earlier this week, meaning there is a strong chance that Graham's 17-year stint in the upper chamber could be brought to an end.