Lindsey Graham to Woman Reporting Rape: 'I'm So Sorry. You Needed to Go to the Cops'
Senator Lindsey Graham responded to a woman's claim of a rape in her past by stating, "Tell the cops," before he headed into an elevator Thursday during a lunch break in Christine Blasey Ford's testimony in front of the Senate Judiciary Committee. Graham also issued a threat to Democrats about their future nominees.
The as-of-yet unidentified woman made her claim to Graham, according to a McClatchyDC reporter and corroborated by an MSNBC reporter, and the South Carolina lawmaker said: "I'm so sorry…you needed to tell the cops."
According to television footage, Graham appeared visibly angry over the first half of Ford's testimony about an alleged sexual assault by Supreme Court nominee Brett Kavanaugh and the process that had largely damaged Republican chances of voting in a new member of the nation's highest court.
Graham stated that he had not seen or heard enough from Ford and especially took umbrage with her inability to say when and where the alleged assault.
"I've got a guy who adamantly denies this. Everybody who actually knows him in a real way say this is not the guy I know. I got Dr. Ford, who can't tell me the time or place," Graham said, and then confirmed that he "intended" to vote on Friday on Kavanaugh.
Graham was then asked if what Ford had told the committee was "enough" to possibly dissuade Republican senators from turning down Kavanaugh.
"Let me put it this way to my Republican colleagues: If this becomes the new standard, where you have an accusation for weeks, you drop it right before the hearing, you withhold from the committee a chance to do this in a professional, timely fashion. When they publicly say that their goal is to delay the vote, get the Senate back in 2018 to make sure he can't fill the seat. They're publicly saying that. I don't want to reward that kind of behavior. I think we've been fair," Graham said.
Graham added a threat toward Democrats: "And to my Republican colleagues, if you can ignore everything that's in this record, looking at an allegation that's 35 years old, that's uncertain in time, place, date and no corroboration.... If that's enough for you, God help us all as Republicans. Cause this happens to us, it never happens to them. But let me tell you my Democratic friends, if this is the new norm, you better watch out for your nominees.
Before Ford testified, Graham had adamantly slammed Democrats and Kavanaugh's accusers for running a "wholesale character assassination" against Kavanagh.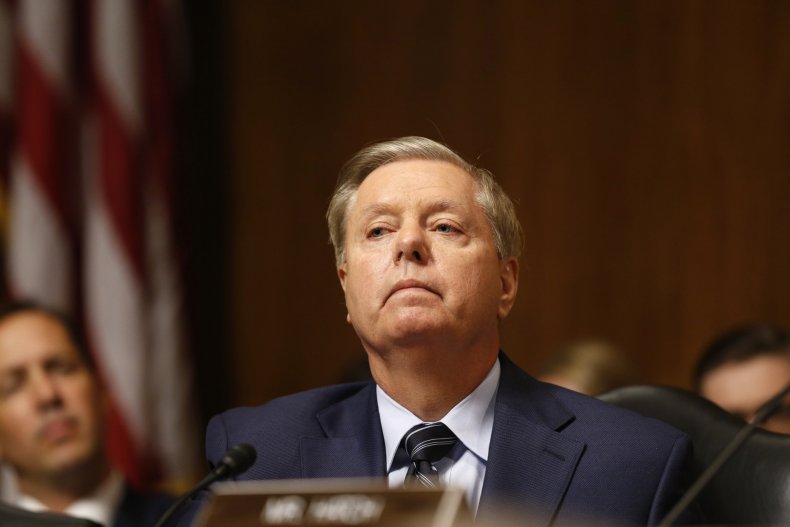 After Ford finished her testimony, Graham again spoke to reporters and answered calls for the FBI to further investigate the college professor's damning claims against Kavanaugh.
"If you really believe we needed an investigation of this, why didn't you tell us in August?" Graham said. "Listen…the FBI is going to us what? What house are they going to go to? What city are they going to go to? Who are they going to talk to? Cause they can't tell us the month, barely the year. So this is all delay."
Graham also suggested he and his colleagues were told Ford could not fly to speak with them, and questioned who paid for her polygraph test. Ford's lawyers, as well as the lawyer for Kavanaugh's second accuser, said they paid for the test.
"When they say that she wasn't sure if we were willing to go out there. That's a bunch of bull. I don't know what they told Ms. Ford, but we were willing to go to California. We were told she couldn't fly….I don't know who paid for her polygraph but somebody did. And here's what I'm more convinced up. The friends on the other side set it up just the way it is."
Update: This story has been updated to include further comments from Lindsey Graham.