Grammy Awards 2020: Who Will Host and Present at the Music Awards Show?
The biggest names in music will descend upon Los Angeles over the weekend for the 62nd annual Grammy Awards. The ceremony is set to take place at the Staples Center on Sunday.
For the second year in a row, 15-time Grammy winner Alicia Keys will host the event. She is only the fifth woman to host the Grammys and the first woman of color to host it twice. Before Keys, Queen Latifah hosted in 2005, while Rosie O'Donnell took on the duties in 1999 and 2000. Ellen DeGeneres hosted in 1996 and 1997. Whoopie Goldberg was the first woman ever to host the event, in 1992.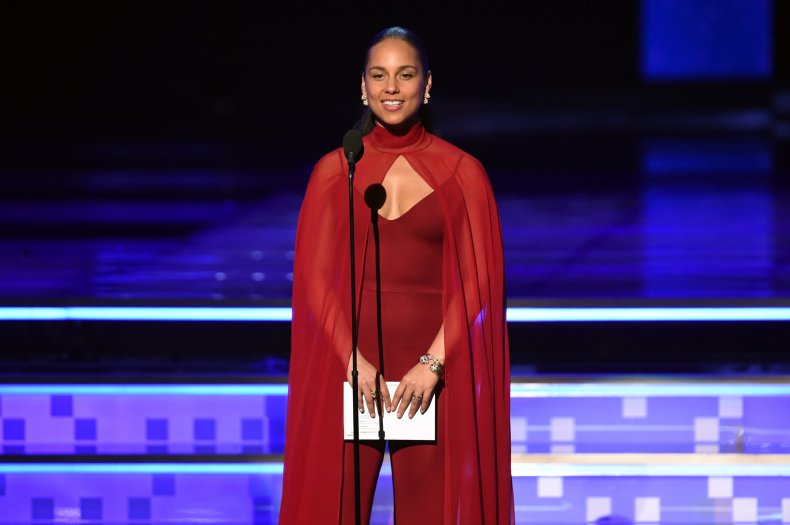 During last year's Grammy Awards, Keys stole the show as host. The theater audience and viewers at home raved over the musician's melodic performance, during which she impressively played two pianos at once. Fans can expect the 39-year-old to pull out all the stops again when she takes over as MC at the 2020 show, and they will possibly see Keys mixing it up in more ways than just the musical front.
In a Billboard interview published in December 2019, Keys said she was taking inspiration for this year's show from some variety show greats.
"People who have created these beautiful variety-style shows, like Carol Burnett, or Sammy Davis Jr. or Dean Martin. Nobody does that anymore. They had this cool mixture of musician and artist and comedian, so it mixed all of these worlds together in this casual [way], while they're holding, like, a whiskey. I want to see how to modernize that," Keys said.
Keys will get help keeping the audiences entertained from a number of superstar artists throughout the night. Music legends like Ozzy and Sharon Osbourne are expected to take the stage and present awards; they will be joined by artists like Common, Dua Lipa, Smokey Robinson, Shania Twain, Keith Urban, Brandi Carlisle, Bebe Rexha, Tanya Tucker, Cynthia Erivo and Stevie Wonder. Comedian Jim Gaffigan and Daily Show host Trevor Noah—both of whom are nominated in the best comedy album category—will also hand out awards along with Ava DuVernay and Billy Porter.
Just as participants have done at awards shows like the Golden Globes and Emmy Awards, Keys expects Grammy winners to get political during their acceptance speeches. "I think artists have to speak their truth," she said.
"Art is about talking about what's happening in your life, in your world, in your experience, through your eyes," Keys continued. "So I think, definitely. We're coming up on a really transitional, important year.
The 62 annual Grammy Awards airs live on CBS on Sunday at 8 p.m. ET.