'Scammys' Trends as Ariana Grande and Lana Del Rey Fans React to Grammys Snubs
"Scammys" is trending as Ariana Grande and Lana Del Rey fans take to Twitter to express their anger over their apparent snubs at last night's Grammy Awards. After both singers lost out on awards including Album of the Year and Song of the Year to Billie Eilish, "#scammys" began trending on Twitter.
Eilish, who won five awards last night and became the first woman ever to win the "Big Four Grammys" in one night and the first person to do so since Christoper Cross did 39 years ago, beat out Grande and Del Rey in a number of categories.
Firstly, the singers hit singles were snubbed, as Grande's "7 Rings" lost to Eilish's "Bad Guy" for Record of the Year and Del Rey's "Norman F***ing Rockwell" lost to "Bad Guy" for Song of the Year.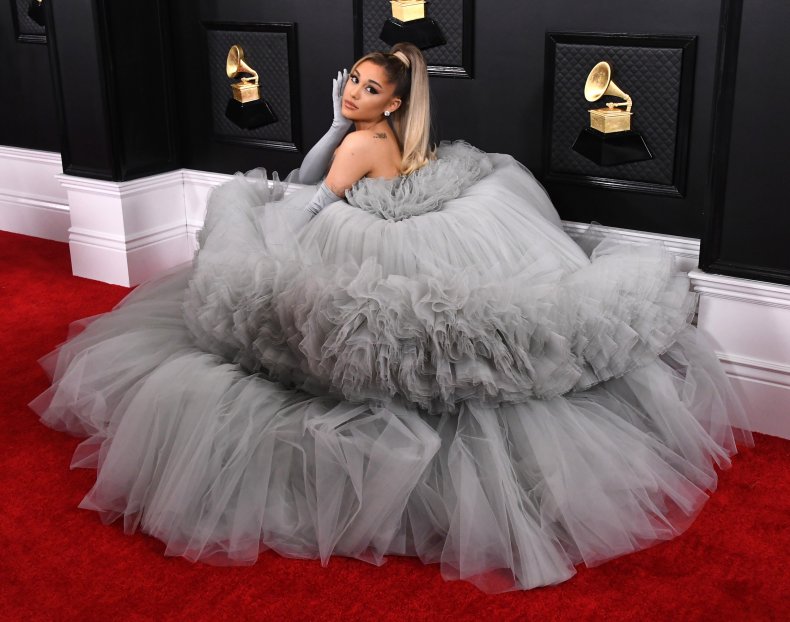 Their albums missed out on major awards too, as Grande's Thank U, Next and Del Rey's Norman F***ing Rockwell! lost to Eilish's When We All Fall Asleep, Where Do We Go? (WWAFAWDWG) for Album of the Year, and Grande's Thank U, Next, lost to Eilish's album For Best Pop Vocal Album.
Additionally, Jack Antonoff, who produced Norman F***ing Rockwell! was nominated for Producer of the Year, but lost to Finneas O'Connell, Eilish's brother and producer of her WWAFAWDWG album.
Grande was also nominated for Best Pop Solo Performance for "7 Rings", which went to Lizzo for "Truth Hurts," and for Best Pop Duo/Group Performance for "Boyfriend" with Social House, which went to "Old Town Road" by Lil Nas X featuring Billy Ray Cyrus.
Fans quickly expressed their anger and frustration on Twitter, dubbing the awards show the "Scammys."
Eilish even gave Grande a shout-out in her speech for Album of the Year, when she said: "Can I just say that I think Ariana deserves this, Thank U, Next got me through some s**t, and I think it deserves more than anything in the world, I love you so much."
Twitter user @fallinglana shared the clip of Eilish's speech in a tweet that said: "This is one of the most precious interactions. Weird when even the artists at your awards show know something is up isn't it? #scammys"
However, Twitter user @TKensa believes Del Rey deserved the shout-out over Grande: "Lana Del Rey did not spend this entire decade basically forming the alternative genre for girls like Billie Eilish to get 5 Grammys and for Billie to say Ariana Grande deserved [Album of the Year]. The amount of disrespect Lana faced today."
@JakeLindner agreed and said: "Billie Eilish made a great album, but she's spent the entirety of her career praising Lana Del Rey, talking about her, posting about her etc. and goes on stage and says Thank U, Next deserved [album of the year]? When the world knows Norman F***ing Rockwell did????? Plz."
Del Rey has also been praised for her most recent album by Taylor Swift, who at the Billboard Awards said: "I've watched as one of my favorite artists of the decade, Lana Del Rey, was ruthlessly criticized early in her career, and then slowly but surely she turned into, in my opinion, the most influential artist in pop.
"Her vocal stylings, her lyrics, her aesthetics, they've been repurposed everywhere in music. And this year, her incredible album is nominated for album of the year at the Grammys."
Twitter user @Lanaschurch also highlighted Del Rey's career growth that Swift acknowledged and said: "Lana Del Rey has lost her deserved Grammy for album of the year with "NFR!" and this album truly marked her shift in music and her personal direction as well. She took a more independent stance through her lyrics and melodies. It's sad that the academy ignored this."
Other fans pointed out the success of Grande's album, which broke multiple records, as @Gwsbea on Twitter said: "I'm sorry but who was the first solo artist since The Beatles to have the top 3 spots on the billboard 100 at the same time... #scammys #GRAMMYs."
Grande broke the record when her songs "7 Rings", "Break Up With Your Girlfriend, I'm Bored," and "Thank U, Next" took the top three spots on the Billboard charts, a feat which had not been achieved by an artist since The Beatles in 1964.
Twitter user @riley_c14 said: "Sorry for the spam everyone... I'm just never going to shut up about this. The fact that the most critically acclaimed album of 2019 (Lana) and one of the biggest record-breaking albums ever (Ariana) ...both didn't receive a single award tonight just screams "#SCAMMYs"
Pop culture fan account @popcreave highlighted the fact that Grande performed at the Grammys, but didn't win an award and tweeted: "Ariana Grande had the biggest era of her career yet, outdid herself, literally owned 2019 ... #GRAMMYs just used her name for attention and let the woman sit there nervous the whole night. No words, she deserves better".
@Ariyuhna_rejie echoed the idea that the Grammys "used her name for attention" and said: "Just so you know, Ariana was invited to the Grammys, sang for them and didn't get anything from the 5 nominations she had... Boycott the f***ing GRAMMYS. They literally just invited her for clout and humiliated her #GrammysIsOverParty."
However, despite not taking home any awards, Grande didn't appear to feel snubbed, as she tweeted: "I had a great mf time tonight :) thank u for everything" with a video of her smiling.