9 Ways the Grammys have Totally Blown It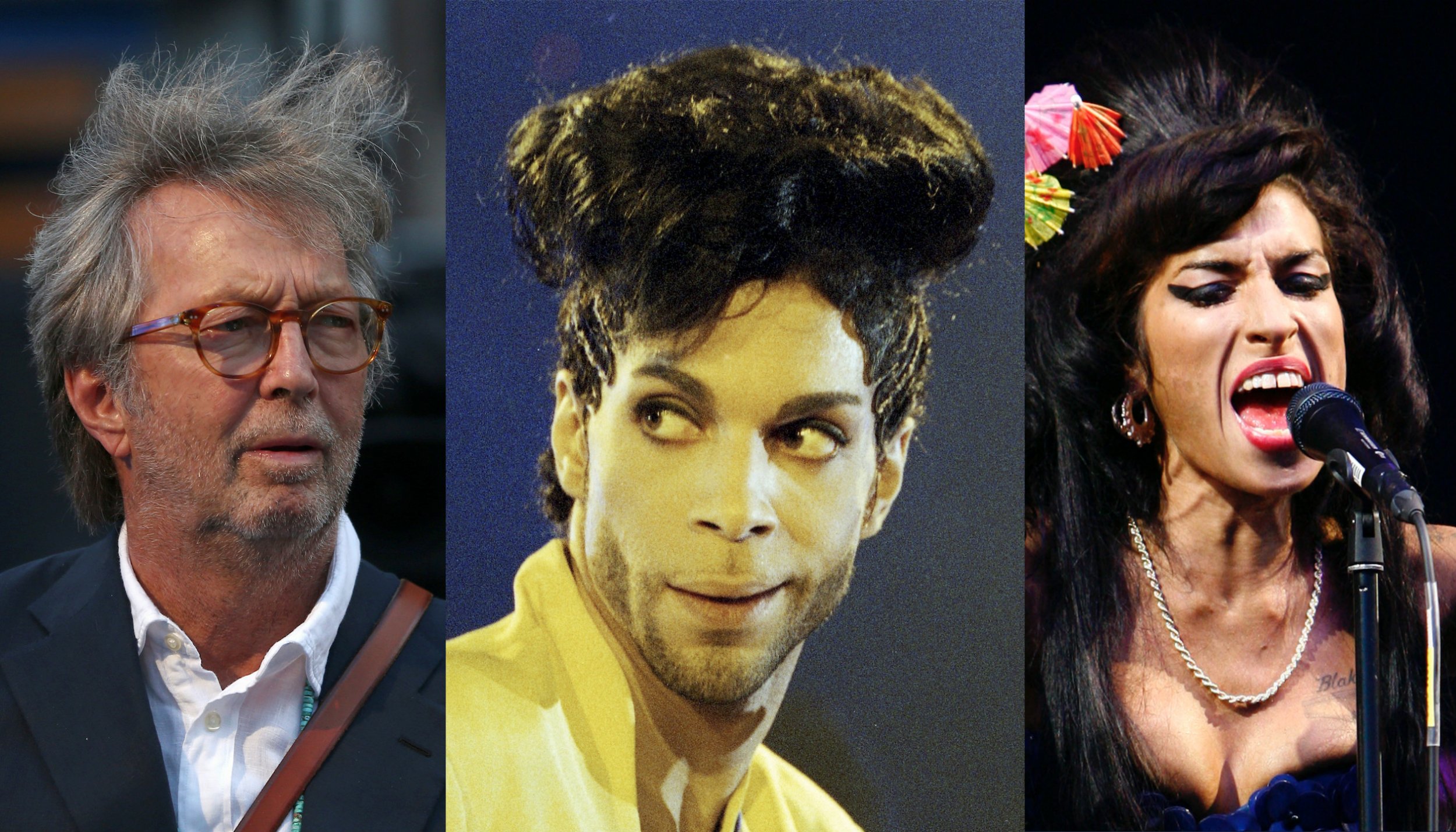 Every award show's history is riddled with controversial selections and snubs, but the Grammys' past is especially turbulent. Its voters have repeatedly proven that they are out of touch to a staggering degree. This was the case in the '60s, when they couldn't let go of Sinatra, in the '70s, when they favored disco over Elvis Costello and Debby Boone over "Hotel California," and in the '80s, which we'll get to. By the time the '90s arrived, the Grammys lost most of its caché. Just ask Homer.
Not much has changed.
In anticipation of Sunday's ceremony, we've compiled some of the most egregious flubs in Grammys history, from crowining one-hit wonders as the Next Big Thing to all but ignoring entire genres of music.
Related: Beyoncé, Adele lead Grammy nominations
Springsteen and Prince Getting Robbed
In 1985, the competition for Album of the Year seemed to be a tight race between Prince's Purple Rain and Bruce Springsteen's Born In the U.S.A. So it was surprising when the award went to...Lionel Richie's Can't Slow Down. Sure, it was a solid record—"All Night Long (All Night)" and "Hello" are perfect pop songs—but the album came out in 1983. Even though it technically qualified for Album of the Year based on the Grammys' seemingly arbitrary rules, it was certainly not the best album of that year.
But also, considering how well Prince's and Springsteen's work has held up respective to Richie's, the decision is a spectacular misstep. These are the kind of brilliant classic records that one can argue in favor of just by adding curse words to their titles: Born In the God Damn U.S.A.! Purple Fucking Rain! See? End of shitting argument. —Joe Veix
A Touchy Relationship With Hip-Hop
In 1981, Run–D.M.C. and the Beastie Boys both formed in New York. That year the Grammys were busy fawning over Christopher Cross. As hip-hop emerged as the most significant musical and social movement of the 1980s, the Recording Academy was characteristically late to the party. The Best Rap Performance category was added in 1989, but it wasn't actually included in the televised ceremony, prompting nominees Will Smith, LL Cool J and Salt-n-Pepa to lead a Grammy boycott. (Some more politically charged rap acts, like N.W.A, were ignored altogether.) During the 1990s, seminal albums like Nas's Illmatic and A Tribe Called Quest's The Low End Theory were overlooked. It was not until 1999 that a hip-hop album finally won Album of the Year: Lauryn Hill's The Miseducation of Lauryn Hill. Even in the Best Rap Album category, the Academy can't seem to get it right, with Macklemore famously responding to his own win with a sheepish texted apology to Kendrick Lamar. —Zach Schonfeld
No One Will remember the '00s for Steely Dan and Herbie Hancock
Santana's meme-friendly Supernatural edging out the Backstreet Boys, TLC, the Dixie Chicks and Diana Krall in 2000 was a portentous start to a decade that thoroughly confused Grammy voters. The following year, a thoroughly forgettable Steely Dan album was honored over Beck, Radiohead and Eminem. In 2002, the award was given to a motion picture soundtrack (O Brother, Where Art Thou?) over Outkast's Stankonia. A few years later, in 2005, a posthumous Ray Charles album won. This is fine, but it illustrates the Grammys' inability to tap into the zeitgeist. This brings us to the decade's most egregious snub. In 2006, a Herbie Hancock's jazz tribute to Joni Mitchell won over both Amy Winehouse's Back In Black and Kanye West's Graduation. And music lovers also groaned when U2 won for How to Dismantle an Atomic Bomb in 2006, an album best listened to in an iPod commercial. —Ryan Bort
No, Jethro Tull Are Not Metal
In 1989, Jethro Tull won Best Hard Rock/Metal Performance over Metallica. This is "Jump Start," from Crest Of A Knave, the album Jethro Tull won for:
This is "Harvester Of Sorrow," from Metallica's ...And Justice For All:
You be the judge of what qualifies as "metal/hard rock." (Hint: it's not the one with pan flute.) —Ryan Bort
Best <s>New Old Artist
The Best New Artist category is, in theory, a well-intentioned idea: Give an award to a musician fresh on the scene, who might not be able to compete in the Best Album category against bigger acts like Michael Jackson or The Rolling Stones or Milli Vanilli. The only problem is the Grammys have a really bizarre definition of "new." According to rule changes implemented by the Recording Academy in 2016, artists only become ineligible for the award after releasing more than three records (or 30 singles). Also, they can't have been nominated more than three times, and "must have achieved a breakthrough into the public consciousness and impacted the musical landscape during the eligibility period." So: not exactly new! A pedantic music nerd could make the case that multiple bands from the '70s could still be eligible.
Not surprisingly, this broad definition translates to some choices that are...unconventional. Just a few examples: Bon Iver won Best New Artist in 2012—five years after his breakout debut For Emma, Forever Ago and two years after guesting on Kanye West's My Beautiful Dark Twisted Fantasy. Lauryn Hill won the award in 1999, even though she released two prior records with the Fugees years earlier. Going further back, the Beatles won in 1965, even though by then they were kind of a big deal. If the Grammys were concerned about accuracy, the category should really be called "Best Artist That the Recording Academy's Kids Just Told Them About." —Joe Veix
Where's Bowie?
It's customary for the Grammys to acknowledge trailblazing weirdo geniuses decades late if at all. So when David Bowie was honored with a Lifetime Achievement Award in 2006, it felt more like an apologetic shrug than a wholehearted endorsement. Speaking of lifetime achievements, Bowie released 25 albums during his life. Only one of them, 1983's Let's Dance, was nominated in the most prestigious category: Album of the Year. (It lost.) The Grammys roundly ignored Bowie during the 1970s, when he arguably reached his creative peak (Ziggy Stardust, Low, etc). And even in death, the Thin White Duke is being snubbed: Blackstar, Bowie's final album, was shut out of the top category and instead was nominated for Best Alternative Music Album, proving that "alternative music" is about as meaningless a phrase in 2017 as "fake news." —Zach Schonfeld
Somehow Not Getting the '60s Right
The '60s can claim arguably the richest musical output of any decade since someone first figured out how to run electricity through a guitar. The Beatles, the Rolling Stones, Jimi Hendrix, Bob Dylan, Janis Joplin, the Velvet Underground, Led Zeppelin, the Who. The list goes on. Of all of these artists, only the Beatles would take home one of the decade's Best Album Grammys when they won in 1968 for Sgt. Peppers Lonely Hearts Club Band. In fact, the Beatles were the only pop rock artists even nominated for the award. The same can be said for Song of the Year. The Beatles won in 1967 for "Michelle." In '66, "Yesterday" lost to Tony Bennett's "The Shadow Of Your Smile." The latter is a lovely song, but its win proves that Grammy voters' have always been behind the times. —Ryan Bort
Tony Bennett's Album of Acoustic Standards
Tony Bennett won Album of the Year for "The Shadow Of Your Smile" in 1966, and then again 30 years later in 1995, for his MTV Unplugged album, which was filled with old standards like "Fly Me to the Moon" and "I Left My Heart in San Francisco." These are great and all, but shouldn't the Grammys recognize the year's achievements in original music? Shouldn't the winners be in some way indicative of the current moment? Do voters not want their choices to reflect the music that had the deepest cultural impact? Apparently not, which was evinced in an even more egregious fashion two years earlier... —Ryan Bort
Clapton Over Nirvana
More proof that the Grammys are perennially 20 years stuck in the past: Eric Clapton was persona non grata during his Cream/Derek and the Dominos heyday but swept the 1993 ceremony with his live Unplugged recording. ("Tears in Heaven," Clapton's heartfelt tribute to his late son, garnered several prizes of its own that year.) Similarly, during this same era, Nirvana did not receive a Grammy win until the band softened its sound for its own MTV Unplugged in New York album. By this point, Kurt Cobain was already dead. Nevermind—arguably the most culturally significant album of 1991—was denied an Album of the Year nomination, perhaps to make room for Amy Grant's Christian pop sensation Heart in Motion. —Zach Schonfeld