The Grammys Proved You Can't Get Canceled for Anti-Semitism | Opinion
These days, one can get canceled for anything...except anti-Semitism. Food critic Allison Roman lost her job at The New York Times for saying she doesn't want a cookware line like Chrissy Teigen. Chris Harrison was axed from the next season of "The Bachelorette" because he requested that the "woke mob" wait until a contestant accused of racism responded to the underlying allegations. Meanwhile, the San Francisco school board has voted to rename houses of learning that bear the names of George Washington, Abraham Lincoln, John Muir, Paul Revere and Francis Scott Key for their "problematic" stances and acts, even if they were all luminaries for their time.
Do not get me wrong, I think people should be held accountable for their wrongdoings. I believe that racism, homophobia and bigotry towards anyone must be condemned publicly. These prejudices should not be allowed into the public discourse. But I can't help but notice how hypocritical so many who perpetuate cancel culture (or as writer Roxane Gay calls it, "consequence culture") are when it comes to those who hate Jews. Sunday night's Grammy Awards ceremony was a shining example of how you cannot get canceled for anti-Semitism; in fact, you will probably be rewarded for it.
In March 2020, the English pop singer Dua Lipa shared a post on her Instagram story that called all Israelis "fake Jews." This is an insane conspiracy theory propagated solely by the most hardened of anti-Semites—the statement that any Jew is not "a real Jew," let alone the six million who live in Israel, is dangerously ignorant. In 2019, four ended up murdered in a Jersey City kosher supermarket by violent extremists who held these precise views.
Dua Lipa's post also falsely claimed that Israel masterminded the anti-Semitic outfit Hamas, whose founding organizational charter calls for the genocide of all Jews—everywhere. Hamas is recognized by the U.S., EU and most liberal countries as a terrorist organization for that reason, as well as its frequent violence committed against Israeli civilians. Claiming Jews are the cabal behind anti-Semitic violence and hate groups is an obvious act of hatred.
Despite serious outcry from Jews and their allies around the world, Dua Lipa did not apologize for her repost. She never voiced disagreement with the anti-Semitic views of the hateful manifesto she shared.
But of course, the Grammy organizers did not see any of Dua Lipa's acts as hate speech. Otherwise, why would they allow Dua Lipa to sing at the Grammys and honor her with one of their prestigious awards? Would she not be canceled if she directed such hatred toward any other marginalized group?
Maybe the entertainment industry makes exceptions from accountability for anti-Semitism by people in Lipa's political camp. I was among those who called out Gina Carano's terrible Holocaust posts and her sharing of an anti-Semitic image—several times, and I still stand behind it. But I can't help but wonder: Was Carano publicly denounced and fired for her anti-Semitic posts, or because of her politics? Is anti-Semitism only punishable when it's done by Republicans in the entertainment industry, but not by liberals like Dua Lipa?
Yet, the "Future Nostalgia" singer was not the only public figure tainted by anti-Semitism at this year's Grammys.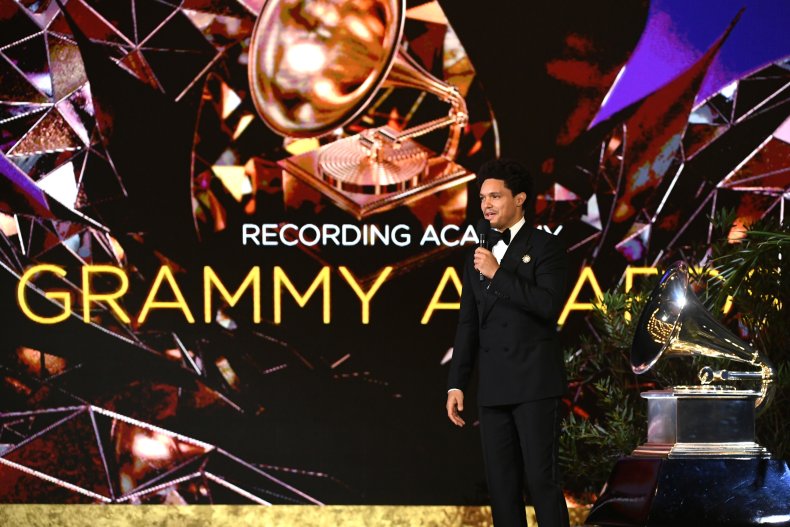 On Sunday night, former Women's March leader Tamika Mallory was invited to deliver a speech about racial justice during rapper Lil Baby's performance. Mallory joined the Atlanta rapper's performance of his song, "The Bigger Picture."
I don't take issue with Mallory's speech itself; on the contrary, her stance is an incredibly important cause that we all must stand behind—a cause I personally encourage my own community to support. However, she is in no position to speak out against bigotry.
Tamika Mallory has had famously close ties with the anti-Semitic, transphobic and homophobic Nation of Islam leader, Louis Farrakhan. This caught attention in 2018, when Mallory sat on stage with him as he declared, "the powerful Jews are my enemy." Mallory has repeatedly praised the notorious bigot on social media, even calling him the "GOAT" (Greatest of All Time). When the public pressed Mallory on her ties to an organization designated a hate group by the Southern Poverty Law Center for its "deeply racist, anti-Semitic and anti-LGBT rhetoric," Mallory repeated that she "does not agree with Minister Farrakhan's remarks." But she has refused to condemn those remarks or Farrakhan himself.
Mallory is someone who openly praises and cannot condemn the remarks of a man who has claimed that Jewish people make people transgender, "control Hollywood" and "are the most violent of people." Farrakhan refers to us as "leeches" and "termites." She is not a voice against bigotry—she is a supporter of vitriolic transphobia and anti-Semitism.
So, why on earth is she allowed on that Grammy stage?
It's not lost on me that Louis Farrakhan preaches that today's Jews are not the real Jews, just like the nonsense promoted by Dua Lipa. In a 1996 speech, Farrakhan went on another rant about Jewish Americans, declaring:
"You are wicked deceivers of the American people. You have sucked their blood. You are not real Jews. ...You are the synagogue of Satan, and you have wrapped your tentacles around the U.S. government, and you are deceiving and sending this nation to hell."
Anti-semites are not terribly creative and tend to push out the same hateful rhetoric. But just as Mallory was able to overlook this bile from her friend Farrakhan, so were the Grammys able to ignore the anti-Semitic acts of Dua Lipa.
But Mallory and Lipa aren't hiding their feelings about Jews—rather, they publicly post about them on Instagram. They are not ashamed, because they do not lose anything for being anti-Semitic. Quite the opposite: They are celebrated on the main stage of the American music industry.
Whether you see the current climate as "cancel" or "consequence" culture, it is apparent that there is a stark double standard when it comes to the mistreatment of the Jewish people. I must ask again: Why can you get canceled for anything, except for being anti-Semitic?
Hen Mazzig is an Israeli writer and a senior fellow at The Tel Aviv Institute. Follow him on Twitter: @henmazzig.
The views expressed in this article are the writer's own.