'Grand Army' on Netflix: What Cast Has Said About Season 2
Grand Army is the latest in Netflix's extensive catalog of teen dramas, which is currently in the Netflix top five most-watched series on the streamer. After many viewers have made their way through the first set of episodes, they have been left wondering if there will be a second season of the streamer's answer to Euphoria.
So far, Netflix has not announced Grand Army Season 2. The streamer was known in the past to wait at least a month before announcing whether a show is renewed, so they can look at its viewing figures over 30 days and see if it is bringing in a decent audience compared to how much it cost to make. Post-coronavirus, however, this process has become lengthier, so fans are likely to be waiting until 2021 for news on the show's future.
It seems that even the cast do not know whether the show will be back for Season 2. Asked by Entertainment Tonight about a potential second season, the cast collectively implied that the future is in Netflix's hands.
Actor Maliq Johnson, for example, addressed Netflix directly, saying: "That's the question. You're listening right." Actor Odessa A'Zion, meanwhile, joked: "Let me know, I'm ready to get paid again," while Amalia Yoo simply said, "we're ready."
Though it is entirely possible that Netflix could renew Grand Army for Season 2, the future does not look entirely positive for the show, which has not been a massive hit according to the worldwide Netflix series charts.
Though this does not tell us everything we need to know about a show's future – Away was number one on that chart for multiple days and yet was canceled after one season, for example—a good showing on the chart bodes well for a show's future.
Though the show has been a relative success, it does not have the sort of chart success that would guarantee a second season. The show, for example, only broke the top three on the series chart for one day, and in only one country (the United States). And today, 12 days after its October 16 release, it is not in the worldwide top 10, even when shows released before it like Emily in Paris (released on October 2), and The Haunting of Bly Manor (October 9) are.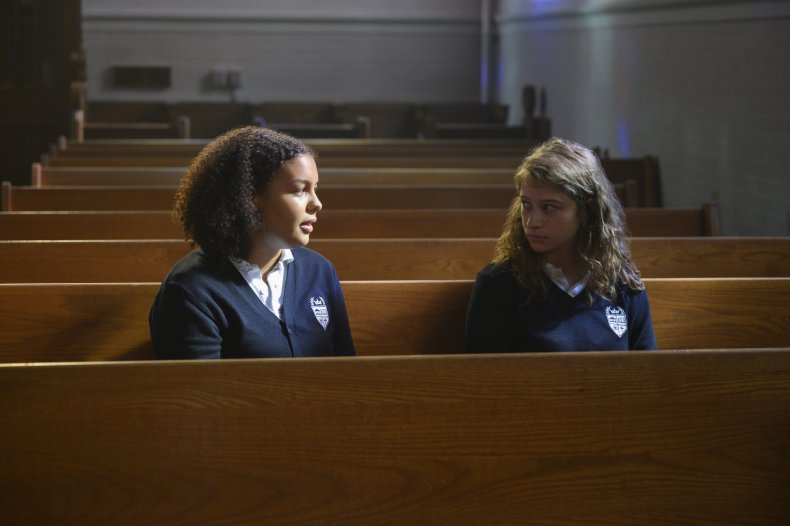 Despite being a show with a diverse cast that some have praised for its look at systemic racism, the show was also hit with racism allegations before it was released which likely will not help the show's chance at a renewal. This is based on allegations made by former Grand Army writer Ming Peiffer, who tweeted in September: "Me and the 3 writers of color who worked on the show quit due to racist exploitation and abuse. The show runner and creator went full Karen and called Netflix hr on the Black writer in the room for getting a haircut. Yes you read that correctly."
So far, no one from the show has publicly responded to this claim. Newsweek has reached out to Netflix for comment.
Grand Army is streaming now on Netflix.