Grand Canyon National Park Shares Photo of Visitors Walking Along Icy Ledge in Sneakers and Shorts: 'Don't Risk It'
Grand Canyon officials have shared a photo of potentially dangerous icy conditions at the park, and warned hikers to bring the appropriate equipment.
"The top part of Grand Canyon trails are icy! Don't risk it—like these folks," The Grand Canyon National Park Service tweeted on Monday alongside an image of visitors climbing the attraction in sneakers. One person, wearing shorts, appears to be holding on to an icy-covered rock to steady themselves on the ground.
Those who plan to hike this week are advised to take traction shoes and trekking poles, the tweet read.
Grand Canyon National Park spokesperson Lily Daniels told Fox 8 the image is three-years-old. But the park reshares it each year after the first snowfall of the season.
Daniels told the broadcaster: "Yesterday the conditions were similar to those in the photo.
"It can be slippery in the snow, there can be ice. We try to educate people to wear cramp-ons and use trekking poles."
She explained some tourists wrongly believe the Grand Canyon is hot throughout the year.
Last year, 17 people died at the site, with nine involving search and rescue, said Daniels. In April, a 67-year-old man died after falling over the edge of the Grand Canyon. His body was discovered 400 feet under the rim of the canyon east of Yavapai Geology Museum.
The warning comes as a Thanksgiving winter storm is due to hit the area. The National Weather Service issued an urgent winter weather message covering Thursday afternoon through to Friday evening for elevations about 4,500 feet. Between 15 to 21 inches of snow is forecast for the North Rim, and eight to 12 inches at the South Rim
On Tuesday, the park said its East Entrance Station and Desert View Drive—also known as East Rim Drive—on the South Rim would close at 7 p.m. (MST) on Wednesday. They will remain closed until further notice.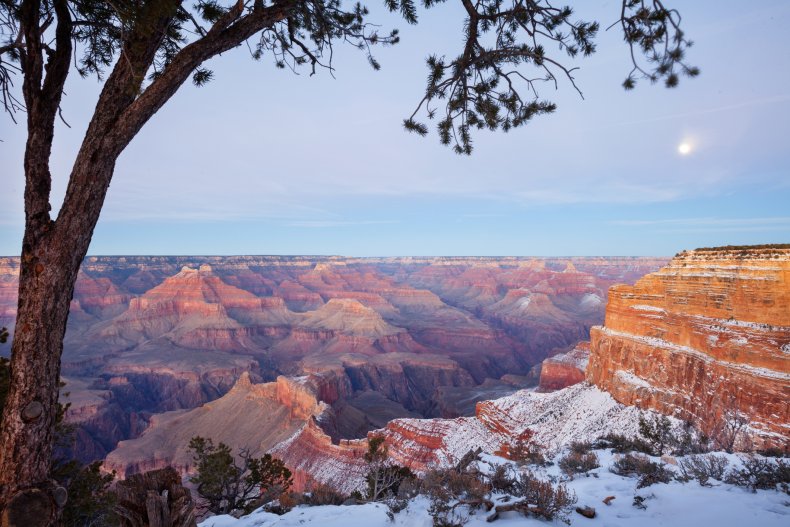 The Arizona Department of Transportation meanwhile closed State Route 67 on Tuesday. The 43-mile-long highway connects Jacob Lake and the North Rim of Grand Canyon.
The national park's South Rim can be accessed via the South Entrance Station from SR 64. Visitors who require the latest road conditions can call 511, or visiting ADOT's Arizona Traveler Information Site at: www.az511.com.
The Grand Canyon's North Rim is closed to vehicles each year between December 1 and May 15— or before depending on the weather.
The below graph, from Statista, shows the deadliest national parks, with the Grand Canyon coming in at number three.